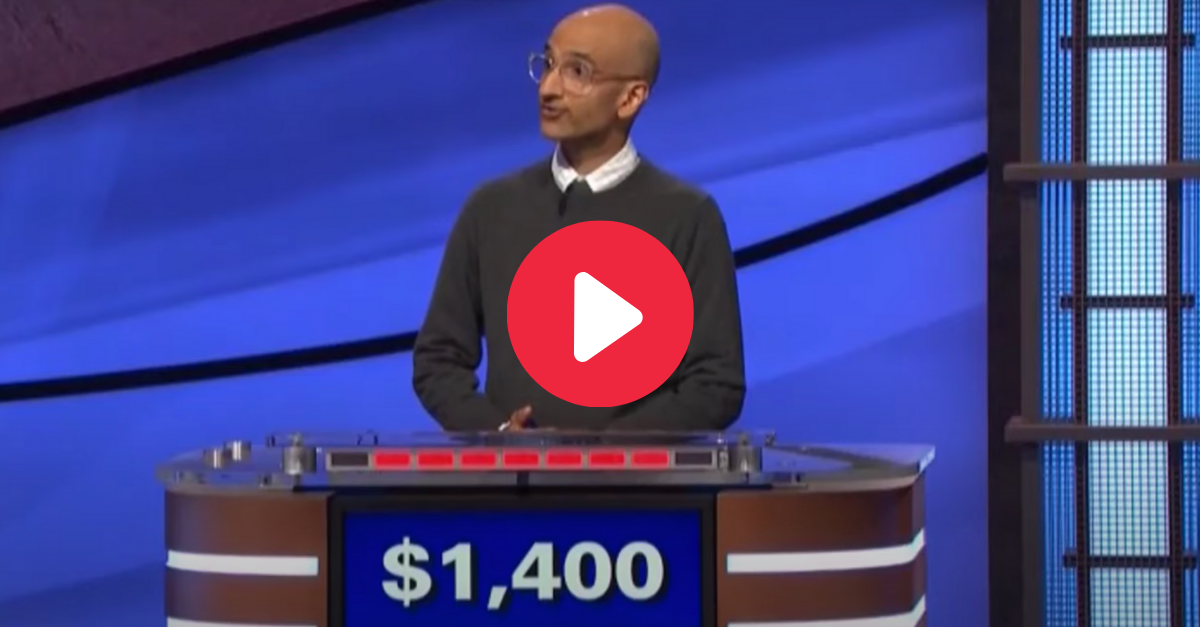 Screenshot from YouTube
Every true college football fan knows about the Iron Bowl. Sure, they might not know all of the history or crazy moments, but they at least know the annual football game is played between the Alabama Crimson Tide and Auburn Tigers. Sadly, not everyone is up to speed.
If you need proof, look no further than a recent Jeopardy! episode. A group of game show contestants ? Robert, Sara, and Sameer ? were breezing through the first round. Then, all of a sudden, an answer came from Alex Trebek that stumped all three.
The category and wager was ?A is for Autumn? for $400. The answer: ?Each fall Alabama & This SEC Football Archrival Meet in ?The Iron Bowl.??
Sameer, who was already trailing, got even further behind when he buzzed in.
Jeopardy! Iron Bowl Question
RELATED: Jeopardy! Contestants Fail Miserably on Easy Football Questions
This is one of those trivia questions that many across the United States would literally wager everything they owned to answer even before host Alex Trebek finished reading the clue. It?s that easy. However, Sameer is clearly not a football fan.
?What is Arkansas,? he quipped.
Trebek politely told Sameer he was wrong and waited for either Robert or Sara to buzz in. Neither of them did. None of them knew it was Auburn football.
Being smart is a requirement for all Jeopardy contestants. Keeping up with trending topics in the NCAA, NFL or NBA playoffs is not. It certainly should be a prerequisite, though.
Auburn fans will gladly teach team about War Eagle and Heisman Trophy winners like Cam Newton if they need it. They?d probably even buy them a T-shirt so this doesn?t happen again.
For some reason, it feels like this missed question just adds more fuel to the fire to game day in Tuscaloosa this season. Perhaps Robert, Sara, and Sameer should tune in.