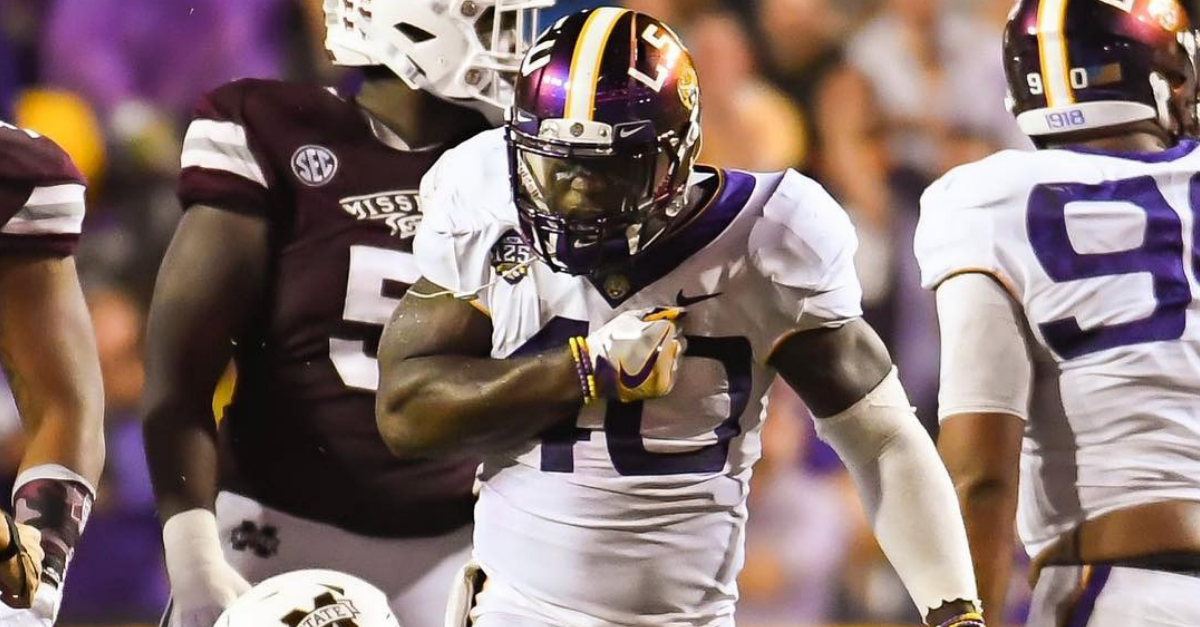 Instagram: devinwhite_40
Instagram: devinwhite_40
There's no game in college football this season that will have bigger College Football Playoff implications than when the Alabama Crimson Tide travel to Baton Rouge to take on the LSU Tigers on November 3. The winner of that game will control their own destiny to win the SEC West and earn a trip to Atlanta for the conference title game in December.
The key to the game is going to be if the LSU defense can do what no other team in college football has done yet, and that's slow down the Tide's top-ranked scoring offense that's averaging 54.1 points per game. Known for their fast starts, Alabama will look to take advantage in the first half when LSU will be forced to play without All-American linebacker Devin White.
During LSU's 19-3 win over Mississippi State, White was flagged for a targeting call on Mississippi State quarterback Nick Fitzgerald with just under six minutes left in the game. The flag comes with a 15-yard penalty and an automatic ejection.
One major application of the targeting rule, though, is that if a player is ejected for targeting in the second half of any game, they are automatically slapped with a first-half suspension the following game, and that means White will miss the crucial opening half of the Alabama game at Tiger Stadium.
After LSU Athletic Director Joe Alleva and Robert Munson, the senior associate athletic director, attempted to overturn White's suspension with the SEC offices, the appeal process was denied, meaning White will serve the full length of his suspension.
RELATED: LSU's Student Chant is NSFW or From Tiger AD's Temper
When you're facing quarterback Tua Tagovailoa and an Alabama offense that has outscored its opponents 310-58 in the first half, losing arguably the best player on LSU's entire team could end the Tigers chances at a win before White even returns to the game.
The junior linebacker from Springhill, Louisiana was named LSU's Team MVP in 2017 after racking up 133 total tackles and 4.5 sacks on his way to being named First-Team All-SEC and a Second-Team All-American.
So far in 2018, White is third in the SEC in total tackles (76) and has defended four passes, both of which lead the LSU's top-25 defense.
Many LSU fans believe White's targeting call does not warrant losing the entire second half of the next game, but you can decide for yourself.
Not having their defensive leader will place a ton of pressure on the LSU front seven to get after Tagovailoa early and often, as well as Grant Delpit, Greedy Williams and the LSU secondary to try and contain this terrifying offense the Tide will roll out.
If head coach Ed Orgeron doesn't come with a sound game plan in the first half without their defensive leader, this one could be over faster than you can say, "When is Devin White coming back?"