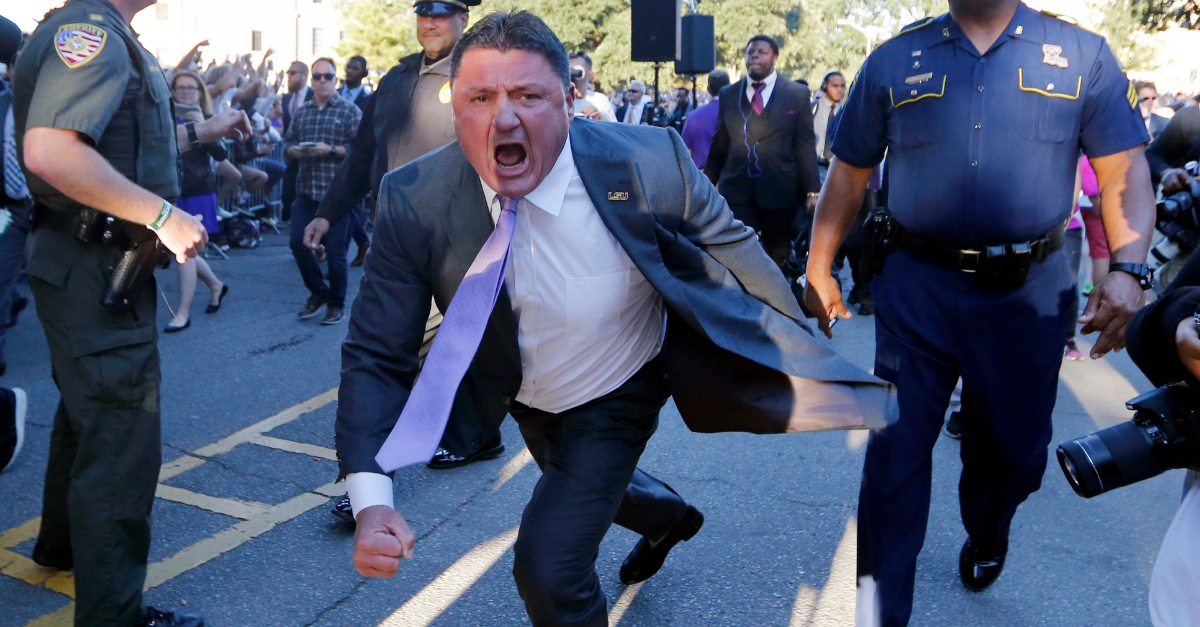 AP Photo/Gerald Herbert
If you are a fan of the LSU Tigers, you know all about defensive lineman Breiden Fehoko. Sure, the 6-foot-4, 291-pounder doesn?t pile up the most statistics on the SEC powerhouse, but he has definitely become famous for his pregame routine: the Polynesian Haka dance
A native of Honolulu, Hawaii, Fehoko has been a fan favorite in Baton Rouge, Louisiana since he arrived from Texas Tech. Not only is he a versatile force in the trenches ? recording 16 tackles, including 1.5 sacks last season ? but he gets the LSU faithful just as pumped up as playing Garth Brooks? ?Callin? Baton Rouge? inside Tiger Stadium.
In fact, huge crowds gather around Fehoko after he walks down Victory Hill to watch him do the traditional war cry. His dad, Vili, even joined him last year.
LSU Haka Dance
RELATED: LSU?s Neck Chant is Not Safe For Work, But Students in Baton Rouge Love It
So what does this have to do with LSU head coach Ed Orgeron. Well, everything.
It?s important to note that Orgeron is a big reason why Fehoko's playing college football for the Tigers. It?s also important to realize the third-year head coach might actually do the famous Haka dance. The only catch is LSU has to beat the Alabama Crimson Tide this season.
That is what Coach O promised back in July, and you better believe everyone outside Tuscaloosa, and secretly even Nick Saban, is pulling for it to happen.
?I tell you what, if we beat the team we need to beat, I?m going to do it in the locker room.?

? LSU Coach Ed Orgeron, via USA Today
This isn?t exactly going to be an easy task. The game on November 9 is on the road at Bryant-Denny Stadium. Additionally, the Tigers haven?t come close to taking down the Tide since Orgeron returned to the LSU football team.
Since 2015, Alabama has outscored LSU, 93-26.
Quarterback Joe Burrow and the offense need to dominate. The defense needs to keep Tua Tagovailoa?s offense in check.
If that happens, and LSU finally takes down Alabama for the first time since 2011, get ready for Ed Orgeron to do the famous Haka dance.
This post was originally published on August 1, 2019.