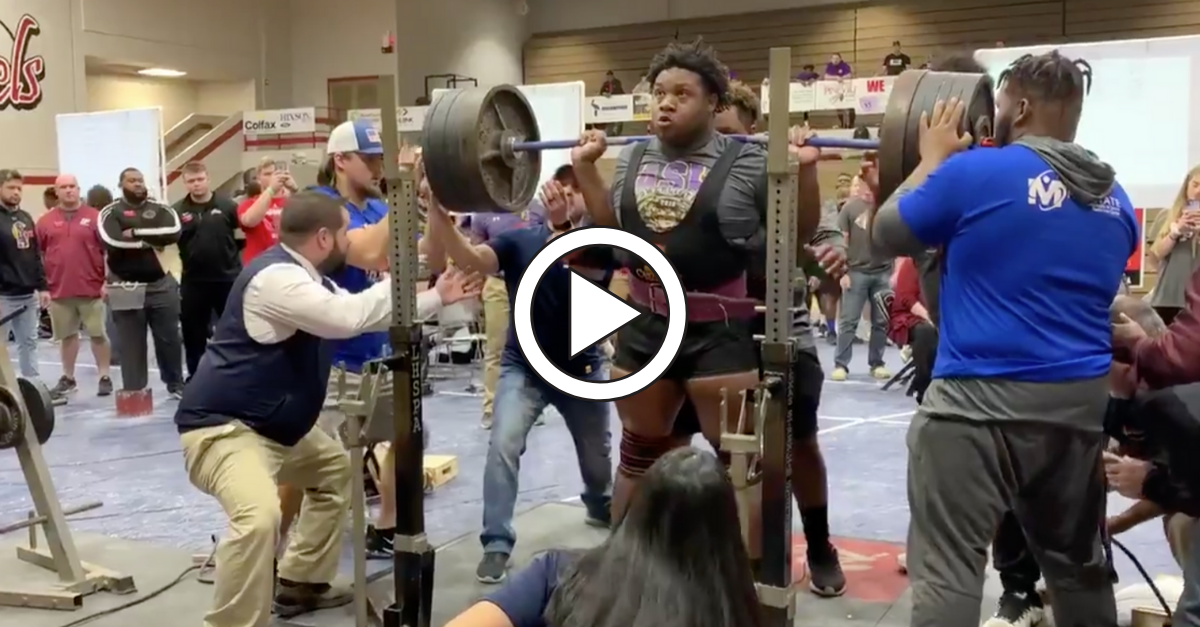 Screenshot from Twitter
When the LSU Tigers played the Alabama Crimson Tide in early November 2019, every college football fan knew there was a lot on the line. Not only did the game have serious SEC West and College Football Playoff implications, but it also meant a lot on the recruiting trail.
A day after LSU beat Alabama in Tuscaloosa, and hours after head coach Ed Orgeron's fiery postgame speech, Alexandria (LA) High School defensive tackle Jacobian Guillory committed to play for the Tigers in Baton Rouge, Louisiana next season.
Jacobian Guillory Commits to LSU
RELATED: LSU Lands Superstar Commitment: Decoldest "ToEvaDoIt" Crawford
It was a massive get for LSU football, no doubt, especially since the four-star recruit's other finalist was the Crimson Tide, and the game all but sealed the deal for the 6-foot-2, 330-pounder.
Guillory signed his National Letter of Intent on Signing Dya in December before LSU won the College Football Playoff National Championship Game against Clemson.
The original commitment also showed us how strong Guillory really is, too.
LSU Commit Jacobian Guillory Squats 700 Pounds
With a nickname like "Big Tank," there's no doubt DT Jacobian Guillory is strong. As LSU reporter Shea Dixon points out, the Louisiana native is a national powerlifting champion in the super heavyweight division.
But watching him squat 700 pounds with ease is, well, insane. The defensive lineman can also deadlift 625 pounds, according to GeauxEdits on Twitter.
The video should bring every LSU fan joy and every SEC offensive line coach nightmares. It's funny how the video went viral on social media, too.
Here's the story: Mike Scarborough, another LSU reporter, went on Twitter to ask which player would wear No. 99 at LSU over the next few years. Would it be Guillory? How about fellow four-star LSU DT commitment Jaquelin Roy? What about 2021 three-star commit Anthony Hundley?
The answer is still unknown, but apparently Roy and Guillory will settle it on the bench press to see how many reps each player can do at 225 pounds. Why? Simply put, Roy didn't want to squat because it's unfair.
The rest is history.
Then, in late February, the high school powerlifter squatted 705 pounds with ease.
That's one strong dude, to put it mildly.
Jacobian Guillory Highlights
At 6-foot-2 and 330 pounds, Guillory is the 12th-ranked defensive tackle in the country and No. 4 recruit in Louisiana, according to 247Sports. The LSU signee joins a star-studded recruiting class after receiving big-time offers from Alabama, Arizona State, Georgia, Mississippi State, Ole Miss, TCU, Tennessee, Texas, and Texas A&M.
To say teams like the future of Guillory is an understatement, but the recruit, and his amazing strength, are headed to Baton Rouge next season.
This post was originally published on November 20, 2019 before updating.