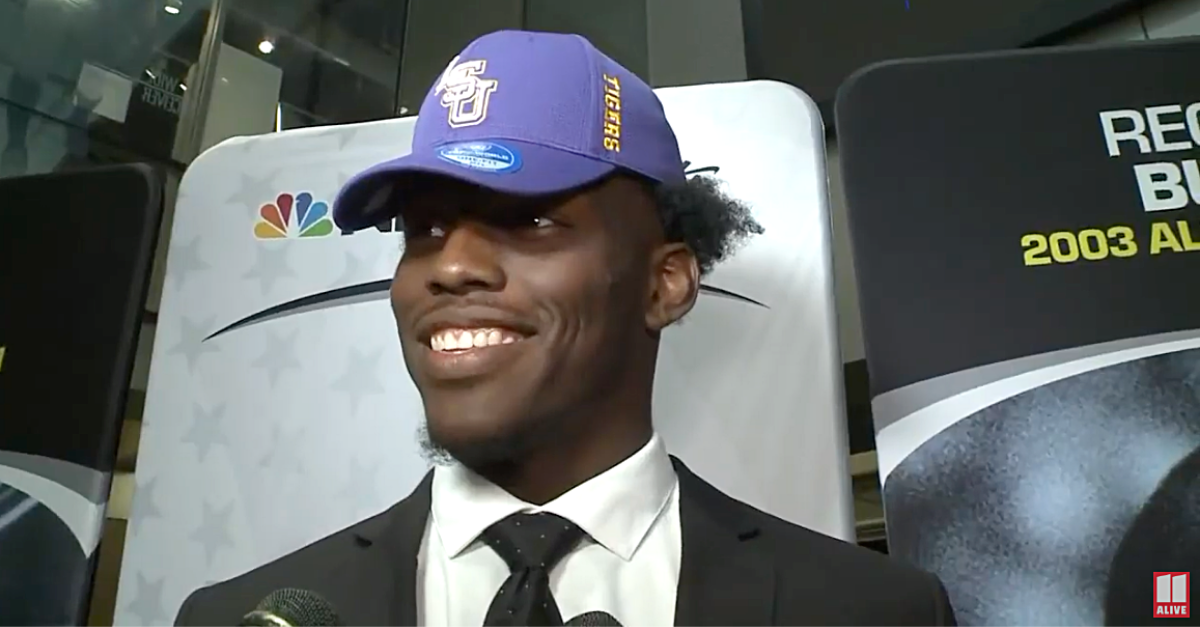 Screenshot from YouTube: 11Alive
Marietta High School tight end Arik Gilbert was heralded as the most important high school prospect at his position in recent memory. Look no further than what 247Sports Director of Scouting Barton Simmons said about the unanimous No. 1 tight end in the country by every major recruiting website.
"Gilbert is a remarkable prospect because he is just so complete," Simmons said. "His versatility really and overwhelming physical traits make him the most complete tight end we've seen in more than a decade."
The Marietta, Georgia, standout announced his final five teams about 24 hours before he committed at the All-American Bowl jersey ceremony on October 23, 2019. The eyes of the college football world fell on five teams that, to really no surprise, are among the elite destinations in the America.
Arik Gilbert's Recruiting
Alabama Crimson Tide
Clemson Tigers
Georgia Bulldogs
LSU Tigers
Texas A&M Aggies
Listed as an "athlete," the 6-foot-5 and 253-pound senior is the real deal. His in-line blocking is outstanding. He catches like a wide receiver and runs like an 18-wheeler. He's powerful, smart in space, and nearly impossible to defend near the goal line.
The MaxPreps Junior All-American caught 88 passes for 1,210 yards and 14 touchdowns on offense, then added 64 tackles and two forced fumbles as a defensive end and linebacker for good measure.
According to the 247Sports Composite score, which takes into account the "rankings" and "ratings" of every major recruiting service based on a 1.0000 max score, Arik Gilbert's 0.9956 composite makes him the highest-ranked tight end in history.
That list includes names like Greg Olsen, Martellus Bennett, and O.J. Howard.
Arik Gilbert Highlights
RELATED: Miami is the Only "Tight End U." Here's Why.
The highly-touted TE held offers from more than 25 FBS programs, including Auburn, Florida, Michigan, Notre Dame, Ohio State, Oklahoma, Penn State and USC. Gilbert's high school teammate, four-star quarterback Harrison Bailey, is committed to the University of Tennessee. The Vols also offered Gilbert a scholarship.
College football fans, especially in the SEC, were watching closely to see where Gilbert commits because his arrival would be the most important addition to their rosters for the foreseeable future.
But where would the nation's No. 1 tight end land? According to 247Sports, Alabama and head coach Nick Saban were the heavy favorites, especially with the addition of five-star quarterback Bryce Young to the team's 2020 recruiting class. However, Georgia and Kirby Smart were close on Alabama's heels, and there was one important thing that made Gilbert's timely decision even more worth watching.
Gilbert's official visit to the University of Georgia in Athens came the weekend before he decided to commit.
Clemson and LSU were the only schools that did not receive an official visit from Gilbert and his family, but you can never count out Dabo Swinney or Ed Orgeron's top-tier programs.
As it turns out, LSU's meteoric rise in 2019 would continue with another, five-star recruit.
5-Star TE Arik Gilbert Commits to LSU
During his announcement, Arik Gilbert shocked everyone when he picked up the purple and gold hat and verbally committed to join Ed Orgeron and the LSU Tigers.
Gilbert said that LSU "felt like a family," and he loved what Coach Orgeron was building in Baton Rouge, especially with the addition of Joe Brady to the offensive staff. He added that none of his family knew about his choice, and he was looking forward to shocking the college football world.
"Yeah, it was planned," Gilbert said with a smile.
Even with LSU football winning the College Football Playoff National Championship Game over Clemson, Gilbert's arrival in Baton Rouge means the Tigers' prolific offense under coach Ed Orgeron should be re-tooled for another season in 2020.
This article was originally published October 23, 2019.
---
UPDATE (July 24, 2020): The accolades kept rolling in for the All-American ahead of his first season in Baton Rouge. This time, Gilbert was honored as the top male athlete in America.
Arik Gilbert Named Gatorade High School Athlete of the Year
After leading the Marietta Blue Devils to the school's first Georgia state championship in 52 years, and putting up a stat-line that blows my mind — 105 catches for 1,860 yards and 15 touchdowns — Georgia's Region 3 Offensive Player of the Year was a no-brainer.
As for his counterpart in the awards circuit, Paige Bueckers is (excuse my language) the real f***ing deal.
The three-time Gatorade Minnesota Girls Basketball Player of the Year led her team to a perfect 30-0 record and the state championship game, which was canceled due to the coronavirus pandemic. (Could you imagine…) Bueckers averaged 21.0 points, 9.2 assists, 5.2 steals and 5.1 rebounds per game, won a gold medal with Team USA, and is headed to Geno Auriemma's women's basketball juggernaut at the University of Connecticut.