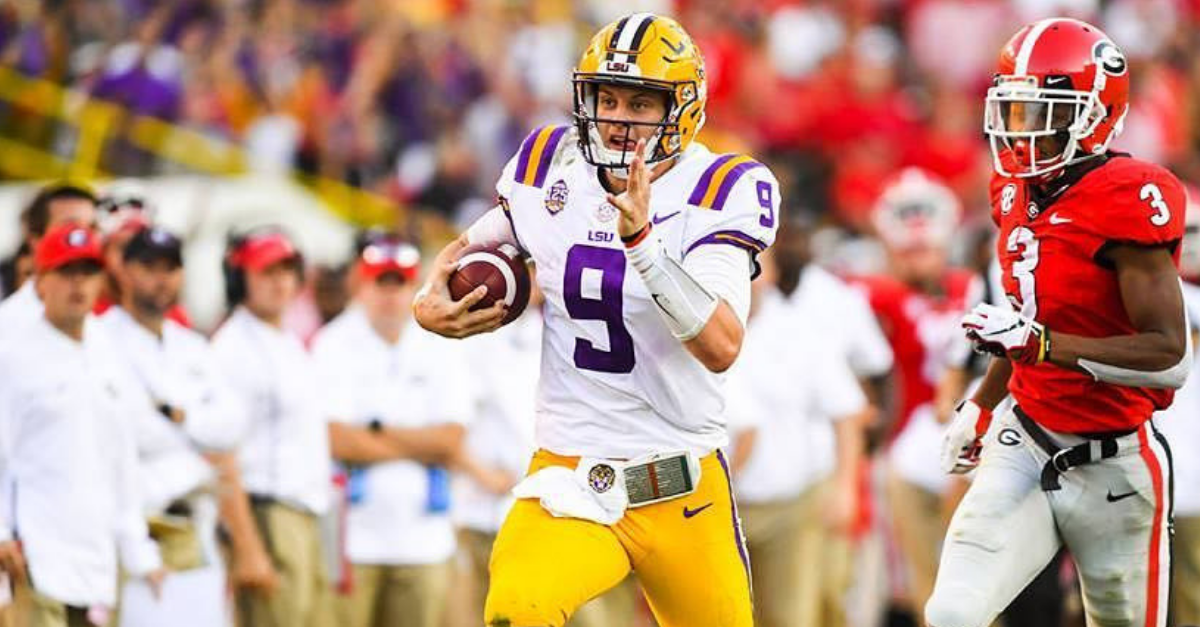 Instagram: lsufootballnews
Instagram: lsufootballnews
Two hours south of Columbus and The Ohio State University, is a town called Athens. The city runs deep with Ohio roots, as it was first surveyed and recognized as an town in 1807, four years after the state was officially recognized. Athens is home to a little over 23,000 people, the Ohio University Bobcats, and maybe the most popular football player wearing the purple and gold at Louisiana State University.
Quarterback Joe Burrow transferred from Ohio State to LSU in the offseason, and he's taken the Tigers team into the top-tier of college football teams through the first half of the 2018 season. Burrow is bringing southern culture north to his hometown and invading enemy territory, as the local Walmart in Athens has begun selling LSU merchandise honoring their hometown hero.
The gear appeared after the junior quarterback lead one of college football's elite programs to three top-10 wins and a No. 5 ranking in the most recent Associated Press poll.
Now, fans in Athens are repping purple and gold t-shirts in enemy territory all thanks to Joe Burrow.
RELATED: Joe Burrow's All-Time Performance Against Ole Miss Earned 'Stud' Honors
During his time playing for the Athens Bulldogs, Burrow racked up the fourth-most passing yards in Ohio High School Athletic Association history (11,428), the third-most passing touchdowns (156), and threw for at least 46 touchdown passes in all three seasons as a starter while compiling a 37-4 record from 2012 to 2014.
As a senior, Burrow's team set the state record for most points scored in a season with 861, but lost 56-52 in the state championship game to Central Catholic (OH).
Through the first seven games in Baton Rouge, "Jeaux Burreaux" has thrown for 1,415 yards and six touchdowns and has ran for 242 yards and another four touchdowns.
The kid from Athens is building a resume as the most famous Athenite to ever live, and if the LSU Tigers end up in the College Football Playoff, and potentially face the Ohio State Buckeyes, it will be a showdown of epic proportions.
If that happens, how many people in The Plains, Ohio will hang up the Scarlet and Gray colors in favor of the Purple and Gold?