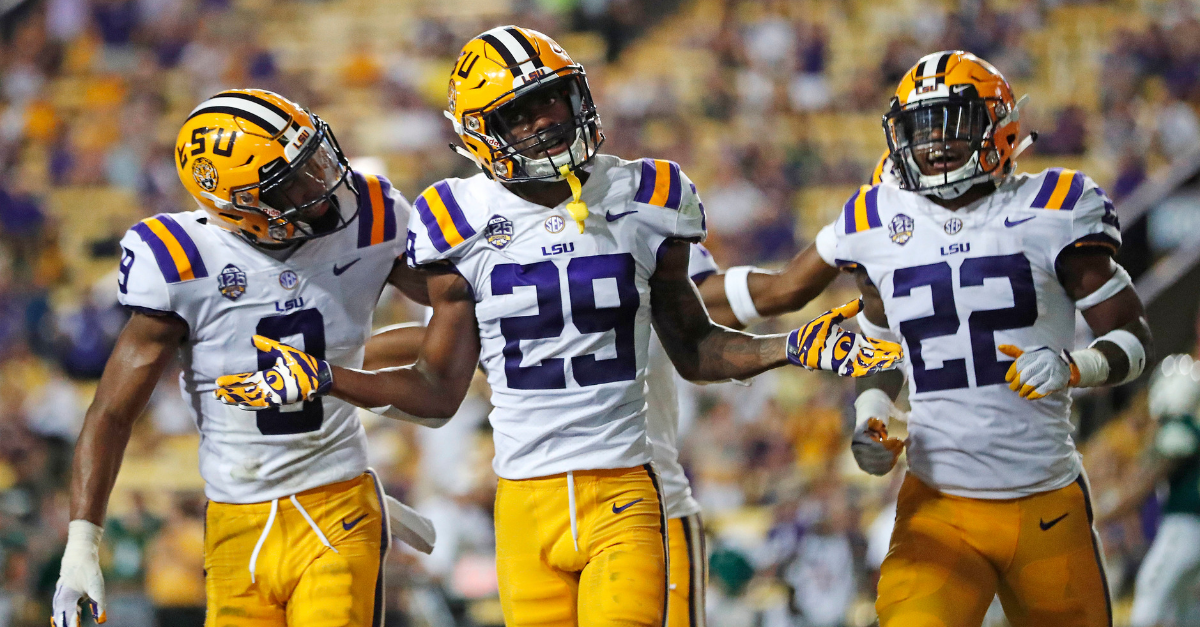 AP Photo/Gerald Herbert, File
AP Photo/Gerald Herbert, File
On Wednesday afternoon, ESPN NFL Draft expert Mel Kiper Jr. released his latest "Big Board," a list of the top players expected to be available when teams are on the clock next spring at the 2019 NFL Draft.
Kiper believes this draft leans heavily toward the defensive side of the ball, with 20 of his first 25 selections being players who will make their living trying to keep teams out of the end zone and off the scoreboard. A few of those happen to play for the LSU Tigers, and their talent is rising to the top of this draft class.
LSU is as well represented on Kiper's Big Board, with redshirt sophomore cornerback Greedy Williams ranking third overall, first among cornerbacks, and junior linebacker Devin White sitting at fifth overall and first among linebackers.
Michigan was the only other school with two Top-10 players.
Soon to be the latest graduate of "DBU," Williams has been arguably the best corner in the nation each of the last two seasons. As a redshirt freshman he started every game for the Tigers, finishing with six interceptions (tied for fourth in FBS) and earning First Team All-SEC and Third Team All-America honors.
This year Williams has only two interceptions as teams have decided not to challenge him nearly as often. That hasn't led to any less enthusiasm from talent evaluators, or any less confidence from Williams.
"If I'm starting a college football team from scratch, Williams is one of my first picks," Kiper wrote in his breakdown. "There's a reason he's my top-ranked cornerback in next year's draft. The third-year sophomore has a big 6-foot-3 frame and elite ball skills — he has eight interceptions and 19 pass breakups in two seasons at LSU."
RELATED: After Contract Buyout, Les Miles' Next Job Lands Him in the Big 12
Devin White has been a leader of the LSU defense since he first stepped onto the field as a freshman in 2016. Since then, he also proven to be one of the elite football talents in America, regardless of position.
Over the past two seasons White has accumulated 232 tackles, including 76 solo, 20.5 for loss, and 5.5 sacks. He was named to the 2017 All-SEC first team, and was a Second Team All-America choice.
In his list of the top prospects in the nation, Bleacher Report's Matt Miller said of White, "He flows to the ball with natural athleticism and agility but also packs a punch with a 6'1″, 240-pound frame."
This season White ranks fourth in the SEC in tackles with 89 through the team's 8-2 start to the season.
Several other LSU Tigers will be selected in next spring's NFL draft, but it will be two defensive superstars going in the first round who will set the tone for a defensive-heavy draft class.