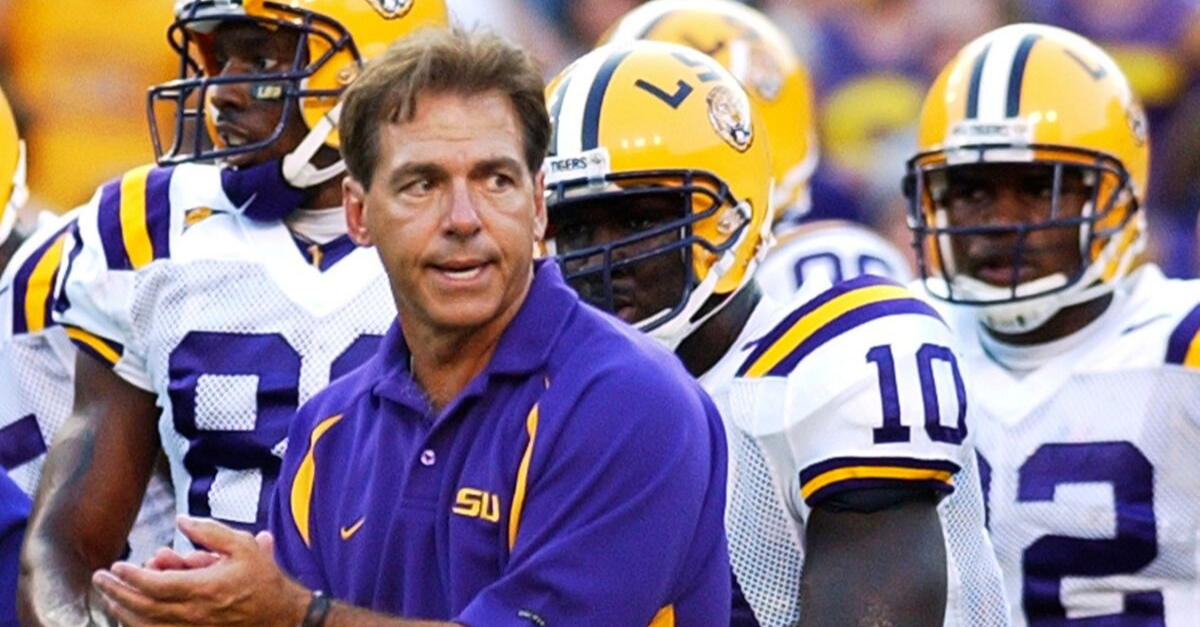 AP Photo/Patrick Dennis, File
It's rare for a college football coach to win national titles at two different schools. The list is very short, including iconic names like Glenn "Pop" Warner, Howard Jones and Urban Meyer. But the cream of the crop is Alabama head coach Nick Saban, who is tied with fellow Crimson Tide legend Bear Bryant as the only coaches in history with six national championship rings.
What Saban's done since arriving in Tuscaloosa is hard to ignore. However, his five seasons leading the LSU Tigers from 2000 to 2004 were, quite simply, the springboard for LSU's program being the national champion it is in 2019.
Before Saban left the Michigan State Spartans and arrived in Baton Rouge, the LSU Tigers posted only three 10-win seasons between 1960 and 1999. By the time Saban was done, his teams won 10 games twice, including a 13-1 season and winning the BCS National Championship game in 2003. In the three years after his departure for the NFL's Miami Dolphins, Les Miles used Saban's roster to post a 34-6 record, culminating with another BCS title for the LSU football program in 2007.
Despite Saban absolutely owning his former team in recent years ? Alabama won eight-straight games between 2012 and 2018 ? that didn't end the admiration and legacy he left in Louisiana. Now, he's being given the state's highest athletic honor.
This year, Nick Saban will headline the Louisiana Sports Hall of Fame Class of 2020.
"I'm thrilled and honored. It is a privilege to be joining so many great people in the Louisiana Sports Hall of Fame, especially because of the great relationships we built there," Saban said, via NOLA.com. "I'm very, very flattered by this."
Entering the Louisiana HOF was never really on Saban's radar, but that doesn't mean Louisiana State University completely left his thoughts. In fact, Saban admitted that one of his biggest career regrets was leaving the Tigers for the NFL.
"As it turns out, what I learned from that experience in hindsight was, it was a huge mistake to leave college football," Saban said. "And I know a lot of LSU fans think I left for whatever reasons, but I left because I wanted to be a pro coach, or thought I wanted to be a pro coach. We loved LSU. We worked hard to build the program. If there was one thing professionally that I would do over again, it would've been not to leave LSU."
Joining Saban is one of the coolest classes you'll see in a long time, enshrining the legacies of several high-profile Louisiana athletes forever.
Louisiana Sports Hall of Fame – Class of 2020
Ronnie Coleman: eight-time Mr. Olympia; played linebacker for Grambling's Eddie Robinson
Sweet Lou Dunbar: Harlem Globetrotters Director of Player Personnel (43 years)
Joe Horn: former New Orleans Saints wide receiver
Kerry Kittles: No. 8 pick in 1996 NBA Draft; New Orleans native
Phil Robertson: Louisiana Tech football player; star of Duck Dynasty
Nick Saban: college football coach at LSU
Charles "Peanut" Tillman: former Louisiana-Lafayette & Chicago Bears cornerback
Angela Turner: Louisiana Tech women's basketball; 1982 All-American and national champion
Saban was also inducted into the Alabama Sports Hall of Fame in 2013. The SEC legend and head football coach has plenty of miles and title games left to go, but his greatness cannot be denied and should be applauded at every stop the icon's made along the way.
At the very least, you could burn this Nick Saban candle and pay homage to the Southeastern Conference deity like he deserves.

A 35-person panel of members from the Louisiana Sports Writers Association selected this group, which brings the Hall's total to 433 inductees enshrined in Natchitoches, Louisiana.
This article was originally published September 18, 2019.