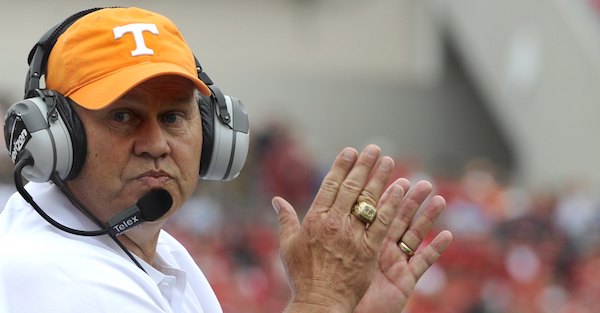 Al Messerschmidt/Getty Images
TAMPA, FL - JANUARY 1: Coach Phillip Fulmer of the Tennessee Volunteers watches play against the Wisconsin Badgers in the 2008 Outback Bowl at Raymond James Stadium on January 1, 2008 in Tampa, Florida. The Volunteers won 21 - 17. (Photo by Al Messerschmidt/Getty Images)
Things quite obviously did not go according to plan after the Tennessee Volunteers parted ways with Butch Jones in November. Following that decision (one met with acceptance by most), the Vols endured an unequivocally brutal coaching search that featured several high-profile coaching names and a change at the athletic director job that landed former head coach Phil Fulmer in that coveted chair.
Since then, of course, the Vols finally hired a head coach in Jeremy Pruitt and can now seemingly move on with a new structure in place. Still, a colleague of Fulmer's has made sure that no one forgets the craziness and what should still be a shaky situation.
In speaking with Dennis Dodd of CBS Sports, Arizona State AD Ray Anderson called out Fulmer and Tennessee in one brazen sentence.
"The athletic department there is perceived there as a cluster. Their athletic director, now Phil Fulmer, in the athletic director's world is a pariah. It is not a good situation."
While Anderson's sentiment may be true, it hasn't necessarily been well received, especially in light of Anderson's bizarre decision to hire Herm Edwards and unveil an athletic department plan that has largely been met with laughter. Regardless, it isn't every day that you see an AD from another conference (and one without rivalry ties) making this kind of comment about someone in the same position, further underscoring how insane this has all been.
Phil Fulmer might do a solid job at Tennessee but there is at least one high-profile skeptic and he happens to be in the same position elsewhere.