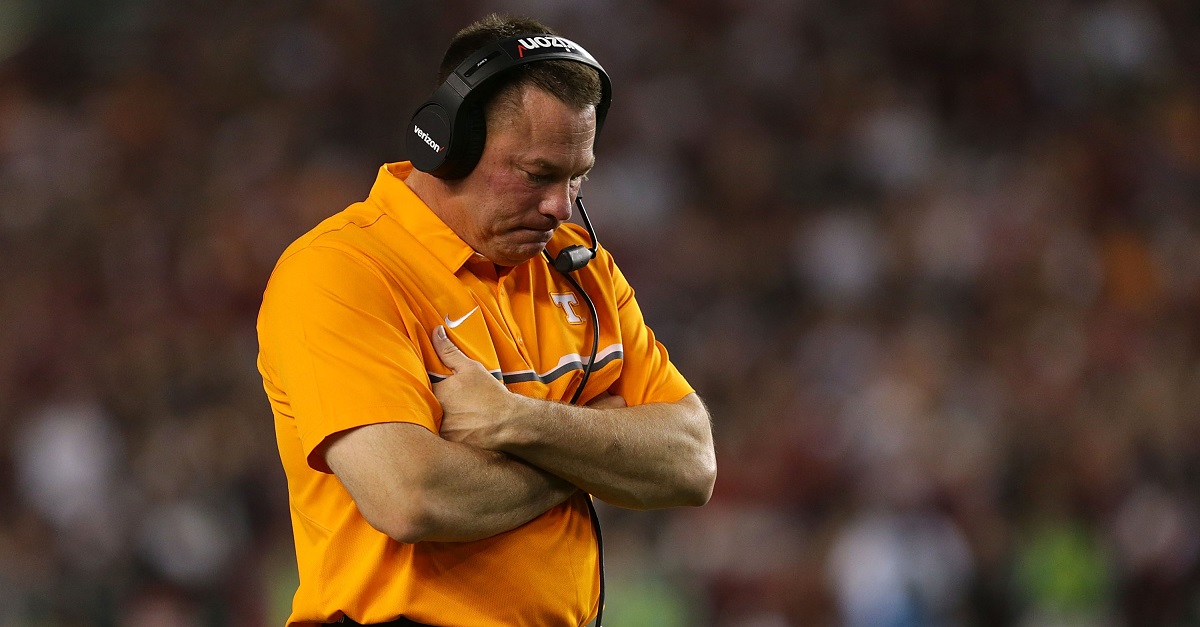 Tyler Lecka/Getty Images
COLUMBIA, SC - OCTOBER 29: Head coach Butch Jones of the Tennessee Volunteers reacts during their game against the South Carolina Gamecocks at Williams-Brice Stadium on October 29, 2016 in Columbia, South Carolina. (Photo by Tyler Lecka/Getty Images)
Well this shouldn't surprise anyone.
Two days after accepting the obvious blame for his coaching lapses during his team's 26-20 loss at Florida, Tennessee coach Butch Jones made excuses about blowing a first and goal situation that resulted in an interception.
The Vols had possession at Florida's half-yard line and instead of running the football with John Kelly — who finished Saturday's game with 237 all-purpose yards, including 141 rushing — opted to call three consecutive passing plays, which resulted in quarterback Quinten Dormady throwing a pick to Duke Dawson.
?That can?t happen at the goal line, you have first-and-goal at the 1, we had a run play call,? said Jones, whose team trailed 6-3 with 7-and-a-half minutes left in the third quarter when the play occurred.
?We would we have liked to have run it on second down, absolutely, the plan was to get under center and do QB sneak outside, but then Quinten tweaks his knee,? Jones said, referring to a low hit the Vols QB took as he delivered an incomplete first down pass. ?We didn?t think it was fair to Jarrett to ask him to go in there and take the snap under center ?. so there?s a lot of nuances that occurred.
?We get the ball down there, we need to run the ball and score touchdowns.?
Uhh…Ya think?
Everyone in Ben Hill Griffin Stadium and watching on television knew you should have run the ball there. Even Pete Carroll knows to run the ball in that scenario.
But once again, Jones diverted blame from himself and used his quarterback as a bailout excuse. The same QB who apparently had a "tweaked knee" that wasn't enough to take him out of the game and put in dual-threat backup Jarrett Guarantano. The reason Guarantano didn't go in was because it wasn't "fair" to make him take a snap under center according to Jones.
Also, what was Jones' excuse for doing the same thing in the redzone while facing a 20-17 deficit? Kelly had already dominated the Florida defense and drove the ball downfield for the majority of the drive.
Instead, three consecutive incompletions led to a game-tying field goal, which didn't matter anyway because the Vols allowed a 63-yard Hail Mary touchdown pass as time expired by playing in nickel coverage instead of dime and weren't in prevent coverage. Jones, of course, blamed that on a lack of depth at the defensive back position.
This guy, man.