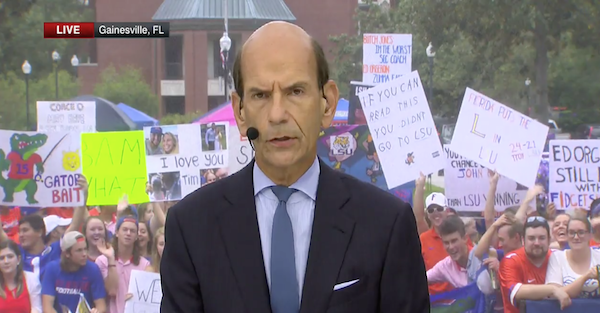 Clippit screenshot
Tennessee's season has unraveled quickly over the last few weeks, and Butch Jones has been placed directly on the hot seat.
On GameDay Saturday morning, Paul Finebaum admitted after five years in Knoxville, a loss next week at home against South Carolina could result in Jones being fired "the next day."
Earlier this week, Finebaum told his audience he had heard Jon Gruden was the target as a potential successor to Jones:
"If I hadn't been to Knoxville last week, I would have laughed at you," Finebaum told the caller. "But I talked to someone, let me put it you that way, someone that I have a lot of trust in and that is connected deeply in that program and he told me the same thing.
"He said, 'If we lose this (Georgia) game, and something happens to Butch Jones, our first choice will be Jon Gruden.'"
That was of course last week and Tennessee did end up losing to Georgia 41-0. And it was arguably the lowest in an embarrassing string of events this season. From nearly dropping an overtime loss to Georgia Tech in the season-opener, to Florida beating the Vols on the final play, it's been a difficult year.
Chip Kelly is another option, according to odds of who could replace Jones at Tennessee.
We'll see how quickly the administration moves if Jones drops another in-conference game.