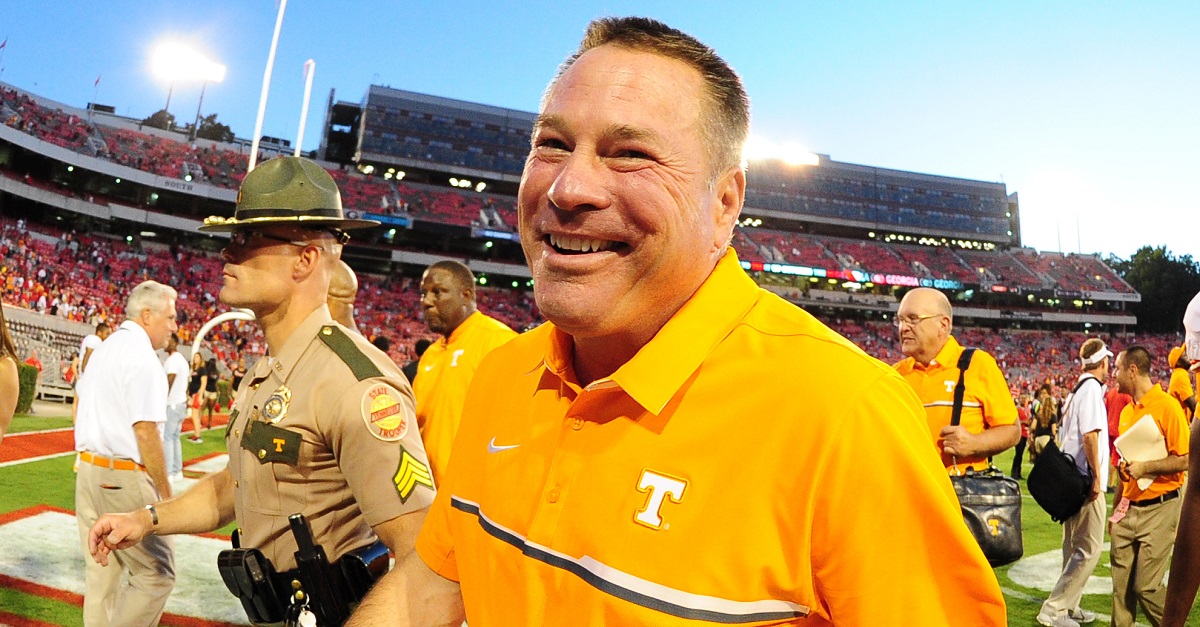 Scott Cunningham/Getty Images
ATHENS, GA - OCTOBER 1: Head Coach Butch Jones of the Tennessee Volunteers celebrates after the game against the Georgia Bulldogs at Sanford Stadium on October 1, 2016 in Athens, Georgia. (Photo by Scott Cunningham/Getty Images)
Many Tennessee fans want Butch Jones gone after Saturday's 26-20 loss at Florida. Former head coach Phillip Fulmer disagrees.
Fulmer, one of the winningest coaches in program history, believes that Jones has done an acceptable job rebuilding the program, which had been in dire straits since the end of his tenure in the late 2000s.
?People ask, ?If he doesn?t win nine or 10 games do you get rid of him??? Fulmer told SEC Country. ?Are you kidding me? We just went through that, have y?all paid attention the past four or five years??
Tennessee went 23-27 during the four-year span between Fulmer and Jones, which included one season under Lane Kiffin and three under Derek Dooley.
The Vols fired Dooley after losing 13 of his last 14 games, which included their only loss to Kentucky in a 26-year span, as well as a blowout at Vanderbilt one day prior to the coach's dismissal.
?Every year is its own challenge,? Fulmer said. ?Think about where we were four years ago. We were awful. Now we?re competitive with anyone in the country, in the best conference in the country. We simply just have to play more consistently.?
Tennessee improved from 5-7 during Jones' first season to 9-4 in 2015 and 2016, while also winning three consecutive bowl games since 2014. However, the Vols seemed to have plateaued under Jones, who has made several obvious coaching lapses in big games, including Saturday's loss and failed to meet the preseason expectations of a division title in a wide open SEC East last season.
?We?ve won 9 games back-to-back,? Fulmer said. ?Nobody is more disappointed than the coaches or the players if they stub their toe at the end of the year. We?ve had a lot of injuries and things going on.?
It's worth noting that Fulmer was reportedly a "serious candidate" for the athletic director position at UT before the school decided on John Currie instead.
Also, the Vols' downslide began at the end of Fulmer's tenure, although things clearly got worse under his predecessors.
But for anyone to watch Saturday's game and think Jones is an SEC caliber coach that can lead a team to the conference championship is just ridiculous.