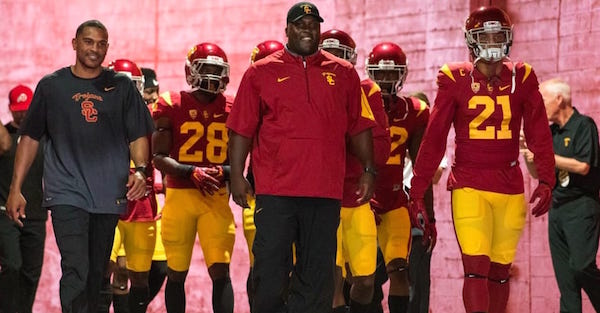 @SECCountryVols/Twitter
@SECCountryVols/Twitter
Tennessee fans have made no secret of their interest in bringing former quarterback and current USC offensive coordinator Tee Martin back to Knoxville.
Apparently, Martin has heard their pleas.
Following USC's 31-28 victory over Stanford, Martin acknowledged the Vol fans shown in attendance campaigning for his coaching service during ESPN's broadcast of the game.
Sources have indicated that Martin, who led the Vols to a national championship in 1998, would accept the position if offered. However, the coordinator confirmed that his alma mater hasn't reached out to him as of yet, despite many others close to the program showing their support.
But that could change with Martin's former coach, Phillip Fulmer, replacing John Currie as the school's athletic director on Friday.
The 39-year-old has quickly risen up the ranks as a young assistant with a bright head coaching future, having been named as a Broyles Award semi-finalist on Tuesday.
On Friday, the Trojans recorded 501 yards of total offense, 22 first downs, averaged 4.1 rushing yards per attempt and went 2-of-2 on fourth down.