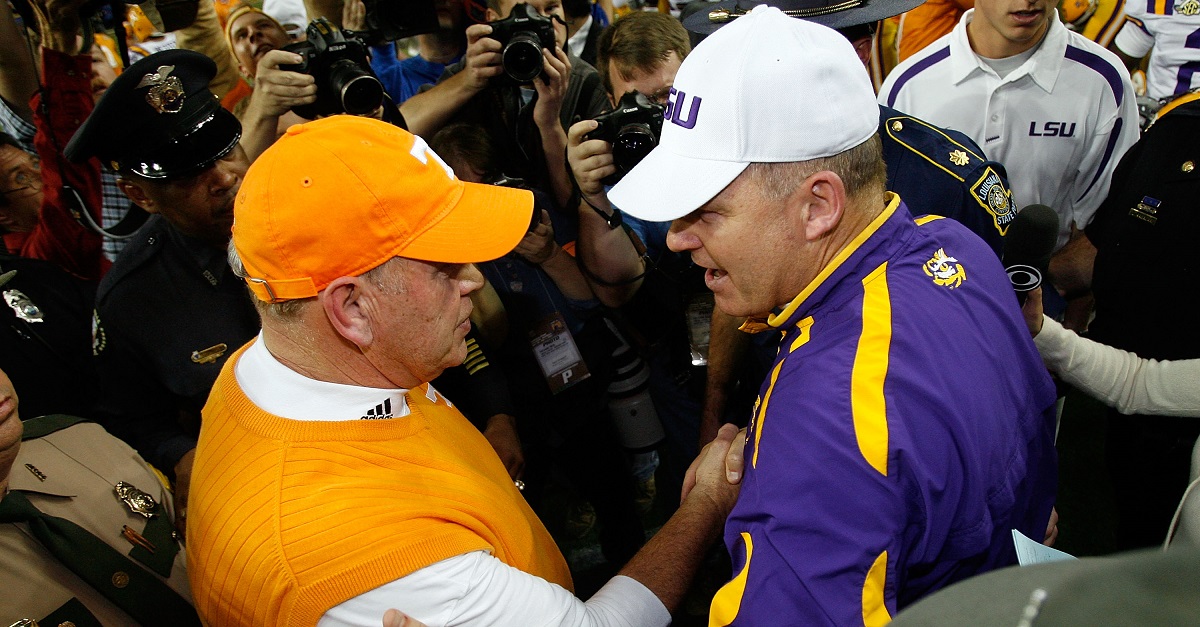 Chris Graythen/Getty Images
ATLANTA - DECEMBER 01: Head coach Les Miles (R) of the Louisiana State University Tigers is congratulated by head coach Phillip Fulmer of the University of Tennessee Volunteers following the SEC Championship game on December 1, 2007 at the Georgia Dome in Atlanta, Georgia. (Photo by Chris Graythen/Getty Images)
Former Tennessee coach Phillip Fulmer is expected to be introduced as the university's next athletic director during Tennessee chancellor Beverly Davenport's press conference on Friday afternoon, according to multiple reports.
SEC Network analyst and Tennessee alum Paul Finebaum confirmed the reports shortly after and noted that it hasn't been decided whether the former coach would take over on an interim basis throughout the remainder of the coaching search or be named as the permanent AD.
Fulmer, who was a candidate for the athletic director vacancy this offseason, resigned as Tennessee?s coach in 2008 and had since worked as a special assistant to the athletic director at East Tennessee State University. He rejoined UT officially in June as a special advisor to the university president.
The College Football Hall of Famer went 152-52 (96-34 SEC) during 17 seasons as Tennessee?s head coach, which included a BCS national championship in 1998, two SEC titles and five SEC East titles.
Former athletic director John Currie was fired on Friday morning after just eight months on the job as initially reported by WVLT in Knoxville.
Earlier this week, Sports Illustrated?s Bruce Feldman reported boosters were attempting to drive Currie out of Knoxville after multiple reports claimed the Tennessee was ?finalizing a deal? with Ohio State defensive coordinator Greg Schiano, which resulted in protests by fans through social media and on UT?s campus.
Tennessee fans protested the reported decision to hire Schiano based having previously worked as a defensive assistant at Penn State under former defensive coordinator Jerry Sandusky, who was convicted of child molestation stemming from his tenure with the Nittany Lions in 2012.
According to a report, Schiano allegedly knew of Sandusky?s sexual abuse and turned a blind eye, according to testimony from former Penn State assistant Mike McQueary that was unsealed in 2016 by a Philadelphia court.
Schiano has denied the allegations in the past, having told ESPN?s Adam Schefter: ?I never saw any abuse nor had reason to suspect any abuse during my time at Penn State.?
Currie released a statement on Monday defending his decision to target Schiano, claiming the university conducted a thorough background check on the coach.
It?s worth noting that Currie had previously worked in Tennessee?s athletic department and was instrumental in Fulmer?s forced resignation in 2008.