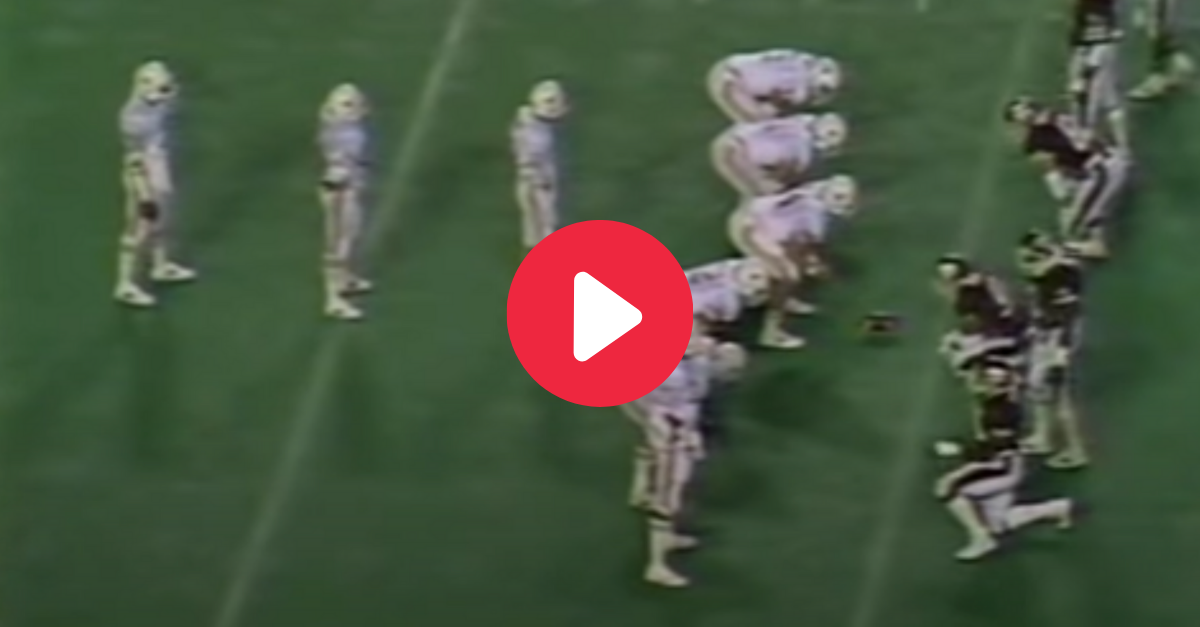 Screenshot from YouTube
The Texas A&M Aggies and Texas Longhorns are not friends. They are bitter enemies, especially when it comes to college football. Emotions are high every time these rivals clash on the gridiron, and perhaps no game proved that more than the 1985 showdown at Kyle Field.
College Station was buzzing that November day. The Aggies and Longhorns had an identical Southwest Conference record, meaning the regular-season finale had serious SWC title implications. Head coach Jackie Sherrill?s football team and the 12th Man didn?t disappoint.
Texas A&M blasted Texas, 42-10. The box score was ugly. If social media existed back then, Aggieland would have been as loud as ever because they definitely were during the game.
1985 Texas A&M vs. Texas
RELATED: Ja?Mar Toombs? Beast Mode Run Made Kyle Field Erupt
Texas A&M University had a pair of blemishes on their 1985 record. The Aggies lost to Alabama in Birmingham to begin the season, then again at Baylor in mid-October. However, they had ranked wins over SMU and Arkansas, which gave them a chance to win the conference title with a win over a solid Texas football team.
Needless to say, they delivered in a big-time way.
Quarterback Kevin Murray threw a pair of touchdown passes, while R.C. Slocum?s defense recorded four interceptions against Texas quarterbacks Todd Dodge and Brett Stafford. It was a straight-up ass kicking and you could hear the crowd roaring for miles.
Perhaps no moment proved that more than when Stafford complained to the refs that he couldn?t hear anything on third down. The 12th Man was deafening. The announcers even pointed out Texas A&M could get a penalty if the crowd wasn?t controlled. Over two minutes went by between plays.
The result? Texas A&M sacked Stafford and forced Texas to punt.
Texas A&M didn?t win the NCAA national championship that season, but they ended the year with a win over Heisman Trophy winner Bo Jackson and the Auburn Tigers at the Cotton Bowl in Dallas.
There were so many great moments from that team, and that matchup against Texas will forever be known as one of the loudest games in Kyle Field history.