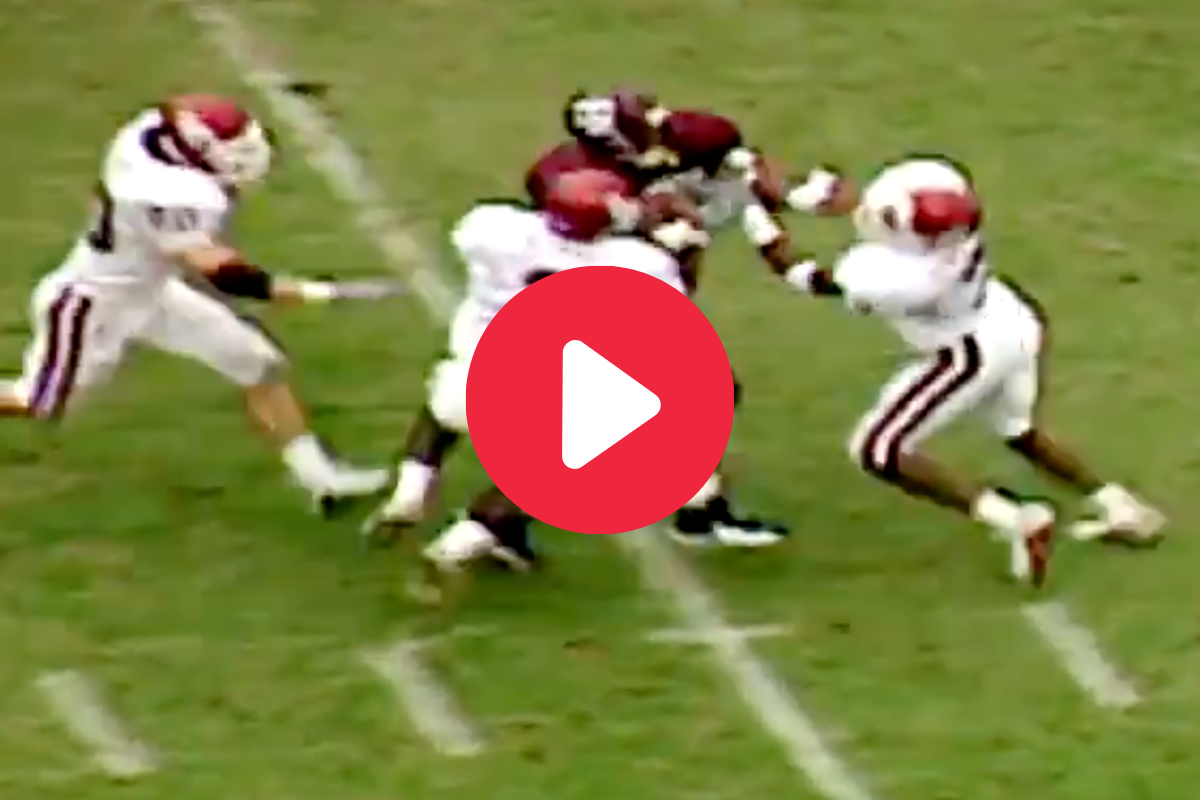 Screenshot from Twitter
Former Texas A&M Aggies running back Ja?Mar Toombs was a bad, bad man. He was so massive and could just bully defenders for extra yards. There?s no doubt he was an elite luxury to have in college football back in the day, but there?s one specific run against the Oklahoma Sooners that summed up his greatness perfectly.
If you attend games at Kyle Field, you know all about this play. It?s one of the greatest highlights in school history. The 27-yard touchdown run is as iconic as it gets in College Station and will be replayed for generations to come.
Denying Ja?Mar Toombs of the end zone that day was simply impossible.
Ja?Mar Toombs? TD Run vs. Oklahoma
MORE: Texas A&M Won ?The Bonfire Game? on Brian Gamble?s Memorable Fumble Recovery
Before Texas A&M moved to the SEC, they had battles with powerhouse football teams like the Sooners, Texas Longhorns and Nebraska Cornhuskers in the Big 12. Ja?Mar Toombs was part of so many great showdowns, too.
Whether it was at running back or fullback, Toombs was a 6-foot, 275-pound football player with punishing strength for Texas A&M football head coach R.C. Slocum. Taking him down was a chore, and the entire OU defense found that out on November 11, 2000.
After taking a handoff from quarterback Mark Farris, Toombs burst through the hole like he was shot out of a cannon. A tackle was attempted immediately after, but that guy stood no chance. Then, three more OU defenders tried to take him down to no avail.
?The handoff will go to Toombs? AND HE?S GOT A FIRST DOWN AND HE?S BREAKING A TACKLE. HE?S INSIDE THE 10. HE?S INSIDE THE FIVE. HE?S FIGHTING FOR THE END ZONE. HE SCORED A TOUCHDOWN! HE SCORED A TOUCHDOWN!?
That play made Aggieland erupt in cheers. The 12th Man was ecstatic Toombs, a Kilgore, Texas native, finished with 72 yards and two touchdowns on the day, but top-ranked Oklahoma escaped with a 35-31 victory.
Following the season, after he dominated the Independence Bowl with 193 yard and three touchdowns, Toombs declared for the NFL Draft, where he would go undrafted. He joined the CFL as a rookie, but was cut before the season, and also played in the Arena Football League.
Although his time wearing the maroon and white for Texas A&M University ended perhaps too soon, nobody can take away that powerful run that was easily one of the best in the NCAA that season.
This post was originally published on June 8, 2020.