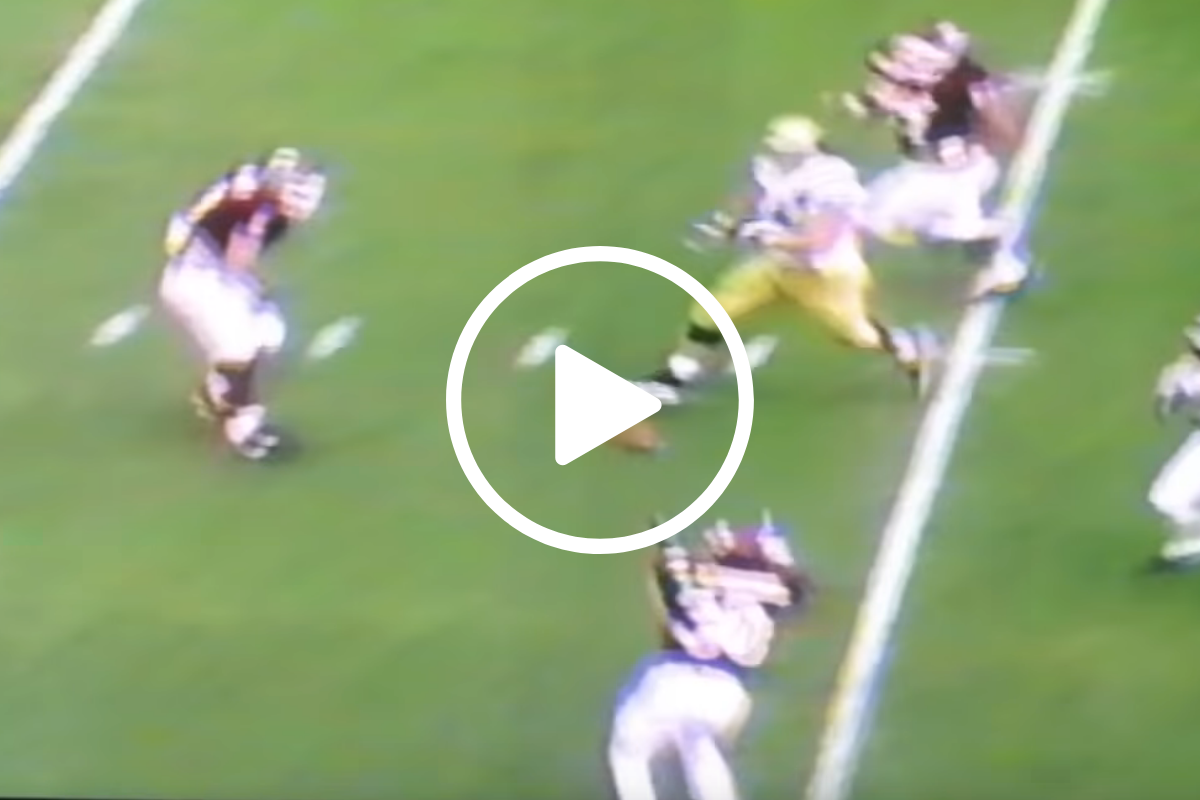 Screenshot from YouTube
Texas A&M linebacker Dat Nguyen must've had some experience with the option.
It's the only explanation.
In the first quarter of the 1998 Cotton Bowl in Dallas, Nguyen brought some playground magic to the defensive side of the ball.
Dat Nguyen & Brandon Jennings' Pick-Six Lateral
RELATED: Leeland McElroy?s 59-Yard TD Run Silenced Death Valley
The UCLA Bruins were driving into Aggie territory.
Quarterback Cade McNown drops back to set up a screen. The lefty lofts the ball to the line of scrimmage, but the the leader of the "Wrecking Crew" read the play perfectly. He makes the interception, leaving an UCLA offensive lineman wondering what happened.
Nguyen sprints down the middle of the field. The lane he initially pursued is starting to fill with white, blue and gold jerseys.
He sees his teammate, cornerback Brandon Jennings, running to his left. So what does the Texas A&M All-American do? He pitches it.
Jennings takes it all the way to the end zone for a touchdown to give his football team the early lead. This 64-yard interception return is the kind of play that would make Texas A&M Aggies head coach R.C. Slocum pull out his hair. But when it's a College Football Hall of Fame player and Texas A&M football legend like Dat Nguyen, you can shake it off.
Nguyen would go on win the game's defensive MVP award, accumulating 15 solo tackles and an interception that will go down in Cotton Bowl history, although the Aggies fell just short by a final score of 29-23.
The loss could be one reason for TAMU's Big 12 championship season in 1998. Bouncing back from a tough loss like that teaches teams how to win in big games.
There are plenty of Dat Nguyen highlights to show young players. Coaches probably want to keep this one away from the film room.