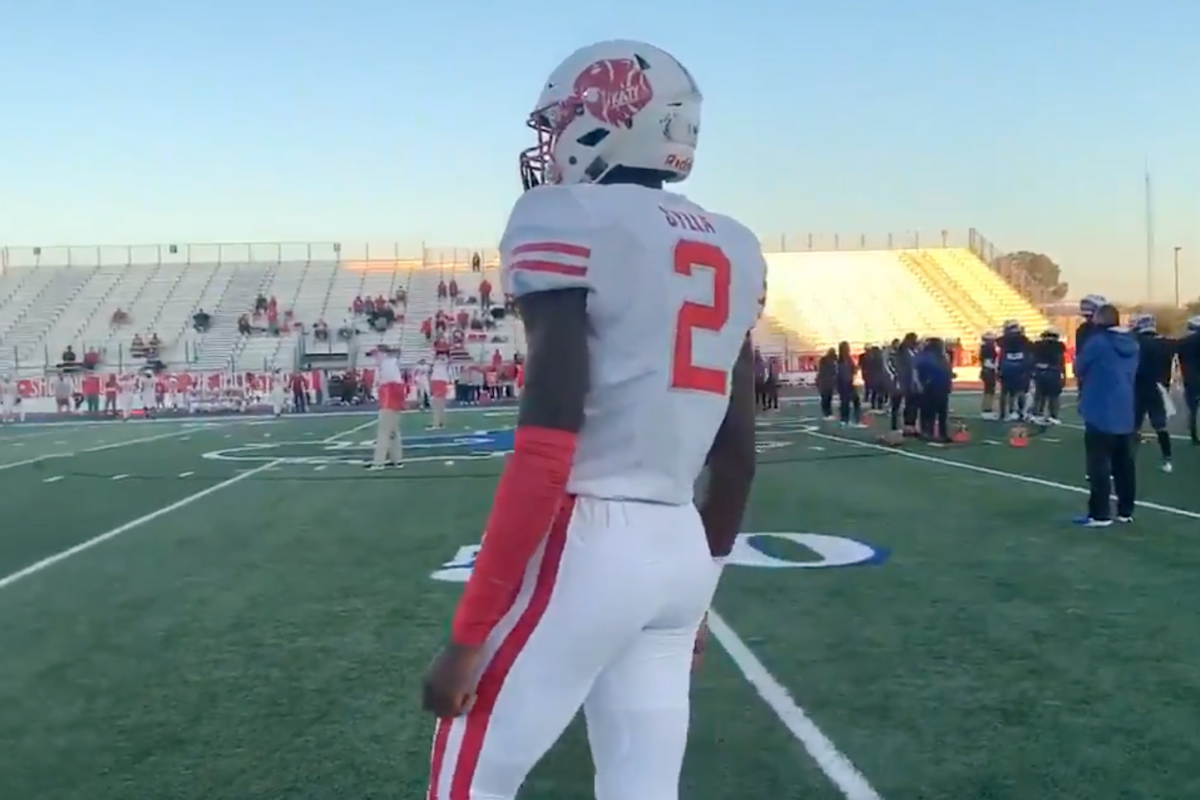 Screenshot from Twitter
Malick Sylla plays weakside defensive end for Katy High School, and he is an explosive talent at just 17 years of age. He is part of the 2022 recruiting class and is the third-best player in the entire state of Texas.
Katy's team is one of the best in the Lone Star State, and Sylla's presence is part of the reason why. He plays on the defensive line but also drops back in coverage as a linebacker, so his versatility and athleticism are both mightily apparent.
It has also garnered the attention of some major college football programs.
Malick Sylla Recruiting
RELATED: 5-Star QB Has a Rocket Right Arm & Big-Time College Offers
Alabama, Arizona State, Arkansas, Auburn, Baylor, Clemson, Florida, Georgia, Houston, Kansas, Kentucky, LSU, Oklahoma State, Tennessee, Texas A&M, USC, and Virginia Tech were just some of the programs in the running for defensive end Malick Sylla.
Andrew Hattersley and Brian Perroni from 247Sports believed the four-star recruit will be donning Aggie maroon during his NCAA college career, and that's exactly what happened.
Malick Sylla Commits to Texas A&M
Malick Sylla is a prized recruit ready for the next level, and he became the first commitment for Jimbo Fisher's 2022 recruiting class. The star rusher announced his commitment on January 17, 2021 via social media.
DE Malick Sylla Highlights
These short clips are enough to prove that Malick Sylla can disrupt offenses at will.
Quarterbacks should cower in fear at the sight of him breaking through the line. Scouts love his athleticism and makeup — two attributes that can lead to him being an early-round NFL Draft pick in the future.
Last year, he was involved in 25 tackles and had four sacks. Katy has played well this year in a season that has been anything but typical due to COVID-19.
Where will Malick Sylla play college football? His offer list indicates that he had some prestigious options, but Texas A&M won at the end of the day.
This post was originally published on December 14, 2020 before updating.