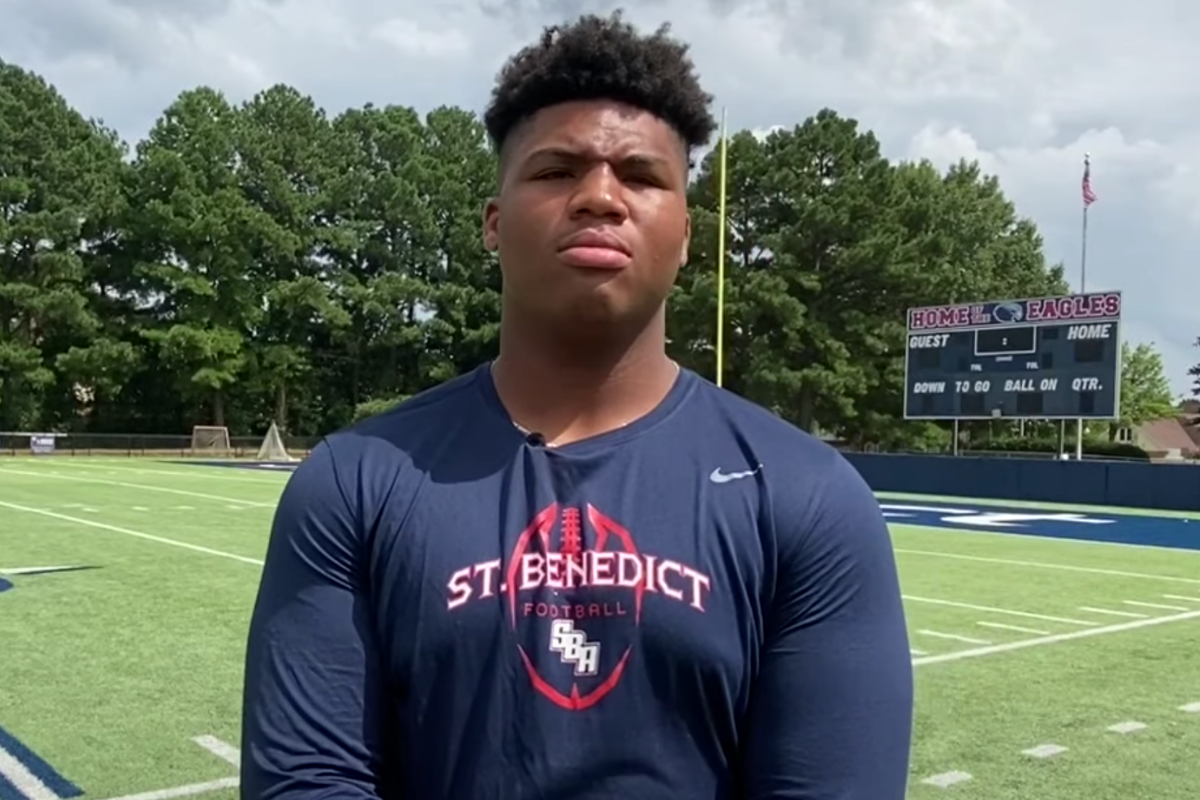 Screenshot from YouTube
Every so often, a high school player comes along, shines on the field, and garners the attention of college football fans nationwide. Defensive tackle Walter Nolen is one of those players.
Nolen is a five-star lineman and arguably the best player in the entire recruiting class of 2022.
College coaches have had their eyes on Nolen for years. He was born in Cordova, Tennessee, but he spent his first two seasons playing high school football for Olive Branch High School in Mississippi.
He left to play for the star-studded IMG Academy prior to the pandemic and his parting gift to Olive Branch was a second-round appearance in Mississippi state playoffs. As a sophomore, he was responsible for three sacks and 92 total tackles.
The COVID-19 outbreak changed his mind about wanting to play for IMG, so he moved back to the Memphis area and is now playing for St. Benedict at Auburndale High School.
Walter Nolen Recruiting
RELATED: Meet the 285-Pound QB Taking the Internet By Storm
The list of programs interested in the five-star recruit is massive. Alabama, Clemson, LSU, Michigan, Ohio State, and Tennessee are all considered favorites, but the star defensive lineman has also received offers from places like Florida, Florida State, Memphis, Miami, Mississippi State, Oklahoma, Oklahoma State, Ole Miss, Oregon, Penn State, South Carolina, and Vanderbilt.
No team has taken first place in the race to sign the nation's No. 1 junior just yet, but Jeremy Pruitt's team may have an advantage: Nolen's former head coach Marlon Walls played for the Volunteers.
Walter Nolen Scouting Report 
Running backs should shake with fear if they have to rush up the middle against Nolen. He may be 300 pounds, but he has the speed of a linebacker and is considered one of the "most disruptive defenders in the country."
The 247Sports Composite and ESPN both tab Nolen as a five-star player who has the chance to become a future All-American and early-round NFL Draft pick.
His journey to the NCAA is not starting yet, but his recruitment will be worth following. Whoever lands Walter Nolen will land a game and defense-changing talent.