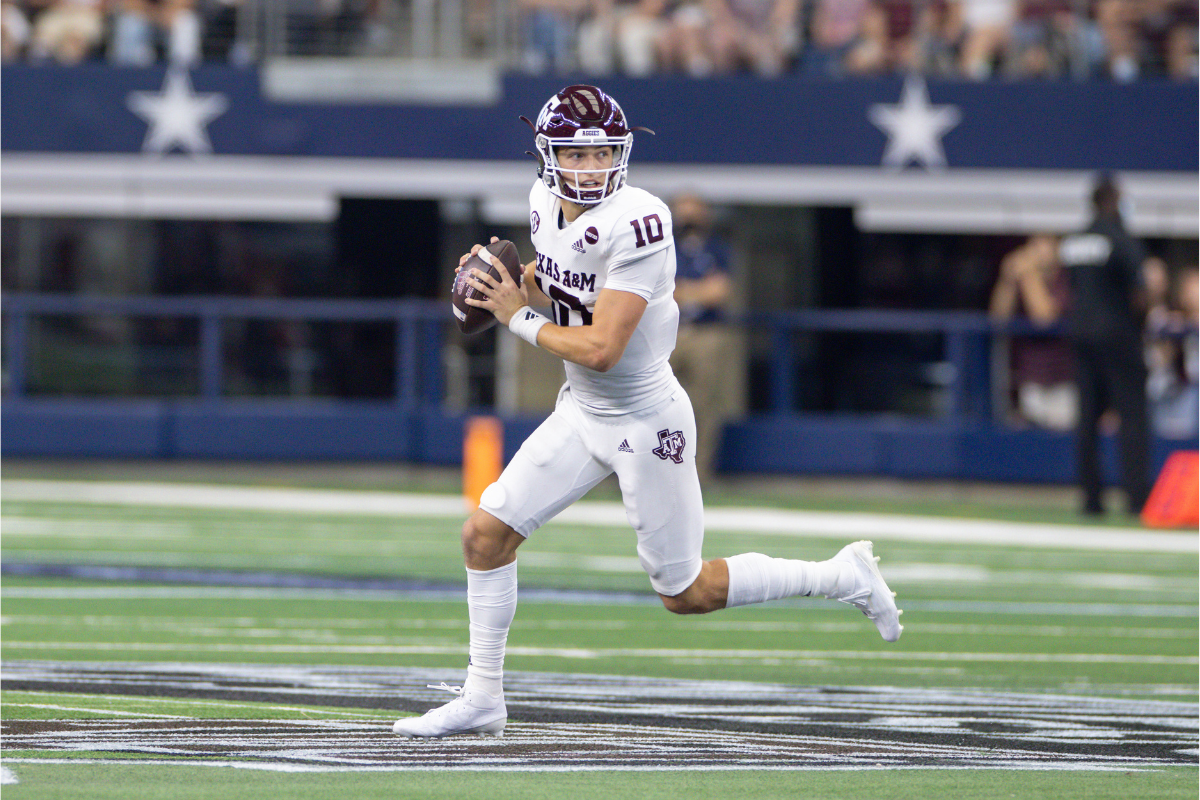 Matthew Visinsky/Icon Sportswire via Getty Images
Texas A&M starting quarterback Zach Calzada heard the rambunctious celebration from the ground. The Aggies signal caller had just delivered a 25-yard touchdown pass to receiver Ainias Smith to tie No. 1 Alabama at 38 apiece. A simultaneous hit caused his leg to bend awkwardly as he released. He was unable to make it off the field on his own.
Backup Blake Bost warmed up to see the second action of his college football career. The walk-on freshman had piloted the Texas A&M offense on the final drive of the Aggies' 34-0 win over New Mexico. This time, he was about to take the field against the No. 1 Alabama Crimson Tide with the game on the line. The stakes were nearly identical.
As Lee Corso says, not so fast my friend.
Calzada spent some time in the medical tent, drank some of Michael Jordan's secret stuff and trotted onto Kyle Field for the next possession. The setback was nothing new for Calzada. It's something he learned to handle from his grandparents.
Zach Calzada's Grandparents Escaped Cuba
Zach Calzada's grandparents, Hector and Maria Calzada, fled Cuba after Fidel Castro's communist regime took over the island in the late 1950s. Hector and Maria were unable to arrange a direct route to the United States, so they left for Panama saying they were going on a delayed honeymoon. The Calzadas were able to obtain passage to the United States six months later and settled in St. Louis, Missouri.
"I had nothing," Hector Calzada Sr. told Our Esquina. "They took it all away. They didn't let me take anything. They took all the money in my bank account when I said I was leaving. It was very difficult, very difficult."
The Calzadas had Zach's father, Hector Jr., after starting their new life. Hector Jr. was something of an athlete himself. He swam at Tulane University. Hector Sr. worked various jobs to send his son through college while Maria worked as a registered nurse. Their perseverance is the foundation for Zach's never-quit attitude.
Zach Calzada High School
The Texas A&M quarterback was a three-star recruit out of Lanier High School in Buford, Georgia. He took over the staring job as a junior, but his senior year performance put him on the map.
Calzada, nicknamed the "Cuban Missile," suffered a serious rib injury along with a punctured lung early in the year. He was sidelined for a majority of the season, but returned to lead the underdog Longhorns on an improbable run to the state semifinals. He threw for 3,435 yards and 29 touchdowns and ran for 505 yards and 11 touchdowns during his high school career.
Zach Calzada Texas A&M
RELATED: Texas A&M Kicker's Family Goes Viral For Heartwarming Reaction to Game-Winner
Texas A&M Aggies head coach Jimbo Fisher named redshirt freshman Haynes King the starter after a long competition in fall camp. King went down with an ankle injury against Colorado, and Calzada's number was called. He led to Aggies to an ugly 10-7 win.
He rebounded in his fist start against New Mexico. Things turned sour in losses to Arkansas and Mississippi State, where he left the field in tears.
Then comes 'Bama. Texas A&M fans still dream of the Saturday when Johnny Manziel marched into Tuscaloosa and took down Nick Saban's team. Zach Calzada is no Johnny Manziel. However, he is the "Cuban Missile."
Calzada came out firing. He led the Aggies to a 24-10 halftime advantage. Alabama being Alabama naturally came back to take a 38-31 lead with five minutes remaining in the game. It was the same old story. An underdog plays the game of their life only to lose in heartbreaking fashion. The "Cuban Missile" wasn't out of ammo yet.
Calzada marched the Aggie offense down the field and threw the game-tying touchdown pass to Smith. The hearts of Texas A&M fans sank as he was carried off the field. A three-and-out from the Aggie defense is all it took for a hobbled Calzada to dig deep.
He strapped on his helmet and led the offense into field-goal range. Kicker Seth Small nailed the 28-yarder to give the Aggies arguably their biggest win ever in College Station. Calzada finished the game with 285 yards through the air, three touchdowns and one interception — more than enough to be named the SEC Offensive Player of the Week.
Texas A&M QB Zach Calzada went from jeered to revered to legend all in seven days.
It makes sense.
Overcoming adversity is nothing new to him or his family. Aggieland will see another Calzada handle obstacles pretty soon, too. Zach's younger sister Carolyn is a member of the Texas A&M women's soccer team's 2022 recruiting class.
Calzada is at his best when the chips are stacked against him. After all, it's in his DNA.
Related Videos