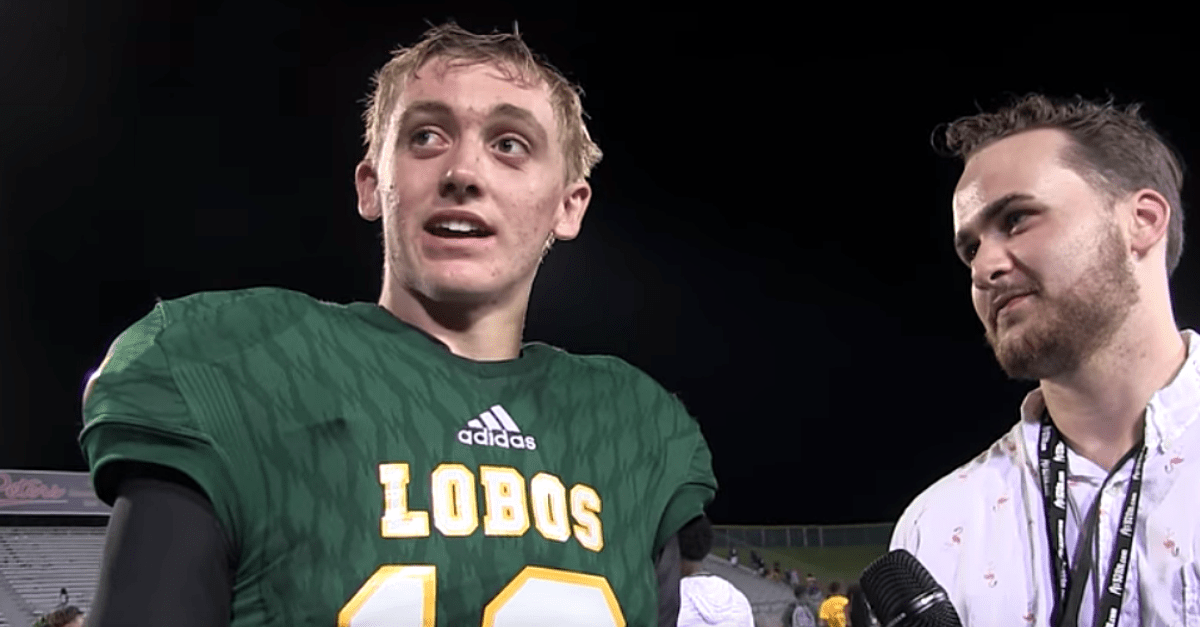 YouTube: ETSN.fm
Texas A&M quarterback Kellen Mond believes he's the best signal caller in the Southeastern Conference. While that sounds like a stretch, the fact is that Aggieland is a growing destination for the country's best high school football prospects for a reason. Coach Jimbo Fisher, a former QB in his playing days, groomed players from LSU's JaMarcus Russell to Florida State's Jameis Winston into Heisman Trophy-winning quarterbacks. There's no reason Mond couldn't become an All-SEC caliber player, too.
With the clock ticking on Mond's development, focus may shift to Fisher's first major QB arrival since he landed in College Station. If his highlight reel is any indication, Longview High School quarterback Haynes King could very well become the SEC's best quarterback before his days are done. Who knows, maybe he'll give Mond a run for his money.
Haynes King: A QB Gem Similar To Kyler Murray
King was the nation's top uncommitted quarterback when he made up his mind to head to play for the Texas A&M Aggies in 2020. While Kellen Mond still has one year of eligibility remaining, the future of the Aggies' program falls on a kid who 247Sports' Charles Power called "one of the best high school quarterbacks from Texas since [Kyler] Murray." Let's just hope King's TAMU career is different than Murray's.
King was ranked as ESPN's No. 3 dual-threat quarterback in the country. The unanimous four-star recruit was 247Sports' No. 5 prospect and 19th-best overall player in the state of Texas.
King passed on offers from Auburn, Arkansas, LSU, Miami, Ole Miss, Oregon, Tennessee and TCU, among many others to touch down in Aggieland.
QB Haynes King Highlights
RELATED: Running Back Zachary Evans, America's No. 1 Player, Names Final 5 Schools
All Haynes King did as the Longview QB in 2018 — the same high school actor Matthew McConaughey attended — was lead the Lobos to the school's first Texas state championship in 81 years. On top of that, the Class 6A First-Team All-State selection completely blew his competition out of the water on the stat sheet.
King racked up over 4,500 yards of total offense, threw 42 touchdowns passes, ran for eight more, and only tossed four interceptions as a junior. He threw for another 1,996 yards and 20 more touchdowns as a senior.
Not only is he athletically gifted, King is deadly accurate, especially downfield.
One of the Elite 11's most outstanding players finished an undefeated season in 2018 with a 69.2 completion percentage and a mind-bending 21.1 yards per completion.
King Is The Son Of An All-American
King is a coaches' son. His dad, John, was a college football All-American offensive lineman in 1990 who is now the head coach at Longview. The elder King is a member of the Northwestern State Hall of Fame, and there's no reason his son couldn't merit those same credentials before he's finished.
Get ready, Aggieland. It may be Kellen Mond's show for now, but the future of Texas A&M football appears to be in good hands with the commitment of game-changer QB Haynes King.
This post was originally published on July 18, 2019, but has been updated since his commitment.