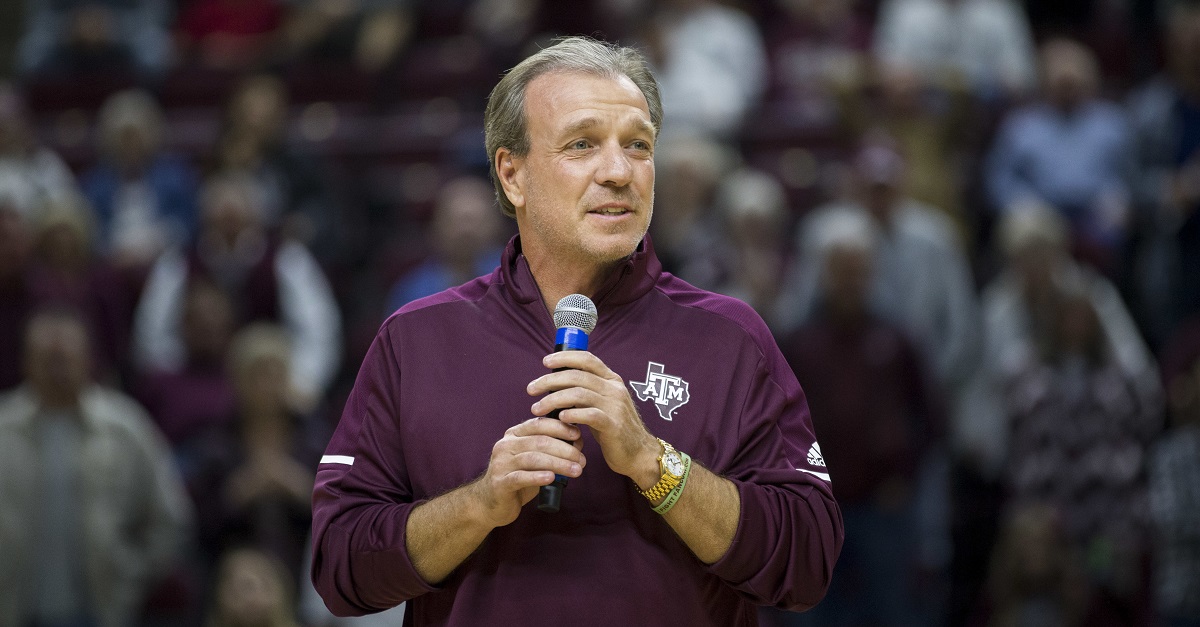 AP Photo/Sam Craft
Texas A&M University is home to the most valuable college football team in the country. The man in charge of that gem, Jimbo Fisher, is being paid handsomely to lead the Aggies despite his inability to turn the program into the next Alabama or Clemson or even an SEC juggernaut thus far.
Aggie Nation has learned a lot about head coach Jimbo Fisher since he landed in College Station. For instance, he reportedly spent $80,000 on a baby calf because he can. He also apparently loves Texas A&M and plans on spending a long time in the Lone Star State.
But if you're like me, you've probably wondered things like how did Jimbo Fisher get his nickname? Is that his real name? What's a jimbo?
Alas, I'm here with the answers.
How Did Jimbo Fisher Get His Nickname?
Jimbo Fisher's birth name is John James Fisher Jr. He was actually the third with that name. According to the Dallas Morning News, Fisher's father was given the "Jimbo" moniker as a young boy by his great aunt, Juanita. Apparently, the Fisher family consisted of too many Jims — Jimbo was Jim. His father was Jim. He had an uncle named Jim. Clarksville, West Virginia was basically Jimville for the Fisher family.
While his family knew him as Jimbo, Fisher still encountered problems with people who tried calling him John while growing up. He told the Dan Patrick Radio Show that in grade school his teacher called him by his first name, and he never responded to it. The teacher went to Aunt Juanita, the school's secretary, explaining her dilemma.
"I think we need to have John tested for hearing," the teacher said.

"Who?" Aunt Juanita asked.

"John."

"Why don't you try calling him Jimbo?" Juanita suggested.
It worked. Fisher wound up attending North View Junior High School and Liberty High School. He then enrolled at Clemson University to play baseball but transferred to Salem College (now Salem University) in Salem, West Virginia.
There, Fisher played quarterback for head coach Terry Bowden — coincidentally the son of Florida State legendary coach Bobby Bowden — and then transferred again to Samford University in Birmingham, Alabama, when Bowden received the head coaching job there. He earned 1987 Division III National Player of the Year honors and still holds many school records at Samford.
Fisher is also one of a few current NCAA head coaches with national championships to their names. He's also part of Nick Saban's extensive coaching tree.
The 53-year-old's coaching career has included stops as an assistant with the Samford Bulldogs, Auburn Tigers, Cincinnati Bearcats, LSU Tigers and Florida State Seminoles. He coached alongside Saban at LSU and won a national championship with Heisman Trophy winner Jameis Winston as FSU's head coach in 2013.
Fisher in 2018 replaced Kevin Sumlin in College Station, a move that at first looked great for Texas A&M and obviously hasn't worked out well for Florida State, who hired Willie Taggart.
The Texas A&M Aggies posted a 9-4 record in Fisher's first full season and capped it off with a convincing win over North Carolina State in the Gator Bowl. Behind quarterback Kellen Mond, though, TAMU has yet to enter the upper echelon of Southeastern Conference teams or even compete with Alabama, LSU and Auburn in the SEC West, let alone meet the Georgia Bulldogs or Florida Gators in the SEC Championship Game.
Still, Texas A&M football is in good hands. Jimbo Fisher won a title at Florida State for a reason. He recruited well, and has continued to do so in Aggieland. It's just a matter of putting the pieces together now and separating from bottom-feeder teams like Ole Miss, Mississippi State and Arkansas.
Jimbo Fisher's Contract and Salary
Fisher's monster deal with the Aggies is for 10 years and $75 million. The fully guaranteed contract is odd in that if another school wanted to hire Fisher away, the school would owe Texas A&M zero dollars.
The football coach's base salary is $500,000 plus a supplemental income of $7 million in 2018. His contract also contains incentives and bonuses that can increase his annual salary by as much as $1.35 million.
Fisher's bonus opportunities include the following:
Win the SEC West: $100,00
Win SEC title game: $200,000
Make non-New Year's Six bowl game: $100,000
Make New Year's Six bowl game: $200,000
Make College Football Playoff: $300,000
Make CFP finals: $500,000
Win national title: $1 million
Fisher's $7.5 million salary in 2018 made him the SEC's second-highest paid coach and fourth highest in college football behind Alabama's Nick Saban, Ohio State's Urban Meyer and Michigan's Jim Harbaugh.
He earned a $100,000 bonus for the Aggies playing NC State in the Gator Bowl. He also triggered a $150,000 bonus in his first year for the Aggies' success in the classroom, meaning he earned close to $8 million in year one of his 10-year contract.
This post was originally published on September 30, 2019.