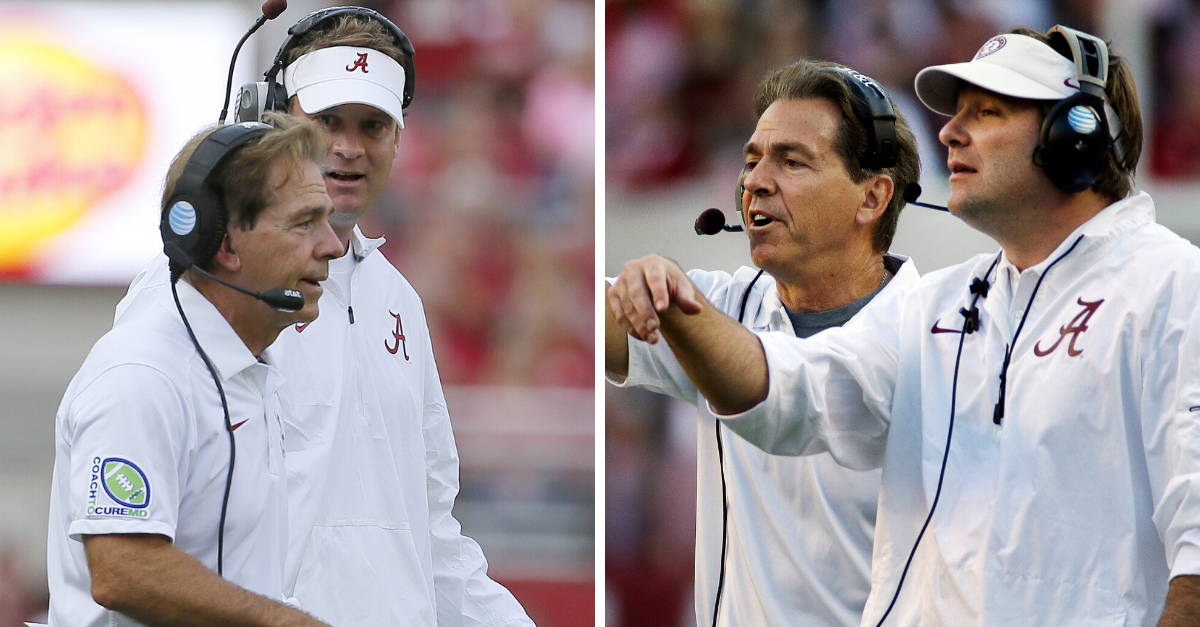 AP Photo/Jonathan Bachman (left), Dave Martin, File (right)
Every college football program wants a Nick Saban. Take a trip through the every SEC town, stop in Tuscaloosa's best bar and ask any Crimson Tide fan and they?ll tell you Saban is idolized the way Bear Bryant was there. He?s a god. All hail King Saban. If he ran for President, he'd probably win and put together one hell of a staff.
That?s what Saban, who grew up in a small town in West Virginia, does. He?s a proven winner. His tight-ship method ? similar to the one Bill Belichick is running in New England ? clearly works and every other team outside of maybe Clemson is trying to copy it.
Don?t believe me? Take a look around the country. The SEC even. Four of the SEC?s head coaches were Saban assistants at one point. From Saban?s head coaching stops at Michigan State (1995-99), LSU (2000-04), the Miami Dolphins (2005-06) and now Alabama (2007-present), he?s essentially done what he does with his endless conveyor belt of five-star recruits.
He develops them. He molds them into stars. And the branches of Nick Saban's coaching tree extend across the country. Former offensive coordinators and defensive coordinators are everywhere you look.
The first shining examples are Kirby Smart and Jimbo Fisher. The latter of the two worked with Saban at LSU and won the 2013 national championship at Florida State University before he landed the head coaching job at Texas A&M. Smart was an Alabama product that has led the Georgia Bulldogs to a 32-8 record and a National Championship Game appearance in three years.
Then you have Will Muschamp and Jeremy Pruitt. Pruitt was Alabama's defensive coordinator from 2016-17 until Tennessee hired him to be its head football coach. Muschamp worked as Saban's defensive coordinator at LSU and is actually one of two Saban former assistants to become the head coach of the Florida Gators (Jim McElwain being the other one). Muschamp has ran the University of South Carolina's program since 2016.
To make this extensive tree easier on the eyes, let's just put them all in bullet points. I'll keep it to guys that became head coaches at major programs or the NFL so you're not reading all day.
Nick Saban's Coaching Tree
Kirby Smart (Alabama): Georgia HC
Jimbo Fisher (LSU): Texas A&M HC, Florida State HC (2010-17)
Jeremy Pruitt (Alabama): Tennessee HC
Will Muschamp (LSU): South Carolina HC, Florida HC (2011-14)
Mark Dantonio (Michigan State): Michigan State HC
Derek Dooley (LSU): Missouri OC, Tennessee HC (2010-12), Louisiana Tech HC (2007-09)
Jim McElwain (Alabama): Central Michigan HC, Florida HC (2015-17) Colorado State HC (2012-14)
Lane Kiffin (Alabama): Ole Miss HC, Florida Atlantic HC (2017-19)
Bobby Williams (Michigan State): Oregon ST, Michigan State HC (1999-2002)
Jason Garrett (Dolphins): Dallas Cowboys HC
Dan Quinn (Dolphins): Atlanta Falcons HC
Mike Mularkey (Dolphins): Tennessee Titans HC (2016-17)
Adam Gase (LSU): New York Jets HC
Pat Shurmur (Michigan State): New York Giants HC
Major Applewhite (Alabama): Houston HC (2016-18)
Mario Cristobal (Alabama): Oregon HC
Mike Locksley (Alabama): Maryland HC
Billy Napier (Alabama): Louisiana HC
Geoff Collins (Alabama): Georgia Tech HC
Curt Cignetti (Alabama): James Madison HC
Michael Haywood (LSU): Texas Southern HC (2016-18)
RELATED: The Incredible History Behind Alabama's Bryant-Denny Stadium
Those are some pretty significant names. Quinn took the Falcons to Super Bowl LI, where Tom Brady led a comeback of epic proportions. Dantonio has been the Spartans head coach since 2007, and took them to the 2015 College Football Playoff, where they lost to (guess who?) Alabama.
In fact, Saban is the master at beating his former assistants. He owns a 19-0 all-time record against them. The only one to get remotely close to beating Alabama was Smart in the 2018 SEC Championship Game and the College Football Playoff Championship Game the year before.
Part of why Saban's tree is so long is because he's successful. In the same way that NFL teams hire Belichick's assistants to lead their teams, the same goes for NCAA programs. That also means Saban has what seems like a yearly challenge in filling out his assistant coaches after departures. Just this past year he's had to replace a handful of assistants.
As coach Nick Saban keeps Alabama where it is ? winning SEC Championship games and competing in the national title game every year ? the Tide doesn't look like it's going to change any time soon, even if they let Clemson win a championship here or there. That means the Nick Saban coaching tree will only grow larger and larger.
This article was originally published May 30, 2019.