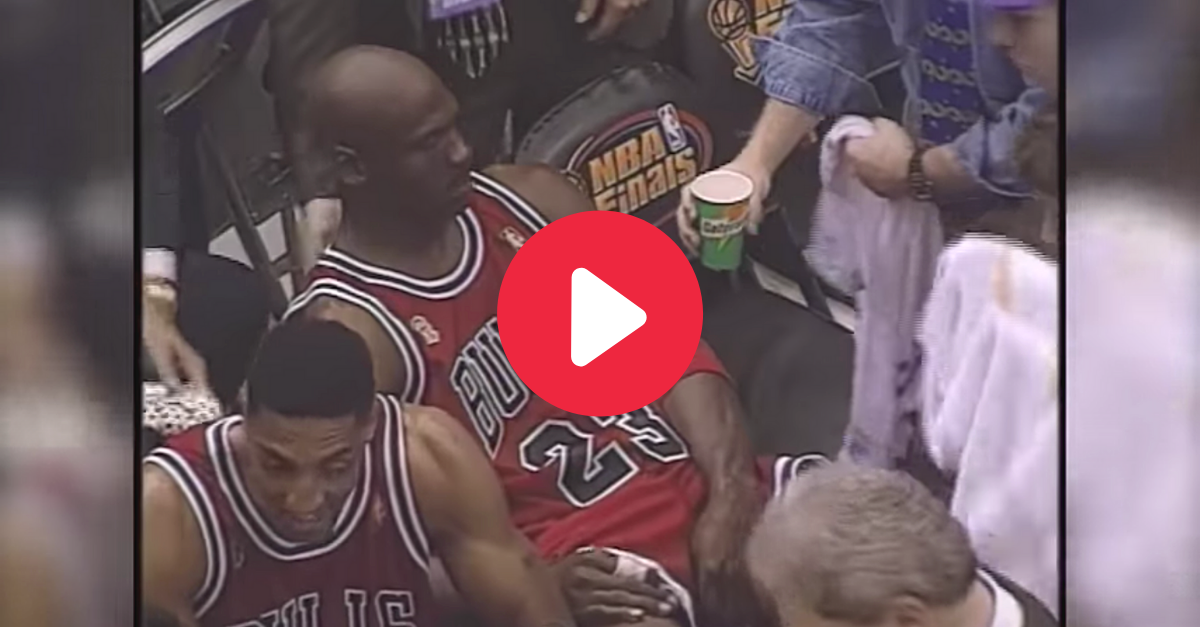 YouTube: ESPN Archive
If you mutter the phrase, every NBA fan knows what you're talking about. The image of Michael Jordan draped over Scottie Pippen. The mega superstar leaning his entire weight on his teammate to leave the court, drenched in mixed sweat from a fever and a 38-point performance ? He was physically spent. A near martyr because losing was not an option.
The cost was inconsequential to Jordan as long as the outcome was him on top.
Michael Jordan Flu Game
Game 5 of the 1997 NBA Finals. Chicago Bulls vs. Utah Jazz. The series is tied 2-2.
The night before, Jordan ate some pizza and thought of nothing of it. At 2 a.m., Jordan's trainer, Tim Grover, received a call from Jordan and went to his room. The Bulls superstar was in the fetal position and sweating profusely. Grover deduced it was food poisoning. Team physicians ruled there was no way Jordan could play.
Come on, we're talking about Michael Jordan here.
During shoot-around, the next day at a Park City high school, MJ was hooked up to an IV and barely mobile. His status for the critical finals game that night was in question. He stayed in bed all day and arrived at the Delta Center in downtown Salt Lake City in time to make tip. Broadcaster Marv Albert exclaimed:
?The big story here tonight ? the story concerning Michael Jordan?s physical condition,? said [Albert]. ?This is Jordan arriving two hours ago. He is suffering from flulike symptoms.?
Jordan looked pale, clammy, and lethargic. In the first quarter, he struggled, scoring only four points. The Jazz surged to a 16-point lead in the second quarter behind John Stockton and Karl Malone. Flu or not, the world needed a reminder on who the alpha was. Jordan roared back with 17 points in the second, cutting Utah's lead to four at halftime.
Utah extended their lead to eight in third while MJ was on the bench. In the fourth, he responded with 15 points capped by the go-ahead three-pointer with 25 seconds left. The Bulls never relinquished the advantage and won 90-88, taking a 3-2 series lead. Jordan collapsed into Pippen's arms, exhausted.
Back in Chicago two days later, the Bulls won their fifth NBA championship in seven years.
What Caused Michael Jordan's Sickness?
Who's more sick? Jazz fans after reliving this story for the millionth time or Michael on June 11, 1997? Utah was in position to take the series lead with the greatest player of all-time impaired. There are rumors Jordan was actually battling a hangover and not the flu or food poisoning. Right, like MJ would ever stay out late the night before a basketball game.
Today's stars like LeBron James, Kawhi Leonard, Steph Curry, and Kevin Durant probably wouldn't have the chance to add a chapter of this magnitude to their legacy. Golden State Warriors coach and former Bulls guard Steve Kerr agrees:
?We?re not taking that chance today,? [Kerr] said on the Runnin? Plays podcast. ?I guarantee you that. If that happened with Steph [Curry] or Klay [Thompson] or any of our players, no way we?re dealing with that.?
Kobe Bryant is the only other player I could see endure a sickness like this in his heyday.
ESPN's The Last Dance has given us a peek into Michael Jordan's hyper-competitive, borderline insane nature. Jordan's flu game was the most visible display of vulnerability we had seen. It showed that Air Jordan was in fact human. The flu was just another obstacle in the way of winning. It makes you wonder if Jordan would play through the coronavirus pandemic. For a playoff game, I wouldn't put it past him.
MJ lived to defy the odds, even at the cost of his personal health.
Jordan Men's Air 12 Retro Flu Game