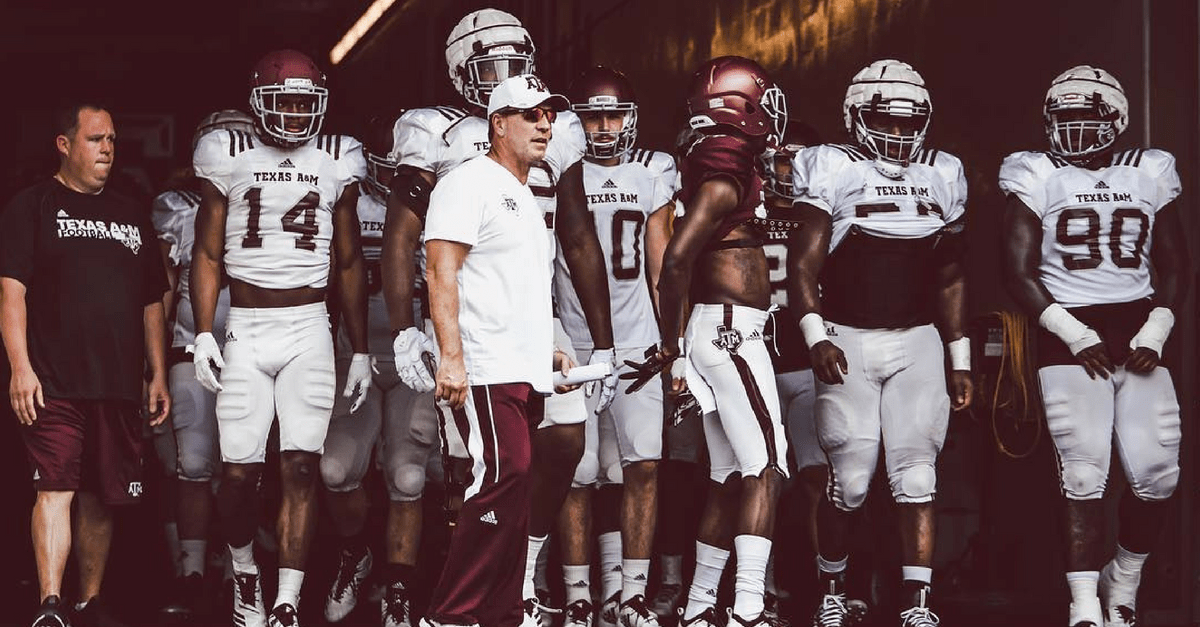 Instagram: @aggiefootball
Instagram: @aggiefootball
When linebacker Santino Marchiol decided to transfer from College Station to the University of Arizona, he submitted documentation for a waiver from the NCAA so that he would be eligible to play immediately. That waiver had to include "documented mitigating circumstances" that lead to negative consequences on a player's health and well-being.
Well, the allegations against Texas A&M and head coach Jimbo Fisher that came from Marchiol's waiver request are nothing less than shocking. Despite mounting pressure, the Aggies' locker room remains steadfast, and they aren't listening to the outside noise.
Texas A&M players responded at the team's media availability this week, going off script to make sure they made their voices heard.
"We didn't pay any attention to [Marchiol's allegations]," sophomore wide receiver Camron Buckley said. "It was nonsense to us."
When new head coach Jimbo Fisher addressed questions about Marchiol's accusations, which haven't led to any formal investigations or inquiries from the college football's governing body, the NCAA, the 52-year-old coach exuded confidence.
Fisher said that the program is prepared for to disclose any information that's asked of it if a formal investigation were to take place.
Buckley wasn't the only Aggie to come to the Texas A&M staff's defense.
Second-team preseason All-SEC running back Trayveon Williams said, "This team has been the tightest it's ever been."
Marchiol's claims include the Texas A&M staff committing several NCAA violations including giving $700 to Marchiol to host potential recruits, excessive offseason workouts that exceeded the NCAA's allowed time for mandatory workouts, and mishandling injuries, including verbally harassing players who couldn't practice due to an injury.
Senior defensive tackle Kingsley Keke is one of many Aggies who have bought into Jimbo Fisher's culture change in College Station.
"Coach Fisher has definitely brought a tough culture here — a tough mindset. He's brought effort, discipline and pride, and those are good qualities to bring to a team. I've loved everything about it. The team is 100 percent behind the coaches, and what they say."
Current Texas A&M players weren't the only ones coming to Fisher and his staff's defense. Several former Aggies took to social media to address the unproven accusations.
For Texas A&M, surviving the storm is about sticking tighter, and remembering that none of Marchiol's claims are formal, and the outside noise is simply a distraction at this point.
"I'm having more fun right now playing football than I have in a really long time," fullback Cullen Gillaspia said. "The coaching staff is great, and hasn't misled us in any way. It's college football. You've got to be tough. We're grown men, and a lot of people here are training to go play at the next level.
"I can't say enough good things about this staff and the way they've treated us."
Texas A&M kicks off it's season next Thursday against Northwestern State.
Expect the Aggies to put their program's new work ethic on display when they trounce an FCS opponent on the national stage.