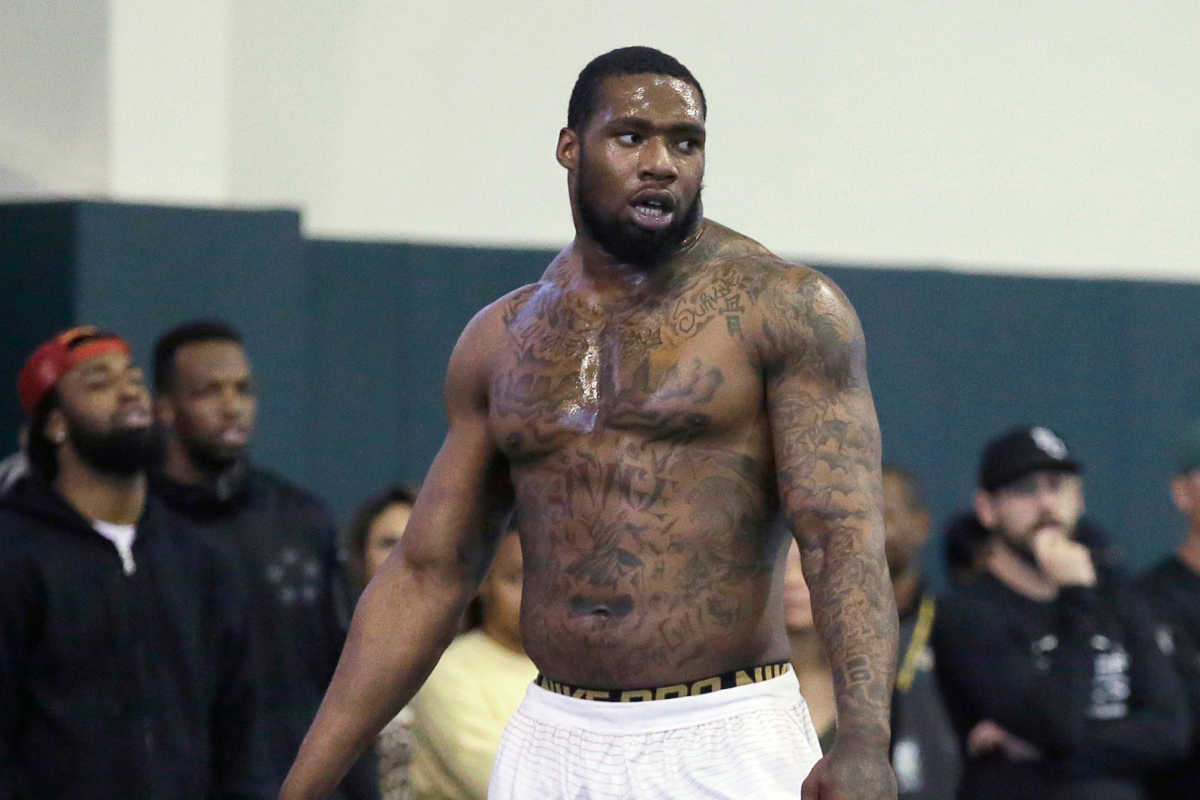 AP Photo/LM Otero, File
Former Baylor University defensive end Shawn Oakman was a highly-regarded NFL Draft prospect in 2016, however his NFL dreams were uprooted following sexual assault allegations just a few days prior to the draft.
Oakman, who was projected by some scouts as a first-round pick in 2016 ended up going undrafted, as no NFL teams were interested in using a draft pick on him with all the negative press surrounding him.
Where is the man who went viral for his freakishly large frame today?
Shawn Oakman College Career
Shawn Oakman's NCAA career started off at Penn State, having played at the nearby Penn Wood High School. However, he was dismissed from the Nittany Lions football team by head coach Bill O'Brien after violating team rules.
Oakman landed on his feet and joined the Baylor Bears. At one point he was heralded as a potential No. 1 overall pick by Sports Illustrated's Chris Burke and a Top-20 pick by Bleacher Report's Matt Miller after a prolific 2014 campaign at Baylor that saw him record 11 sacks, 52 tackles and four forced fumbles.
Baylor made the Cotton Bowl during his junior season, but were defeated by Michigan State.
Oakman went viral as an Internet meme in 2015 after a photo emerged of him looking like an absolute tank.
Shawn Oakman Sexual Assault Allegations
RELATED: What Happened to Carson Palmer and Where is He Now?
Oakman faced second-degree felony sexual assault charges just three days before the 2016 NFL Draft and underwent a lengthy three-year legal battle to clear his name. The alleged incident occurred at a bar in Waco, Texas.
In 2019, a grand jury at the McLennan County Courthouse found the former Baylor Bears star not guilty of assaulting the female whom he had previously dated, citing evidence of consensual sex between the two.
Unfortunately, the damage had been done in terms of his career as a professional football player.
Discussing the traumatic experience with the Philly Voice, Oakman revealed that he received a ton of backlash on social media, explaining that people called him a rapist despite the not guilty verdict.
Shawn Oakman Now
With his legal troubles behind him, Oakman is hard at work trying to prove he belongs in the NFL. He earned a workout with the New Orleans Saints shortly after he was found not guilty, but nothing ever materialized with the two sides.
Instead, he took his talents to the XFL, where he played four games for the Los Angeles Wildcats prior to the league folding due to the coronavirus pandemic. The defensive lineman then signed a two-year contract with the B.C. Lions of the CFL, though that league also shut down to the COVID-19 outbreak.
Additionally, he's held short stints with the Bismarck Bucks of the CIF's Spring League and the Triangle Torch and West Virginia Roughriders of the AAL.
The former college football star is now 29 years old and still searching for his first chance in the NFL. He's still hopeful he'll get his shot eventually. Until then, he's playing in the Canadian Football League (CFL), where he signed with the Toronto Argonauts in February 2021.
This post was originally published on February 1, 2021.
Related Videos