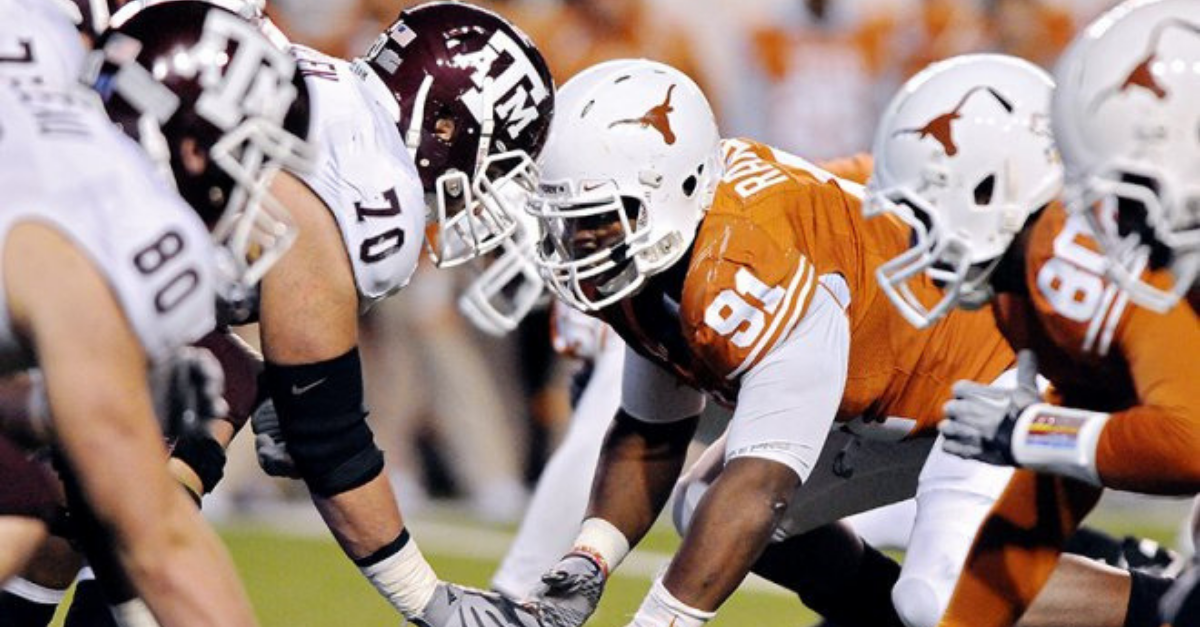 Twitter: RepLyleLarson
Twitter: RepLyleLarson
College football rivalries are the staple of every program's schedule. That goes especially true with in-state rivalries, like Florida-Florida State, who cap their regular season by meeting on Thanksgiving weekend every year. One rivalry, which is arguably the most fierce in all of college football, has sat dormant since 2011.
Not only do the Texas Longhorns and Texas A&M Aggies fight for elite football recruits in Texas, they downright despise each other — both schools mention the other in their fight songs. After not playing much of this decade, Texas State Representative Lyle Larson has had enough, and he proposed a bill to mandate the game finally makes a return.
On November 27, 2018, Larson introduced the "Restore the Rivalry Bill" for consideration at the 86th Legislative Session of the Texas House. In it, Larson cites how the "songs, stories, family legacies and a century of Texas heritage were manifested from this historic gridiron battle."
"We owe it to Texans to do all we are able to bring back this storied rivalry," Larson says in the bill.
The 1981 graduate of Texas A&M University and San Antonio native knows how important this rivalry is firsthand, and what it would mean to not only College Station and Austin, but the entire state to finally see this rivalry be renewed.
When A&M jumped conferences from the Big 12 to the SEC, Bill Byrne, who was Texas A&M's athletic director at the time, believed the rivalry would carry over based on promises from both Texas AD DeLoss Dodds and the Southeastern Conference to keep the weekend open, but that turned out to not be the case.
"Their AD (DeLoss Dodds) at the time came out and said we will never play Texas A&M again, and they worked along with Baylor and the conference to have no one in the (Big 12 Conference) schedule us. There were other forces at work to make sure we didn't play." — Bill Byrne, via AL.com
RELATED: Ranking the 25 Most Heated Rivalries in College Football
These two programs met 118 times between 1894 and 2011, with the Longhorns holding the all-time series lead with a 76-37-5 record. When Texas A&M University jumped conferences prior to the start of the 2012 season, the rivalry quickly fizzled, and the Aggies replaced the Thanksgiving meeting against Texas with their SEC rival, the LSU Tigers.
This isn't the first time legislation was passed down to bring the game back either. In 2013, Democratic representative Ryan Guillen sent Texas House Bill 778 to be try and bring the game back, but it ultimately failed to gain traction.
Since the rivalry fizzled, both schools have worked to fill their non-conference football schedules. Texas has scheduled games with Maryland, USC, LSU, Arkansas, Alabama, Michigan and Ohio State through the 2027 season, but a home-and-home series with Texas A&M is what everybody wants to see.
With Texas athletic director Chris Del Conte and Texas A&M athletic director Scott Woodward both seemingly on board with working to bring the rivalry back, only time will tell how long it'll take to finally make it happen.
Seeing the Longhorns and Aggies rivalry make a comeback would not only be good for Texas football, but for college football in general. In a College Football Playoff era where style points in non-conference games matters, a Texas-Texas A&M football game would pit two huge programs against each other at a pivotal time late in the season.
It's going to take a lot more work that just introducing a bill, but one thing is certain: everybody wants this rivalry return.