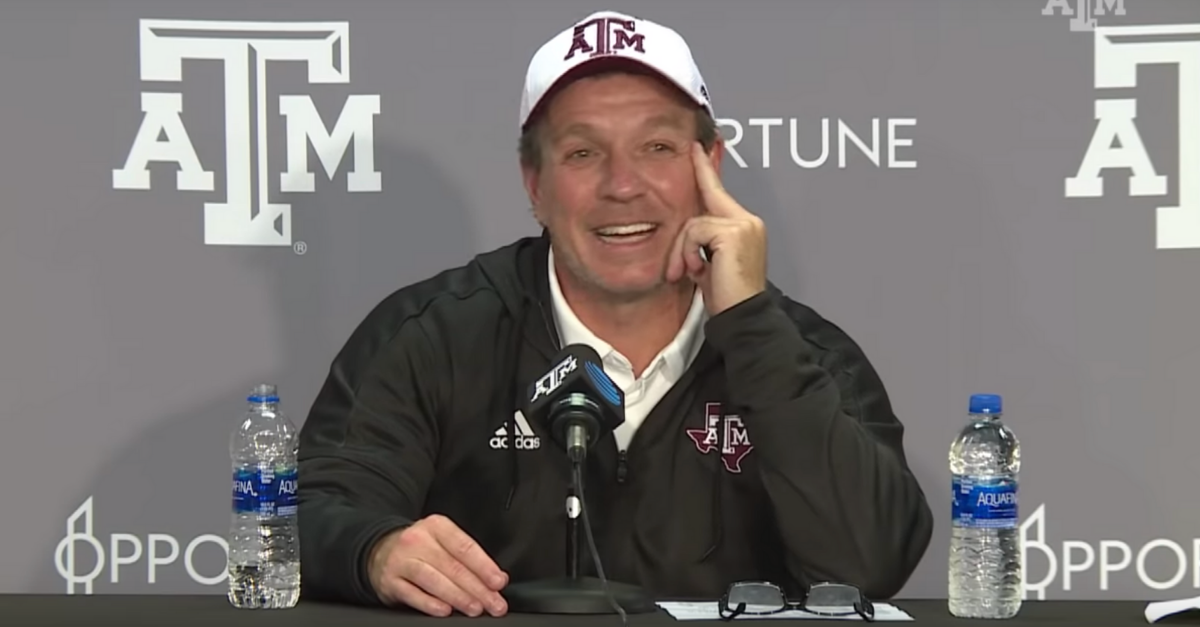 YouTube: Texas A&M Athletics
YouTube: Texas A&M Athletics
It's going to be hard to top the madness of Texas A&M's 74-72 win over the LSU Tigers on Saturday. The game featured a record-tying seven overtime periods, an NCAA record 146 total points, and the most points ever allowed by a ranked team in FBS history.
It was pure madness when the game finally ended around 12:33 a.m. on the East Coast, but the wild party didn't stop when Aggies wide receiver Kendrick Rogers caught the winning two-point conversion from quarterback Kellen Mond in the game's seventh overtime. In fact, the pandemonium was just getting started.
After the game, two assistants on opposite sidelines were caught throwing punches on the field. According to The Advocate, Texas A&M staffer Cole Fisher, who is Jimbo Fisher's nephew, threw a punch at LSU analyst Steve Kragthorpe, which caused retaliation from LSU director of player development Kevin Faulk.
The postgame altercation is under investigation by the Southeastern Conference, which has already been involved in sending down a hefty fine on Texas A&M University for the Aggie faithful who rushed the field after the legendary game.
RELATED: Kentucky Upset Mississippi State and Were Slapped with a Big Fine
The SEC fined Texas A&M $50,000 as a result of fans storming Kyle Field. The fine, which is the first offense by the university and is standard operating procedure by the conference, is deposited into the SEC Post-Graduate Scholarship Fund.
"The [SEC] policy states that "access to competition areas shall be limited to participating student-athletes, coaches, officials, support personnel and properly-credentialed individuals at all times. For the safety of participants and spectators alike, at no time before, during or after a contest shall spectators be permitted to enter the competition area. It is the responsibility of each member institution to implement procedures to ensure compliance with this policy." — SEC Statement
Financial penalties for storming the field are nothing new, as both LSU and Kentucky were fined earlier this season following fans storming the field after huge wins in Baton Rouge and Lexington, respectively. The second offense of fans rushing the field results in a $100,000 fine, and a third offense will incur a whopping $250,000 fine.
Fights and fines aside, this was a massive win for a Texas A&M program that is set up to be a major national contender in the years to come, and nobody was more pleased with the outcome than Aggies head coach Jimbo Fisher.
"I can't be happier for a group of guys and what they've shown — the grit, the determination, the desire, the toughness, the effort, the discipline, the pride — everything they have. They set a standard for what that Aggie helmet means, and hopefully we're getting to where that standard is, and we can grow from that because we want it to mean excellence and, I've always said this before, the people who put that ring on, we represent them… If you're not proud of those guys today, you can't be proud of anybody." — Jimbo Fisher
This historic football game featured six total touchdowns from LSU quarterback Joe Burrow, seven total touchdowns by Texas A&M's Kellen Mond, and 1,017 total yards of offense on this incredible night.
More than 101,000 college football fans watched history in College Station on Saturday night, and while it was a night to remember on the field, it churned out more than a few memories to forget after the game was over.