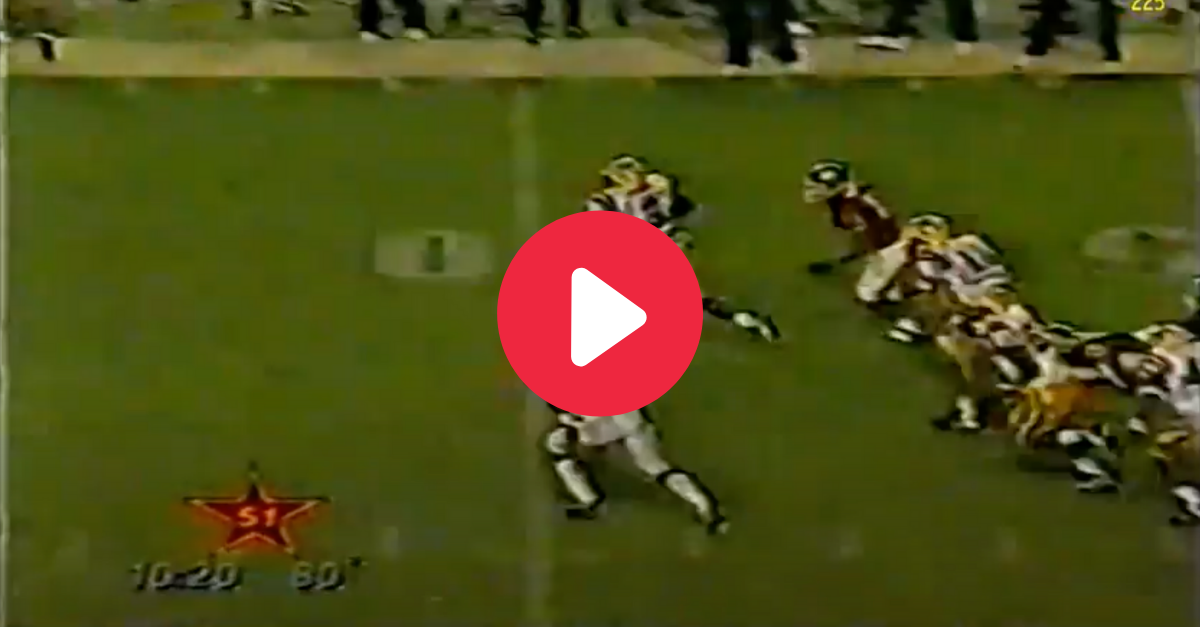 Screenshot from YouTube
LSU's long history of terrific running backs is impressive. Before Clyde Edwards-Helaire was helping the LSU Tigers win the 2019 NCAA national championship, Leonard Fournette and Derrius Guice were trucking defenders, Kevin Faulk was running wild on teams and Billy Cannon captured the school's first ever Heisman Trophy.
Each has had their monster games in the purple and gold. Fournette nearly ran for 300 yards against Ole Miss in 2016. Guice carried the ball for more than 250 rushing yards not once or twice but three times. Edwards-Helaire torched Alabama then shared a special moment with his father.
Yet I'm not sure have a game on their resumes that resemble what Kevin Faulk did to the University of Houston in 1996.
Kevin Faulk's "S On His Chest" Game
LSU was down 34-14 after three quarters in their season opener against the Houston Cougars. Fans began to file out of Tiger Stadium, a grave mistake they'd regret a few hours later when they heard the final score.
Faulk had already ripped off an 80-yard touchdown run earlier in the game on the first play of the second half. In the fourth quarter, he showed up and then some.
Faulk's 78-yard punt return touchdown on the first play of the fourth quarter injected some hope into Death Valley. Houston still led, 34-21. After a defensive stop and touchdown drive capped by Kendall Cleveland, LSU found itself down six points. Minutes later, they marched downfield again and took the 35-34 lead on a Rondell Mealey touchdown.
Houston wound up punting with two and a half minutes to go and forced LSU into a third-and-one situation. A first down would seal the comeback.
That's when Kevin Faulk flashed his inner Superman.
RELATED: JaMarcus Russell?s Game-Winning TD After Hurricane Katrina
"Somebody lift that jersey. There may be an 'S' on his chest," the announcers said, words that LSU fans still remember to this day.
Faulk finished with 246 rushing yards and three touchdowns on just 21 carries, which at the time set an LSU record. His 360 yards from scrimmage is still a school record. The 1996 First-Team All-America selection fumbled three times in the game but made up for it in a big way late. LSU finished the season 10-2, losing to eventual national champion Florida and Alabama.
Faulk, of course, finished his college football career an SEC and LSU Football legend. He's still the career rushing leader in Baton Rouge with 4,557 yards. He then became a second-round 1999 NFL Draft pick and spent 12 seasons in the NFL with the New England Patriots, winning three Super Bowls.
Born in Lafayette, Louisiana, Faulk originally attended Carencro High School. Now, he's back in the Bayou on his alma mater's sidelines as a football coach. He joined the Louisiana State University staff in January 2018 as the Director of Player Development and in 2020 was named the running backs coach under Ed Orgeron.