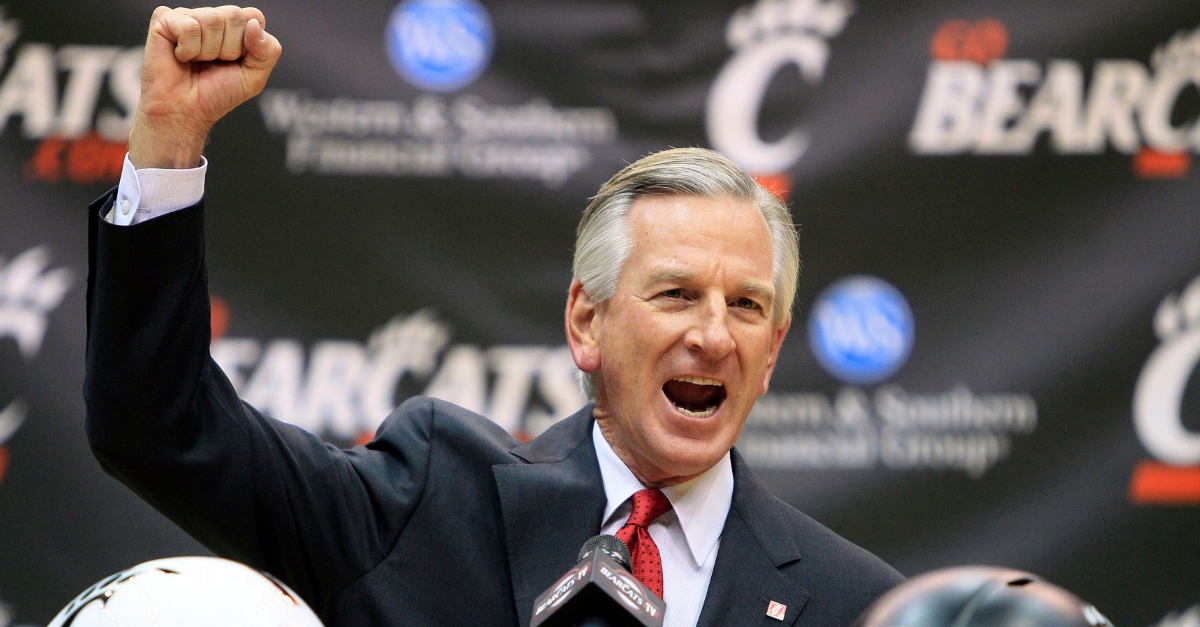 AP Photo/Al Behrman
A couple of years ago, former college football coach Tommy Tuberville thought about a running for Governor of Alabama. It was different, sure, but it wasn?t like he would have been the first person to leave sports and find a life in politics. It seems like it happens all of the time.
Just as a refresher, former NBA All-Star point guard Kevin Johnson is currently the Mayor of Sacramento, California, former bodybuilder Arnold Schwarzenegger was the Governor of California for eight years, and WWE Hall of Famer Jesse Ventura was the Governor of Minnesota for four years. So, needless to say, you don?t have to spend your entire life in politics in order to win an election.
Although he only considered running for governor in 2017, former Auburn coach Tommy Tuberville is much more serious this time around. Over the weekend, the 64-year-old announced his bid to run for the U.S. Senate seat in Alabama.
RELATED: President Rock? Dwayne Johnson?s 2020 Election Odds are Even Better Than Hillary Clinton
Currently, the Alabama Senate seat is held by Democrat Doug Jones, who won the seat in 2017 when Jeff Sessions became the U.S. Attorney General. Jones then beat republican Roy Moore by a half a percentage point.
?After more than a year of listening to Alabama?s citizens, I have heard your concerns and hopes for a better tomorrow. I am humbled to announce the next step ? I will be a GOP candidate for US Senate. I invite you to join my team.?

? Former Auburn University football coach Tommy Tuberville
Tuberville, who is originally from Arkansas, was 159-99 as the head football coach of the Ole Miss Rebels (1995-98), Auburn Tigers (1999-2008), Texas Tech Red Raiders (2010-12) and Cincinnati Bearcats (2013-16).
?I?m worried for this country if we keep going left,? Tuberville said on The Opening Kickoff on WNSP-FM 1055, via AL.com. ?We don?t have a Democratic Party anymore. All you have to do is look to see what direction they want to take that. That?s the reason we have to fill this seat in the Senate with a Republican in the state of Alabama with Christian values and get away from all the crazy stuff they are trying to do. We need to support our Constitution and our rights. We have to get law and order back. I can?t believe the party on the left is against law and order. My gosh, what are we doing in this country.?
In the interview, he also confirmed Sean Spicer, the former press secretary for President Donald Trump, is part of Tuberville?s campaign for United States Senator.
Only time will tell what will happen, especially considering the Republican primary for the seat isn?t until March 2020 and Tuberville will have competition in Rep. Bradley Byrne, but the former football head coach is trying to build a team to win and take over for Sen. Doug Jones.