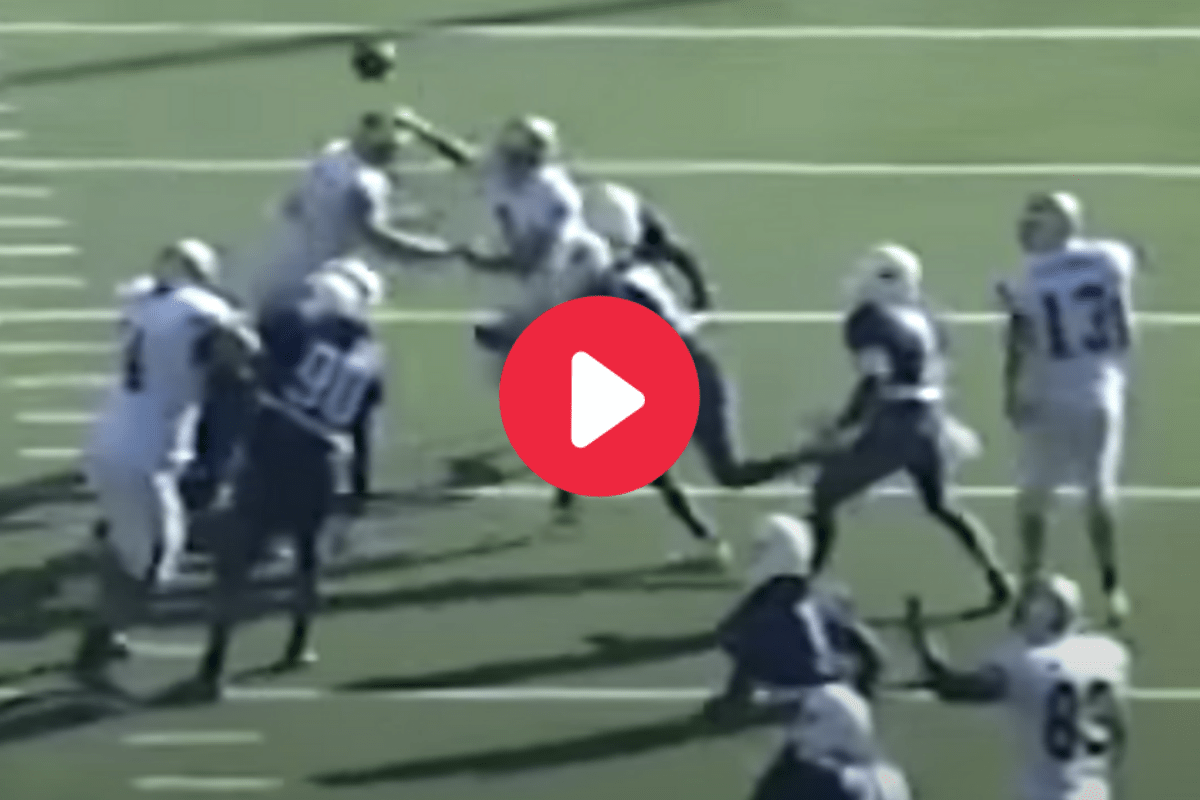 Screenshot from YouTube
Sometimes in college football, and in life, it?s better to be lucky than good. The moment when everything goes your way can lead to something special and generate a highlight for the rest of your life. Perhaps nobody understands that more than the Trinity University Tigers.
Back in October 2007, before social media took over and every notable play was at our fingertips, a NCAA Division III college football game in Jackson, Mississippi went as viral as it could get for one of the most outrageous and longest plays anyone has ever seen.
Some people call it ?The Mississippi Miracle.? Others call it ?Lateralpalooza.? No matter what you dub it as, it owns a special place in college football history because it took 15 laterals and a bunch of luck to make it happen.
?The Mississippi Miracle?
RELATED: The NFL?s Craziest Last-Second Touchdown Ended Horribly
The game between the Trinity Tigers and Millsaps College Majors at Harper Davis Field was massive. Both teams were 6-1. Both teams were nationally ranked. Both teams were set to battle for the Southern Collegiate Athletic Conference (SCAC) championship, according to ESPN.
With two seconds remaining in the fourth quarter, it had already lived up to the hype. The 24-22 lead meant the home team had the visitors from San Antonio, Texas, on the ropes, but there was still one play left. A miracle was needed and, well, a miracle is what Trinity got.
On 1st-and-10 from their own 40-yard line, Trinity quarterback Blake Barmore found wide receiver Shawn Thompson over the middle for 16 yards. Then, complete and utter chaos ensued.
Over the next minute, which probably seemed like an eternity down on the field, seven Trinity football players ? Barmore, Thompson, offensive lineman Josh Hooten, offensive lineman Stephen Arnold, wide receiver Michael Tomlin, wide receiver Brandon Maddux and wide receiver Riley Curry ? touched the ball and threw a lateral of some kind.
Nobody touched the ball more than Curry. He got the ball four times throughout the final play, and eventually scooped up a lateral fumble and ran into the end zone for a 44-yard touchdown to win the game, 28-22.
There was a miracle in Mississippi in the form of a 15-lateral play.
"Just an inch one way or another here or there, and that ballgame's over with,? Trinity head coach Steve Mohr told ESPN. ?Everything had to fall into place so perfectly.?
It?s one of those football plays and sports moments that will be replayed forever. From the laterals near the sideline to play-by-play announcer Jon Wiener and color man Justin Thompson?s flawless call and reaction to the pandemonium after, it just doesn?t get much better than ?The Mississippi Miracle.?
There?s not a single Hail Mary or game-winning field goal that even comes close to what the Trinity football team pulled off that day.
The play was nominated for ESPN?s Best Play of the Year and all seven players involved were invited to the ESPY Awards. Time Magazine voted it as the No. 1 Sports Moment of 2007. It also was named the Pontiac Game Changing Performance of the Year and a $100,000 scholarship was donated to the school, according to ESPN.
The legend of this play will live on forever.
This article was originally published April 28, 2020.