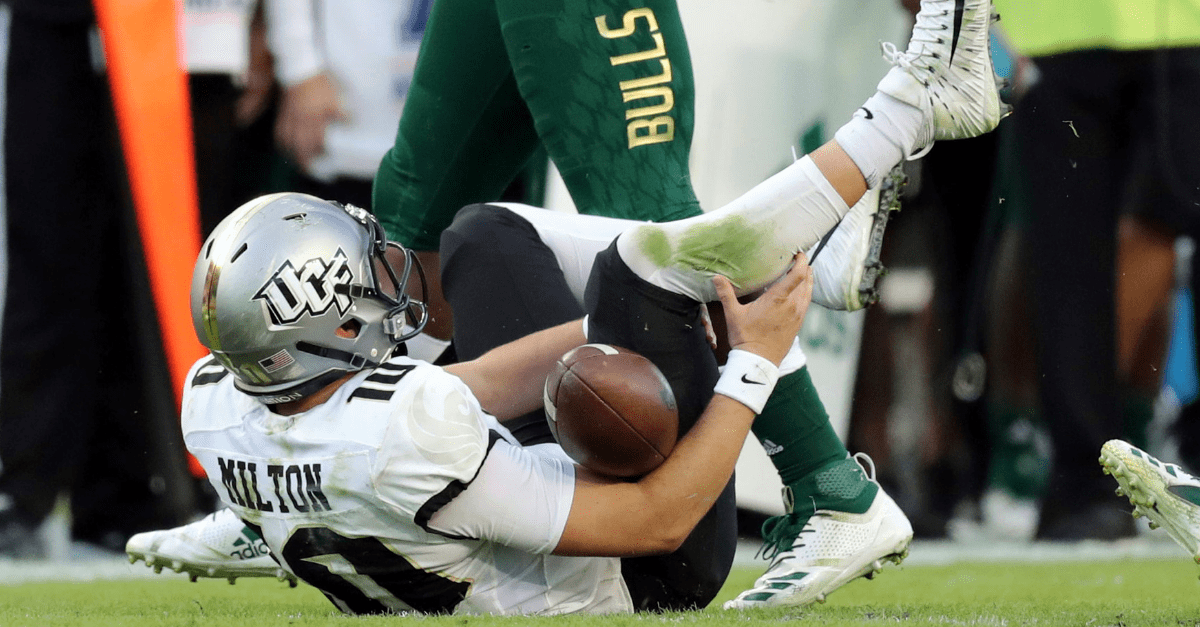 AP Photo/Mike Carlson
What started as an intense War-on-I4 rivalry showdown, and could have ended in a big-time celebration to finish yet another season with an unblemished record, turned into a horrible scene early in the second quarter. That's when a scramble run to the right ended the season, and potentially a career, for UCF quarterback McKenzie Milton.
For a few minutes last Friday during the Knights' 38-10 rout of South Florida, Raymond James Stadium was eerily quiet. Nobody really knew what they had just witnessed, but it looked extremely bad when he took a helmet to his knee, which then caused his leg to bend awkwardly. One of the best college football players in the country had just suffered a horrific knee injury and all anyone could do, especially Milton's teammates, was take a knee and hope for the best.
On Tuesday, Milton's family provided an update of the junior signal caller from Kapolei, Hawaii. Milton had blood flow issues, has nerve damage, and will face reconstructive surgery on his right knee at a later date.
Here is the full statement:
"On behalf of our son, McKenzie Milton, and our family, we want to thank the doctors and nurses at Tampa General Hospital and the University of South Florida and UCF medical staff and athletic trainers for their teamwork and prompt attention to McKenzie's injuries.

"His blood flow has been restored to his right leg and his nerve is injured but intact. He is recovering and healing and is receiving the best medical care. At a later time, he will have reconstructive surgery to repair his knee. That date has not been determined at this time.

"McKenzie and our entire family are so touched and grateful for the prayers, support, and well wishes. McKenzie is in good spirits and has a very positive attitude. He looks forward to cheering on his teammates in their quest for another conference championship this Saturday.

"At this time, McKenzie would like to maintain his privacy to get the proper rest, medical care, and healing before he grants any interviews. We appreciate everyone's understanding of this request. Knight Nation is part of our Ohana and we feel very blessed as a family. Aloha." — Mark and Teresa Milton
It will be a long road to recovery, for sure, but it's good to know McKenzie Milton, last season's Peach Bowl MVP, is in good spirits and is ready to cheer on the UCF Knights when they play Memphis for the American Athletic Conference Championship game on Saturday.
UCF announced 40,000 leis will be distributed at Spectrum Stadium before the game in honor of their injured quarterback.