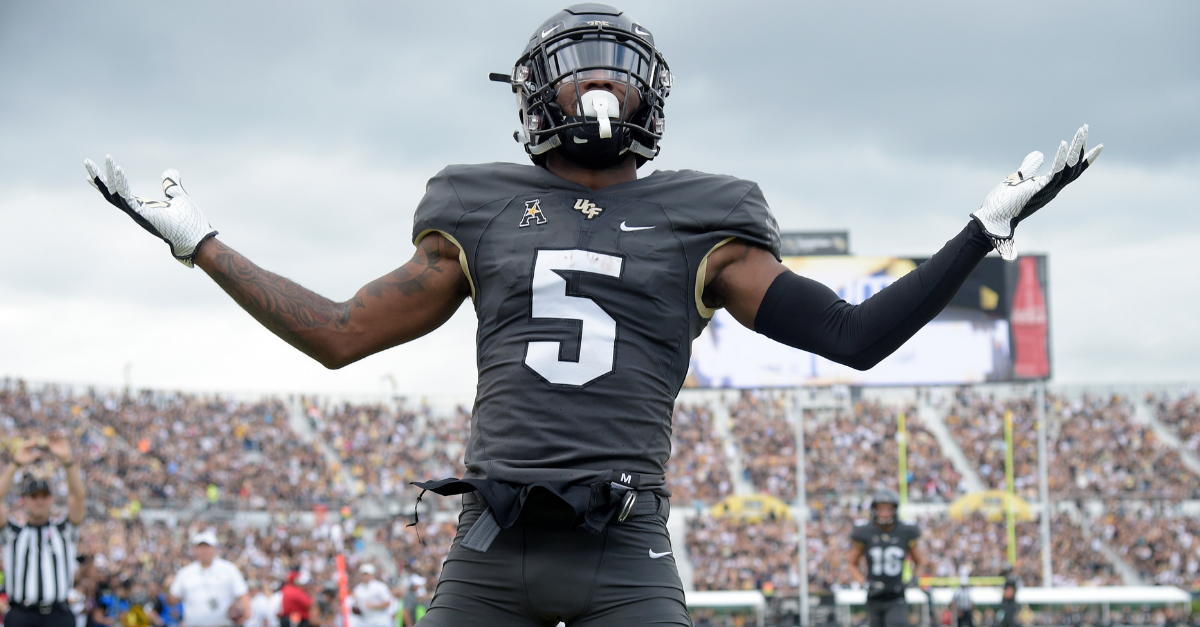 AP Photo/Phelan M. Ebenhack
AP Photo/Phelan M. Ebenhack
The College Football Playoff has given fans so many reasons to cry foul, but it's at least getting more teams a shot at a national title. As long as teams finish with an undefeated record or are one-loss teams that are legit contenders, that's enough earn the committee's praise and attention.
That is, unless you're the UCF Knights, whose 21-game winning streak is the longest in the nation and includes their "National Championship" season in 2017. When one computer system dubbed them the champs, UCF began to cry foul at every poll ranking since, and they even had fans fly banners over Alabama games taunting the sleeping giant. Well, if the Knights want a shot at the big dogs in college football, then they should prepare to get blown out.
According to BetOnline.ag via FOX Sports' Joel Klatt, UCF would be a massive 31-point underdog if they were to reach the CFP national title and play the Crimson Tide on a neutral field.
RELATED: 3 Things UCF Needs to Do to Make the College Football Playoff
Despite playing the 107th-ranked strength of schedule, and not playing a team ranked in the AP Top 25 until this coming Saturday against the No. 19 Cincinnati Bearcats, which airs in primetime on ABC for the world to see, the Knights refuse to relinquish their claim to a seat at the College Football Playoff table.
The Knights lost head coach Scott Frost to Nebraska in the offseason, but that hasn't stopped their streak from continuing under Josh Heupel. Quarterback McKenzie Milton is the leader of the Knights, ranking 9th in the country with 324.3 total yards of offense per game and is responsible for the third-most points per game in all of college football (21.8).
Still, when you're playing defenses like Florida Atlantic and Temple, you're bound to look pretty good on paper.
Getting into the College Football Playoff is about the eye test. UCF is a good program, but they don't have the man power to compete with an Alabama or Clemson. Now, Knights' fans will direct you to their Peach Bowl win over Auburn last season when they managed three turnovers and escaped with a 34-27 win, but that's hardly a resume builder in 2018.
Welcome to the big leagues, UCF. You want to play Alabama? Good luck as a 31-point underdog.