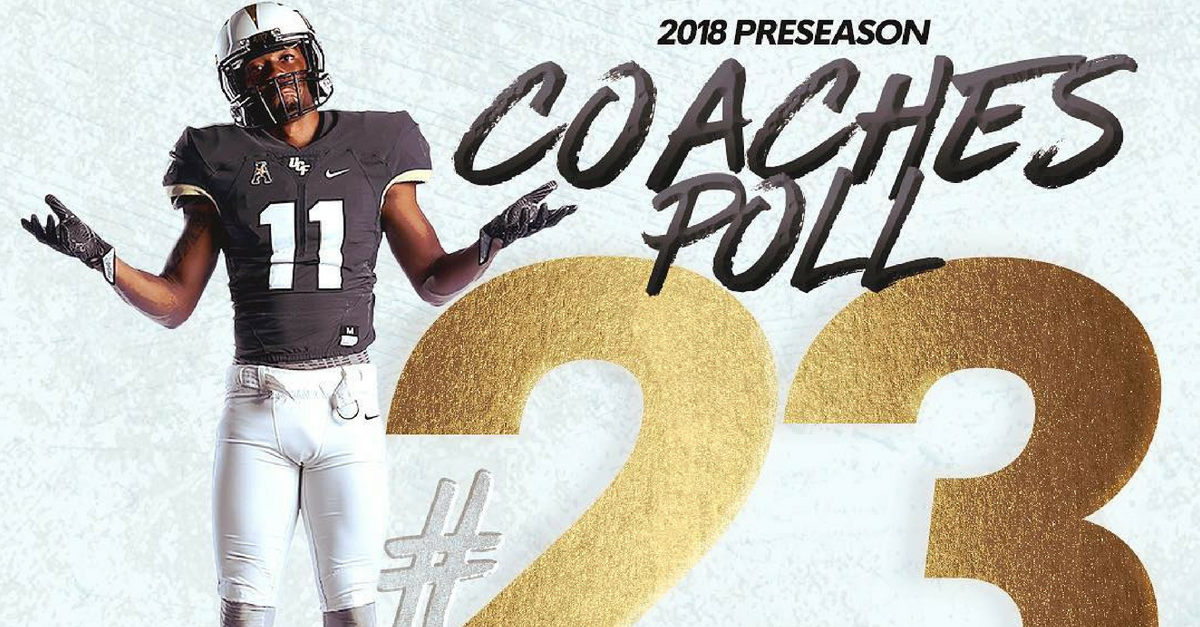 Instagram: @ucf.football
Instagram: @ucf.football
The University of Central Florida Knights finished the 2017 season with a perfect 13-0 record, an American Athletic Conference title, and a 34-27 upset of Auburn in the Peach Bowl. After the season, they dubbed themselves national champions, and nothing is going to tell them otherwise.
For the record: they aren't actually national champs, but the university has spoken it into existence so much that it's become an institutional fact — the football program's Twitter bio includes "2017 National Champion."
Entering 2018, the UCF Knights football team, and the university, continue to plead their case that they are indeed an elite program despite all the outside attention saying they otherwise. After the first Amway Coaches Poll was released, UCF took to Twitter for an epic rant.
What follows is the result of UCF being ranked No. 23 in the preseason coaches poll.
Fair warning — bad attitudes and excessive whining may cause you to roll your eyes.
Somebody's salty…
Regardless of how petty this all is, UCF does have a decent case.
Last year, quarterback McKenzie Milton finished eighth in the Heisman trophy voting as a sophomore, getting four first-place votes after finish top-ten in the nation in passing efficiency, completion percentage, total offense, passing yards and passing touchdowns.
Once again, Milton is a dark horse candidate to win the Heisman trophy.
Despite losing head coach Scott Frost, who seems to be losing a lot these days, the UCF Knights brought in one-time Oklahoma Sooners quarterback Josh Heupel to be the new head man in Orlando.
Heupel, who has been the offensive coordinator at Utah State and Missouri, led the Sooners to the 2000 BCS National Championship and was a consensus All-American.
It's Heupel's first season as a head football coach, but his tutelage should help Milton, and the Knights offense, pick up where it left off.
The Knights also lost Shaquem Griffin to the NFL, who exploded at the combine and was selected by the Seattle Seahawks.
Despite what the Knights did in 2017, they've got to prove this season that last year wasn't a fluke, and they really are a national contender.
You aren't a championship caliber team until you consistently perform and beat the best. The AAC isn't exactly a juggernaut league with the likes of Memphis, UConn, Houston and SMU. If UCF is really that good, then they should have no problem going unbeaten again this year.
Otherwise, this whole NCAA national championship nonsense has to stop.