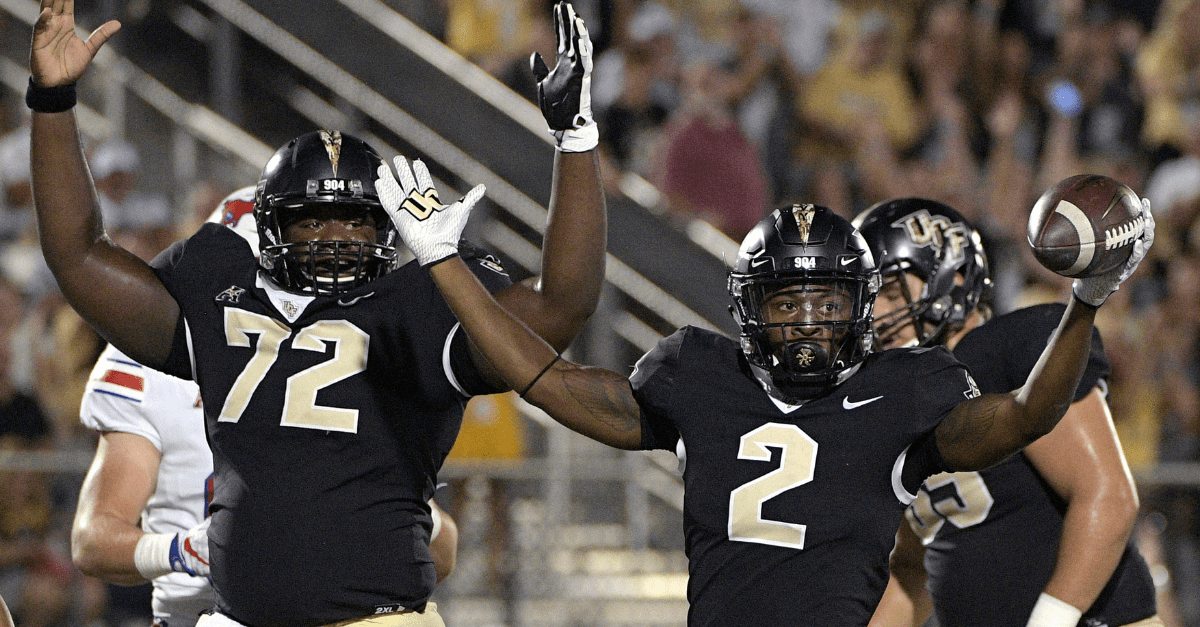 AP Photo/Phelan M. Ebenhack
AP Photo/Phelan M. Ebenhack
UCF Knights fans are not happy. Once again, the College Football Playoff committee has chosen to leave their team out of its top 10 rankings. It shouldn?t come as a shock to anyone that they were left out, except for UCF and their supporters.
For almost a year, UCF has been trying to make a case that they really are the national champions over the Alabama Crimson Tide, and that they deserve a shot at the College Football Playoffs.
So far, the committee hasn?t bought either argument. UCF and their advocates wonder what they need to do to get into the playoffs, so here are a few suggestions.
1. Play a Tougher Schedule
The biggest problem that faces UCF is their schedule. Their 2018 schedule is ranked near the bottom of the FBS, and their biggest win so far has either been against Lane Kiffin?s Florida Atlantic team, which has failed expectations, or against Memphis, who they were down double digits to a few weeks ago. UCF needs to get big boys on their schedule. I know their fans are dying to play Alabama, but guess what? There are more teams out there other than Alabama. How about they play Division I teams in their state first? Why not play a Florida or Florida State or Miami? If you they truly want to make some noise, play and defeat one of those teams. I bet they'll get the committee's attention then.
2. Stop Whining!
Another thing that is hurting the Knights chances is their whining. Flying banners at Alabama games and writing complaint letters to the playoff committee is not helping their cause. People like Kirk Herbstreit slammed UCF?s efforts to make the playoffs.
"This argument needs to stop being just about UCF," he said. "I?m a big believer that if you play people ? like Boise State used to do ? you should be rewarded for that. Why are we focusing on just UCF when it comes to the Power 5? Because I think there are other teams out there that are as deserving or more deserving.
"You need to play somebody in order to be rewarded. UCF, you need to not just be worried about being undefeated and trying to get in the top four, you need to look behind you at teams like Utah State, Appalachian State, Fresno State. These teams, on paper ? which is what you want to look at a lot of times ? are better than UCF and more deserving than UCF."
There needs to be less letters to the College Football Playoff Committee, and more letters to schools like Ole Miss, Arizona State or Florida State asking if they can schedule a home-and-home series with them.
3. Just Keep On Winning
The best way to get the committee?s attention is to keep winning like they did last year. What caught many folks attention was them going toe-to-toe with an SEC opponent like Auburn and winning the Peach Bowl. If they keep winning, they will make another New Year?s Day bowl against another quality opponent, and if they defeat them also, it may open doors in the future to other bigger games.