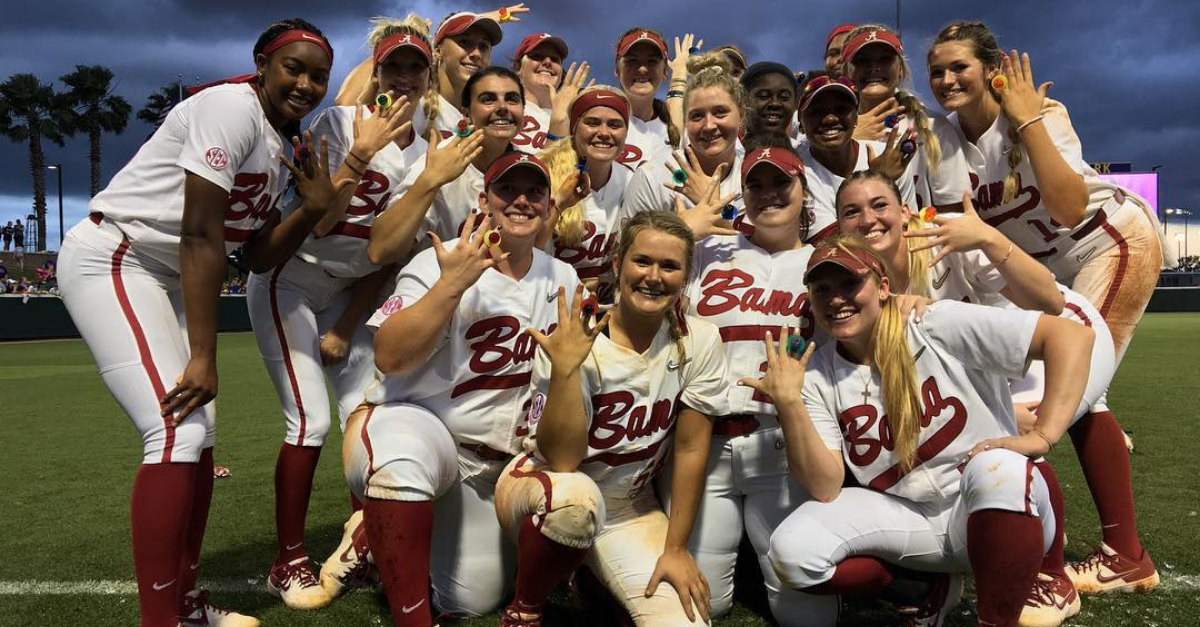 Instagram: bamasb
For as dominant and polarizing as the Alabama Crimson Tide softball team has been in recent years, a Southeastern Conference championship has evaded them. In what will be the program's 21st-straight appearance in the NCAA Tournament this year, Alabama hadn't won an SEC Championship in the regular season since 2014 and haven't won the postseason SEC Tournament since their national championship-winning 2012 campaign.
Over the weekend, the fifth-ranked Crimson Tide traveled to Baton Rouge, Louisiana where the No. 7 LSU Tigers awaited them. The SEC title was up for grabs, and head coach Patrick Murphy's team wasn't about to let this one slip away.
Alabama swept LSU in their three-game series, outscoring the Tigers 16-4 in the process, to clinch the SEC regular season title. This championship finally snaps a four-year run in which the Florida Gators won the regular-season crown every single year.
In order for Alabama softball to win the title outright, they needed to take two-of-three games from LSU. On the other hand, if LSU were to win two of those games, the SEC powerhouses would have finished with identical 16-8 conference records and be named co-champions.
'Bama, a team that was picked to finish eighth during the preseason, wasn't planning for LSU to have a glimmer of hope.
Freshman ace Montana Fouts (14-3) blanked LSU in Friday's opener at Tiger Park, scattering four hits and striking out three in a complete-game shutout. Bailey Hemphill's 22nd home run of the year in the game's first inning was the only run until the top of the seventh, when Alabama poured on six more runs to seal a 7-0 win.
On Saturday, junior Sarah Cornell (20-1) picked up the win after 5.0 innings of work, after which Fouts would retire the final six batters of the game, pick up her fifth save of the season, and deliver Alabama the program's sixth SEC Regular Season Championship.
For good measure, Krystal Goodman (10-0) threw all seven innings on Sunday, allowed only one run, and slammed the door on the LSU softball team. Alabama's 50th win of the year clinched the team's first sweep on the road in Baton Rouge since 2005.
Alabama (50-6, 18-6 SEC) opens up the SEC Softball Tournament as the No. 1 overall seed on Thursday when they take on the winner of Wednesday's Georgia vs. Arkansas game in College Station. Check out a full preview of the SEC Tournament bracket right here.
Alabama looks to become the first team since the 2013 Florida Gators to win both the regular season and postseason tournament titles in the SEC.
'Bama is rolling right now, and at this point, there doesn't appear to be much slowing this team down as they chase down another appearance in softball's College World Series.