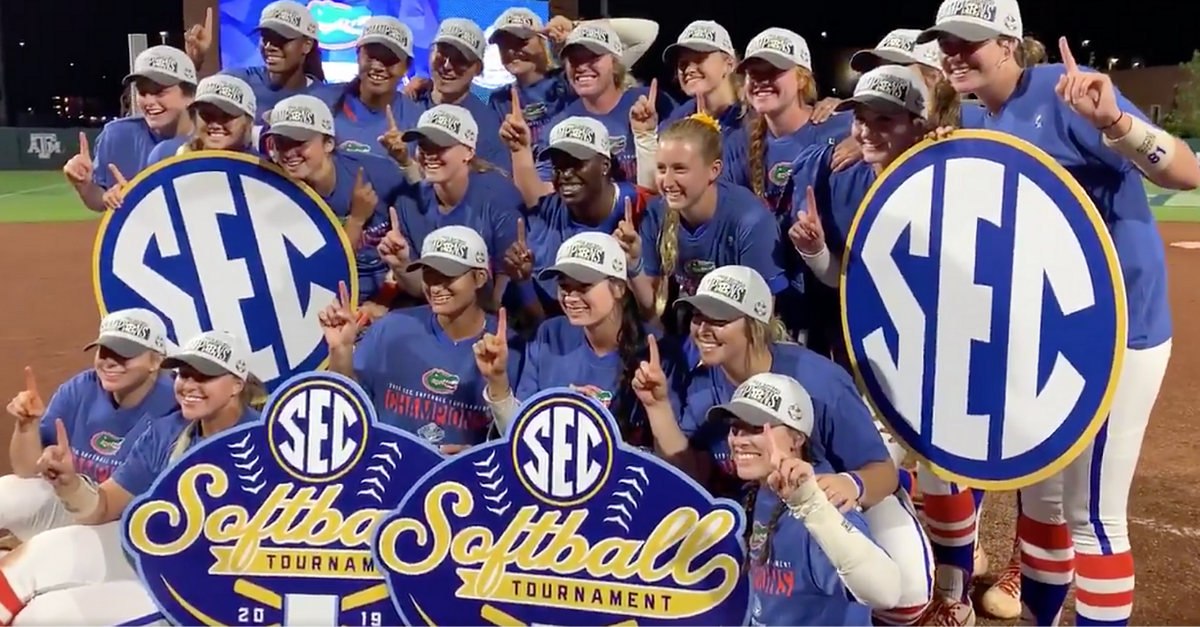 Screenshot from Twitter: @SEC
Entering the 2019 SEC Softball Tournament, the Florida Gators had lost six of their previous nine games, including getting swept at home in Gainesville by the mighty Alabama Crimson Tide. That sent UF tumbling down to the No. 6 seed in the tournament, meaning they weren't getting a first-round bye and needed four wins to defend their title.
Thankfully, Florida has Kelly Barnhill as the ace of their pitching staff, and she proved that even though Alabama's Sarah Cornell was named SEC Pitcher of the Year, there's no player more valuable to their team than Barnhill is to Florida.
After beating 11-seed South Carolina, 3-seed LSU, and 10-seed Auburn to reach the championship game, Florida faced Alabama in the winner-take-all title game on Saturday. And if you need one win, you put the girl with 99 career wins in the circle and let her take you to a title.
Barnhill (30-11) picked up her 100th career win at the perfect time, out-dueling SEC Freshman of the Year Montana Fouts (15-4) to deliver UF the program's second-consecutive SEC Tournament title and fifth overall under head coach Tim Walton.
RELATED: Softball vs. Baseball: Which Sport is Harder to Play?
After falling behind 1-0 in the fourth inning, First-Team All-SEC selection Amanda Lorenz played the hero again, slapping a two-run single down the left field line that proved to be the deciding factor in the 2-1 victory.
In her 72nd career complete game, Barnhill shut down Alabama the rest of the way. The senior finished the weekend with a 3-0 record, allowing only five hits and striking out 24 batters. The SEC Tournament Most Valuable Player gave up only one run over the 21 innings she tossed down in College Station, Texas.
With another trophy in the case, the Gators advances to the Women's College World Series as the No. 5 overall seed among the 64-team field. They'll host the NCAA Regionals with Boston (37-18), Stanford (32-18) and Boise State (34-14) coming to Gainesville for a double elimination round-robin.
The University of Florida is back on top with a Southeastern Conference crown, and the NCAA Tournament is going to prove just how impressive a feat winning this title really was; Six of the top 16 seeds are SEC teams and all 13 squads made the field.