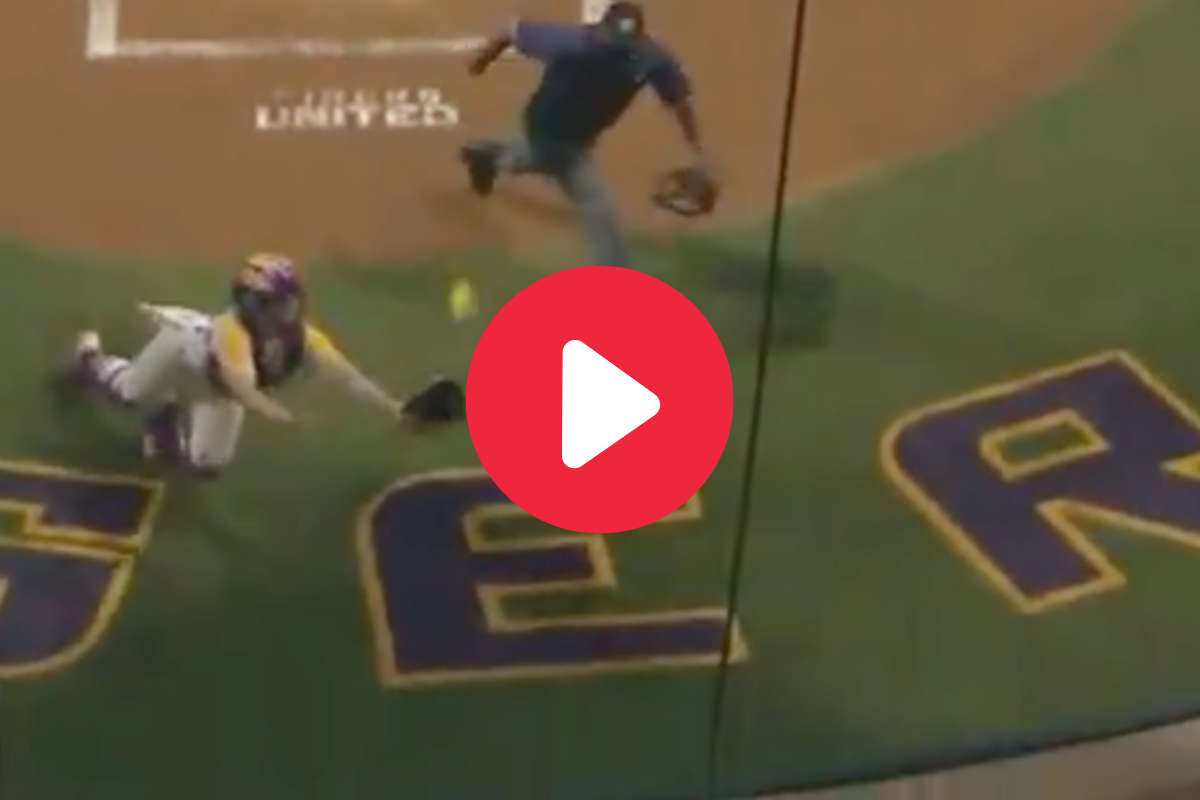 Screenshot from Twitter: LSU Softball
Softball players have little-to-no time to react to anything.
Ground balls require fielding without any bobbles or hiccups and a strong throw for the fastest slap hitters. Batters have even less time than Major League Baseball players to decide whether to swing and whether a pitch is a strike.
When a ball is popped up behind the plate, female catchers have an even tougher time making plays. They have to sprint to the ball despite carrying a full set of a gear on their bodies that weighs them down like a 700-pound black bear.
Despite this, LSU catcher Morgan Cummins made an incredible diving catch that showed off her crazy range.
Morgan Cummins' Diving Catch
RELATED: Tre? Morgan?s ?Spider-Man Stretch? Showed LSU Infielder?s Incredible Flexibility
LSU pitcher Shelbi Sunseri was in the circle. She had an 0-2 count on Arkansas Razorbacks hitter Aly Manzo with a runner on first and nobody out in the top of the seventh inning. The score was deadlocked at 0-0.
Manzo offered a half swing on a changeup that produced a pop up behind home plate. It wasn't very high, which meant LSU catcher Morgan Cummins had to bolt from her position like Matt Damon in a Jason Bourne movie.
The mission? Reel in the pop up and hold the runner at first.
Cummins made an incredible diving catch near the wall behind home plate. She then had then presence of mind to throw to second, where the Arkansas baserunner slid in safely to get into scoring position. Unfortunately, Arkansas later took the lead on an RBI single that scored the runner.
That lead to some healthy discussion: Did Cummins' catch actually help Arkansas win?
"That catch cost the game. It allowed the runner to move to 2nd. Which then led to her scoring. If it was a foul ball there's a chance to get a strikeout or get the lead runner out," one Twitter user wrote.
While an interesting (and maybe valid) point, there's no way you'd ever ask Cummins to let that pop-up fall on purpose. In the heat of the moment, she dives for that play every single time. If anything, give kudos to the Arkansas runner for staying aware and taking advantage of the situation by advancing. Don't take away from her catch.
The Tigers lost, 1-0. They play the rest of the series in a Monday doubleheader against one of the best teams in the SEC. If LSU continues to play defense like this, they should have no problem taking care of the Razorbacks.