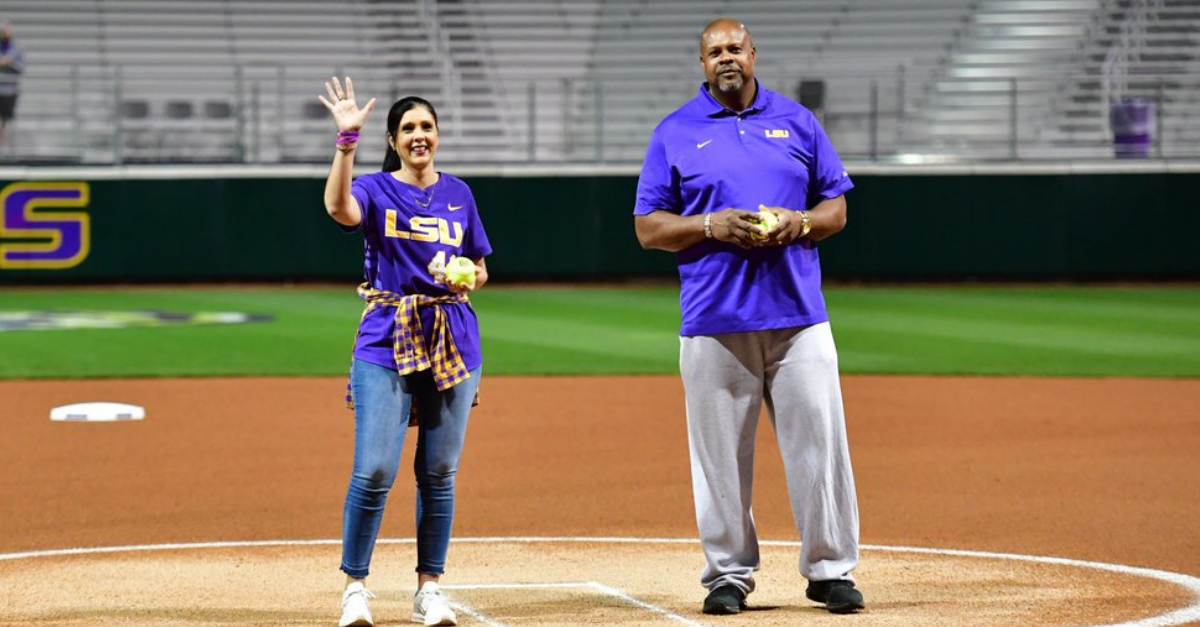 Twitter: LSUsoftball
Twitter: LSUsoftball
On September 28, 2018, LSU Tigers basketball player Wayde Sims was shot and killed near Southern University, just outside of Baton Rouge, Louisiana. According to police, Sims intervened to protect his friend, who was in the middle of a fist fight, when he was shot. The man accused of killing Sims, whose DNA was found on a pair of glasses left behind during the incident, plead not guilty in court on Feb. 7 and is awaiting trial. If found guilty, he faces life in prison.
That very same night, Wayne and Fay Sims were standing on the mound at Tiger Park to throw the ceremonial first pitch of the LSU Tigers' softball season in honor of their son. Together, they fired a few pretty nice tosses and received a standing ovation from the hometown crowd wearing purple and gold. Then, the 10th-ranked softball team in the nation exploded at their home field in the Tiger Classic.
Led by three hits and five RBIs from senior catcher Michaela Schlattman and a 12-run first inning, the Tigers started their 2019 season in grand style by clobbering the Tulsa Golden Hurricane women in only five innings, 19-1. Junior pitcher Marybeth Gorsuch picked up career win No. 13 and shined in her first start of the season, allowing just two hits with her only earned run coming on a fielder's choice in the first inning.
With LSU already up big, senior shortstop Amber Serrett launched a ball into deep left field for a two-run home run that put the exclamation point on LSU's statement game in their season opener.
After a 45-17 season last year, the Tigers fell just short of reaching the Women's College World Series when they advanced all the way to the NCAA Super Regional but lost in three games to the eventual national champion, Florida State Seminoles.
Expectations are high for the Tiger women this season, and rightfully so. Under head coach Beth Torina, LSU has reached the Women's College World Series four times in seven season. If 2019 is anything like opening night, they'll likely make trip number five when June rolls around.