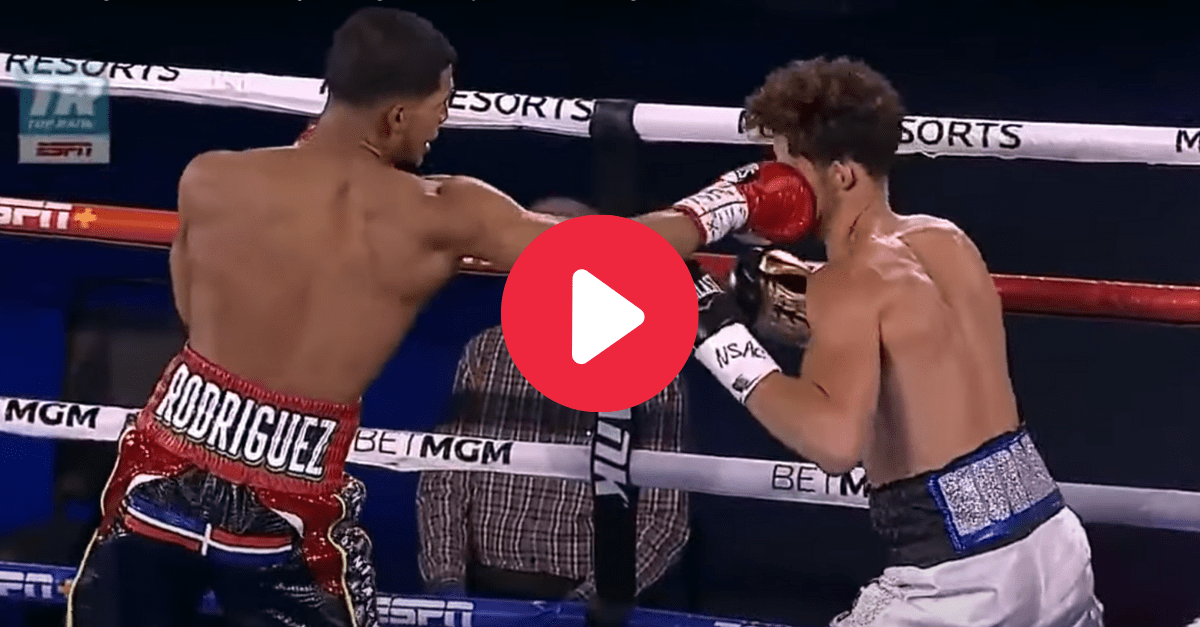 Screenshot from YouTube
Boxing might not be as popular as it once was, but it?s trying to make a strong comeback. It?s also one of the few sports going on during the coronavirus pandemic and COVID-19 to help its case and build back a once-loyal following. Up-and-coming boxers like Elvis Rodriguez are definitely good for the brand.
Rodriguez, who is from the Dominican Republic, is trained by Hall-of-Fame coach Freddie Roach. He hasn?t lost a bout yet, either. What he did to Daniel Murray in the first round proves he?s here to stay for a very long time.
At the MGM Grand Conference Center in Las Vegas ? a place known as ?The Bubble? ? Rodriguez used a right jab to knock Murray out of the fight and out of the ring itself.
Elvis Rodriguez KOs Daniel Murray in Las Vegas
RELATED: Fighter Knocked Out in 5 Seconds, Then Choked Out By Ref
While many tuned into ESPN?s Top Rank to watch the main event ? a unanimous decision win by two-time world champ Jose Pedraza over Mikkel LesPierre ?the undercard also featured some fireworks.
Robeisy Ramirez vs. Adan Gonzales (featherweight), Patrick Mailata vs. Kingsley Ibeh (heavyweight), and Albert Bell vs. Mark Bernaldez (junior lightweight) all had strong moments, but none had the pop and flare quite like the junior welterweight fight between Elvis Rodriguez and Danny Murray.
For those who follow boxing in the United States and abroad, Rodriguez was definitely expected to win. However, the way the southpaw used only a right jab to knockdown Murray in the first round was truly something else.
It was another statement TKO victory for Rodriguez and Roach, who is famous for training star boxers like Manny Pacquiao.
These days, most fighting fans are all-in for MMA, especially UFC, and look forward to another Tyson Fury vs. Deontay Wilder rematch later this year.
Perhaps it?s time to start paying attention to Elvis Rodriguez, too.