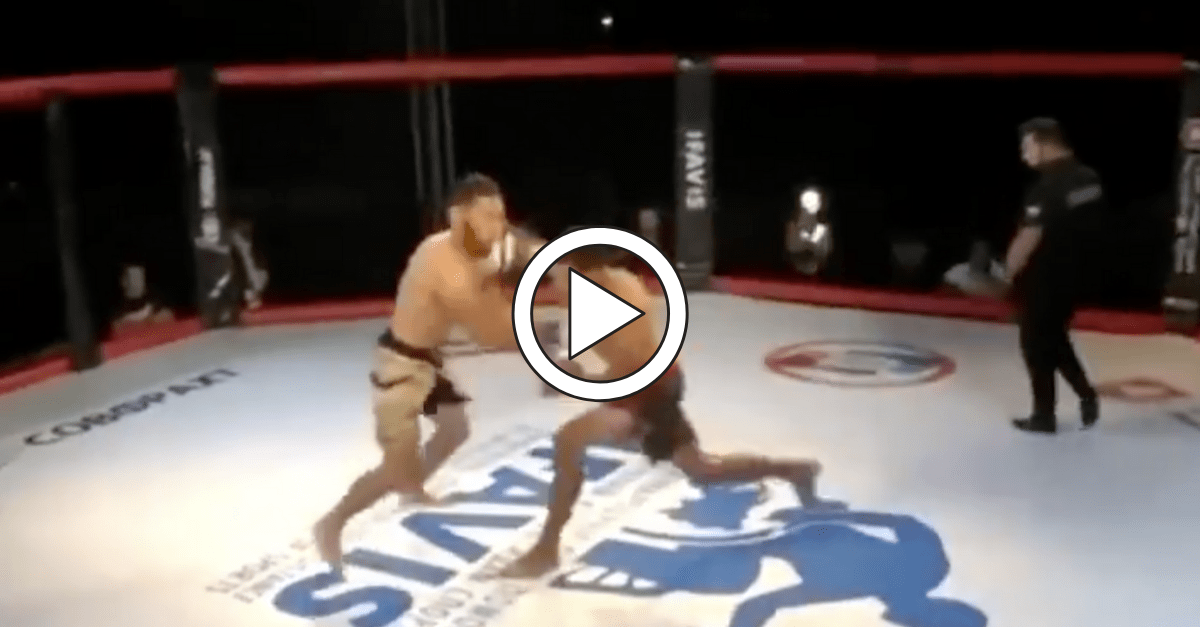 Screenshot from Twitter
Everyone has good and bad days at work. It?s simply how it goes and that will never change. Not everything can be sunshine and roses, but the hope is for the good to always outweigh the bad, even if an awful moment is a viral video.
Back in August 2018, Renat Lyatifov had a terrible day. The MMA fighter was supposed to have a serious bout with Croatian fighter Karlo Caput at the Crimea Rush ?Farwell to Arms? event in Yalta. Instead, it got ugly before it really even got started.
First, Caput knocked Lyatifov in five seconds. Then, he was choked out by the referee.
Karlo Caput?s 5-Second Knockout
Once the bell rang, the two fighters tapped gloves in the middle of the canvas. Caput initially looked like he was ready to wrestle on the ground. Lyatifov looked ready to engage, but he was suddenly met with a devastating right punch, which knocked him down.
Caput hit Lyatifov a couple more times on the ground until there was a stoppage. The Gladiator Dubrovnik fight was over. Yet, for some reason, it wasn?t the end for Lyatifov.
Lyatifov was clearly disoriented. He quickly got to his knees and began grappling with Gladiator Croatia referee Armen Ananyan. The only thing the ref could do was put him in a guillotine choke hold until Lyatifov?s team was able to come to the rescue.
In combat sports, you see takedowns and TKOs all the time on fight night. Whether it?s UFC fighters or Bellator or Muay Thai or kickboxing, it?s the name of the game. It can be a swinging hook or a head kick. Really anything goes.
However, it?s quite rare to see such a quick knockout followed by a referee putting the other fighter in a choke hold, but that?s exactly what happened here.
This post was originally published on February 7, 2020.