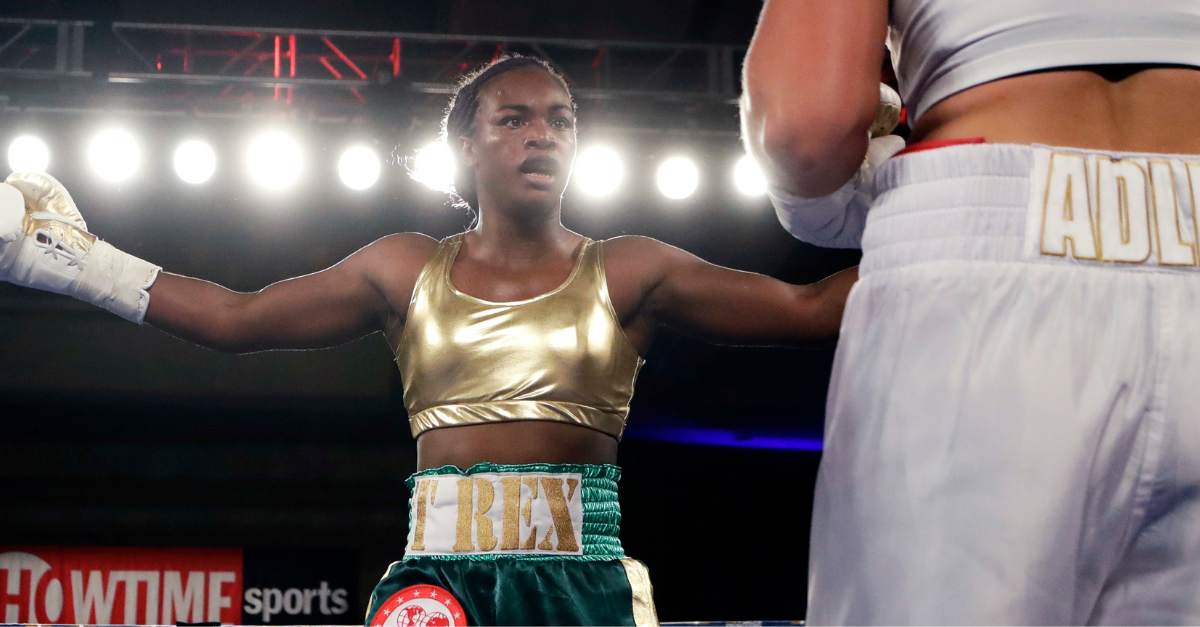 AP Photo/Carlos Osorio
You've probably never heard the name Claressa Shields in your life. I mean, why would you? It's not like female athletes get the respect they deserve anyways. But when it comes to women's boxing, Shields is the cream of the crop. The two-time Olympic gold medalist posted a 77-1 record as an amateur and is currently the undisputed women's middleweight world champion with a perfect 9-0 professional record.
The 24-year-old American from Flint, Michigan is already a star in her sport, and she believes her talent could beat some of the best male fighters in the world, too.
After calling out WBA Women's Welterweight Champion Cecilia Braekhus, who fights two weight classes under Shields, the professional boxer turned her attention to an even bigger potential super-fight when she called out the men and started naming names.
"I spar with men. I drop men. I bust [men's noses]. I beat men up all the time," Shields told TMZ Sports. "I think I can beat up Keith Thurman. I really do."
For the record, Keith Thurman is 29-0-1 with 22 knockouts and is a former undisputed welterweight world champion. He's nicknamed "One Time" because he's one of the hardest punchers in his division.
Clearly, Claressa Shields does not lack confidence because she also claimed she could "give GGG a run for his money." She's talking about Gennady Golovkin, the 38-1-1 professional fighter who's ranked No. 6 in the world on The Ring's pound-for-pound world rankings.
"Power for power isn't a question because what is boxing? Boxing is the sweet science. It's not about strength… because people were saying Christina Hammer was stronger than me. They were saying all these girls were stronger than me, but did you not see the head movement that I had during the fight? See the defense? The offense? The traps I set?"

"If I were to get in there with a man, I would do a lot more of that. And, I do have some power. I'm not gonna say I'm stronger than them, but if I set up the right shots with the right timing?"

— Claressa Shields, h/t TMZ Sports
I'm all for women getting more notoriety in their sport. And yes, I do think in some instances a female fighter could very easily beat a man, like in the UFC where striking isn't the only way to win. But boxing? I'm not claiming to be a fighting expert by any means, but this doesn't sound like a good idea.
Boxing champ Claressa Shields may be coming off a 10-round, unanimous decision victory over Christina Hammer to unify the WBA, WBC, IBF, WBO and The Ring titles, but don't call out GGG and Keith Thurman of all people.
I love Shields' confidence in herself (and ability to promote her championship brand). Hell, it might be a while before anyone, man or woman, knocks her off the mountain.
WATCH: