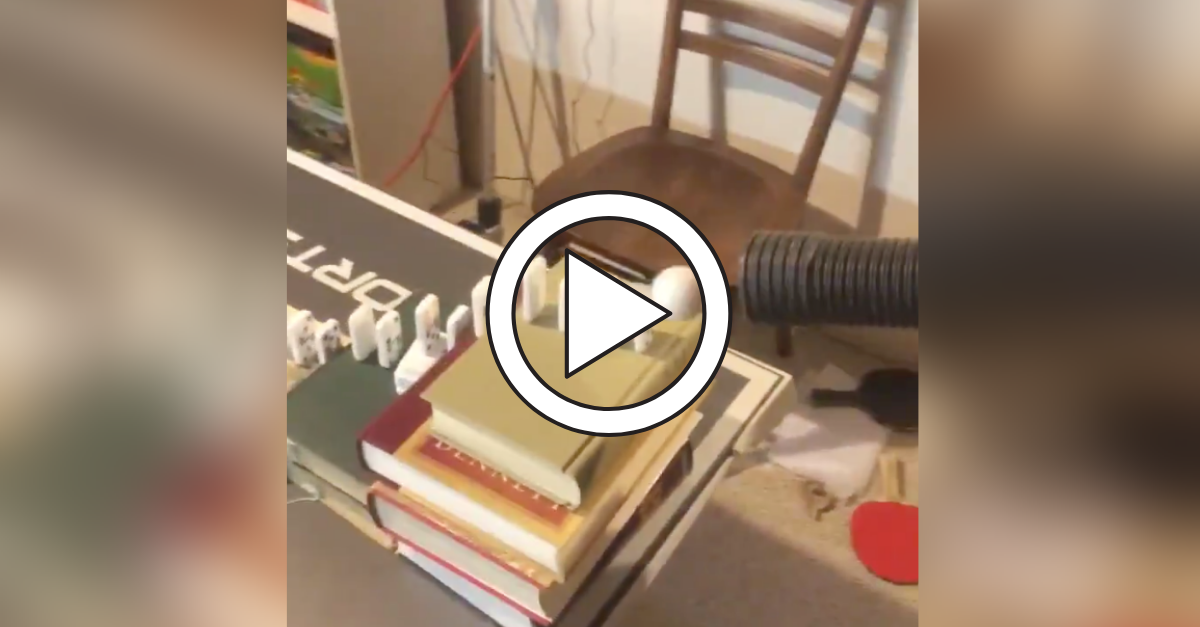 Screenshot from Twitter: Garrett Clark
PGA Tour golfers like Tiger Woods don't have it easy. Long drives into the heart of the fairway and precision approaching the green are crucial to winning major championships, but there's one golf club in every player's bag that's the difference between great scorecards and "Damnit, just get me another beer."
I'm talking about the putter, but some players do way more than sink 25 footers to win tournaments. LPGA professional Tania Tare made a name for herself with incredible juggling feats and hand-eye coordination, Coach Rusty's trick shots will suck you in for hours, and the guys of Dude Perfect have all-out golf battles that you'll never see at your local golf course.
Thanks to Matt Scharff and Garrett Clark, incredible golf trick shot artists whose YouTube channels have over 250,000 combined subscribers, we have been graced with an impossible indoor putt-putt shot that gets better every time you see it.
The best trick shot of the new decade is here, and social media is buzzing about it. Good luck duplicating this in your house any time soon.
Mini Golf Trick Shot
RELATED: Streaker Brings Extra Balls While Invading Local Golf Tournament
Up the green, into the cup, and down the table. Around the hallway, down the staircase, and over a makeshift bridge. One, two, three barstools. Two kitchen pans, off a box, and down to the basement. Into a vacuum cleaner hose, knocking down a set of dominos, and ball No. 2 is off towards its final destination. Three pans later, and the golf ball plunges into none other than a red solo cup for the hole-in-one.
Somewhere, Happy Gilmore is blushing at the craziness of this trick shot.
Need more proof that these guys aren't one trick ponies? Check out their incredible montage that is fittingly titled, "The Most Satisfying Golf Video of All Time."