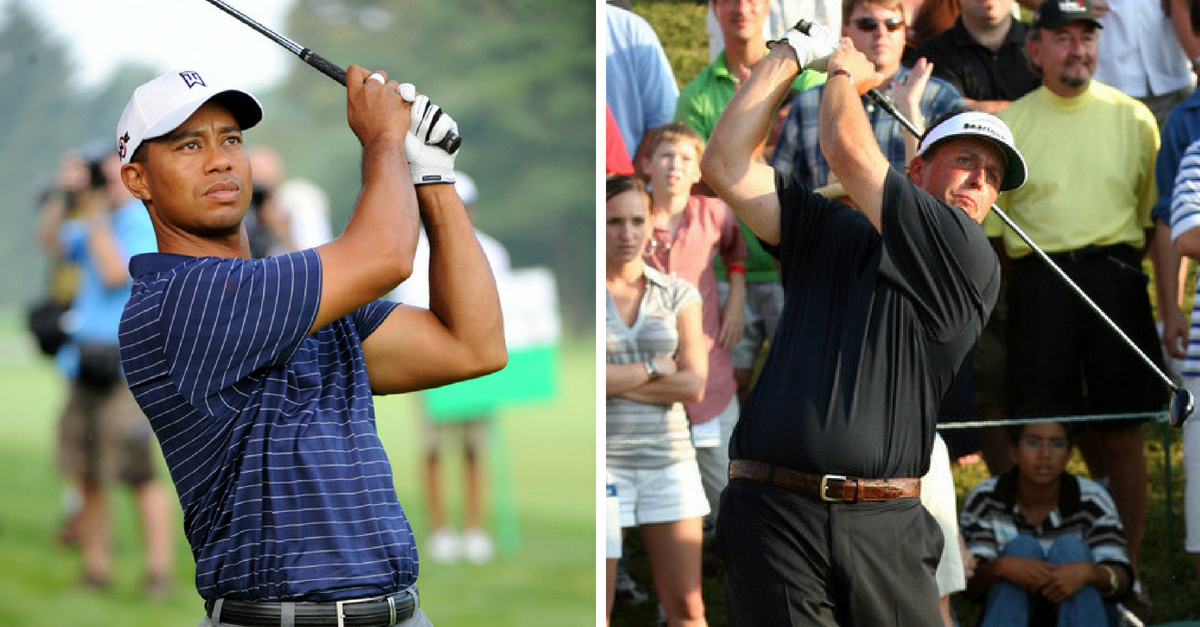 Wikimedia Commons
Wikimedia Commons; Wikimedia Commons
Place a wager on a game with a friend; it can be basketball, cards, cornhole, really any game you'd like. When there's money on the line in a winner-take-all scenario, every moment is crucial. During play, the moments of trash talk in the middle, everything is magnified when a few dollars are on the table.
Bet $10 million dollars on something. Now, I bet you're sweating.
Tiger Woods and Phil Mickelson are planning an 18-hole death match with the prize being $10 million. The made-for-tv match would, ideally, be a prime-time, match play showdown to be staged some time this year.
According to Golf.com's Alan Shipnuck, the idea started at this year's Masters Tournament in Augusta, Georgia. During a practice round, an idea sparked between rivals-turned-friends Tiger Woods and Phil Mickelson; rather than continue playing exclusively in tournaments, why not play head-to-head in a winner take all match?
A month later at The Players Championship, the first few breadcrumbs were laid when Mickelson said:
"The excitement that's been going on around here, it gets me thinking: Why don't we just bypass all the ancillary stuff of a tournament and just go head-to-head and just have kind of a high-stakes, winner-take-all match. Now, I don't know if he wants a piece of me, but I just think it would be something that would be really fun for us to do, and I think there would be a lot of interest in it if we just went straight to the final round."
In kind, Woods responded with a much simpler answer:
"I'm definitely not against that. We'll play for whatever makes him uncomfortable."
A potential matchup almost happened July 3rd at Shadow Creek in Las Vegas, but both decided to set the match for a different date to better prepare for to play for the ridiculous amount.
In an age of young talent coming up through the ranks, Mickelson and Woods rank 8th and 47th respectively in the FedEx Cup Standings. What a better way than for two legends of the game to reassert their impact on the game of golf than to hold a televised, winner-take-all tournament.
Reportedly, Woods and Mickelson would wear microphones on the course during play. An opportunity to dive into the round with two legends is something not regularly afforded a normal PGA Tour viewer. Preparing a shot, weighing club options with caddies, and, most importantly, trash talk. It's these little nuances that would take the head-to-head match to the next level.
Between them are seven wins at The Masters, four at The Open Championship, and five PGA Tour Championships; Woods also claims three U.S. Open titles, while Mickelson's finished second six different times. They share 122 PGA Tour victories (both men rank top-ten all-time) in a combined 46 years of professional golf experience.
It's a heavyweight bout to take two of the golf's biggest stars out of their comfort zone in an unorthodox way that could reshape American golf as we know it.
It's Tiger Woods vs Phil Mickelson for $10 million. Who are you betting on?