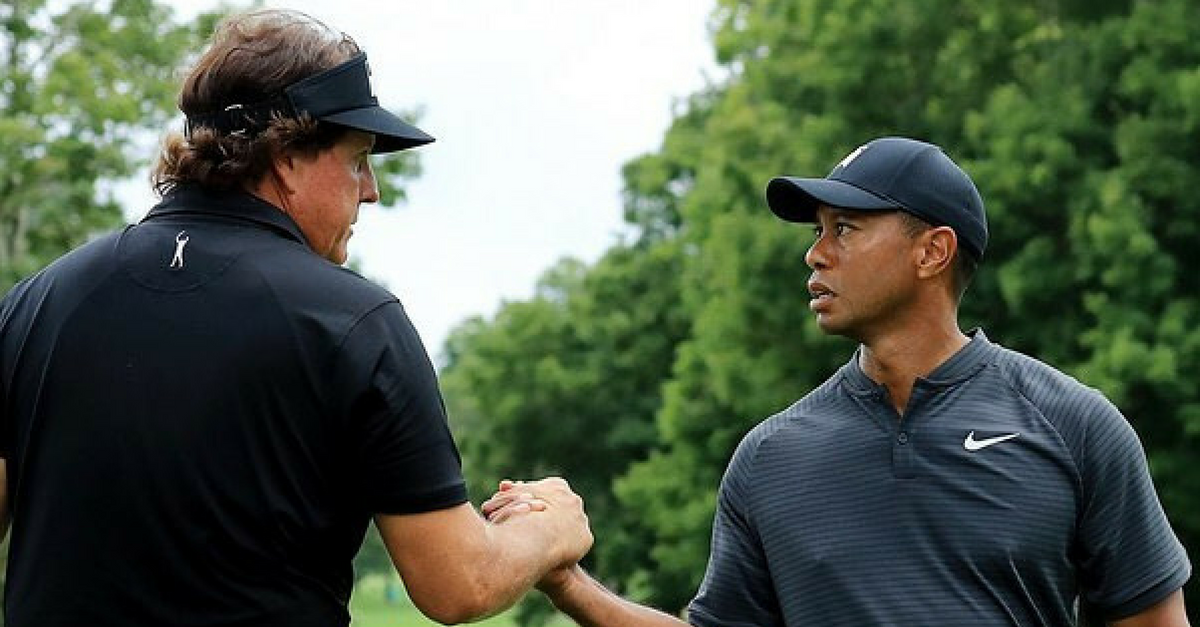 Instagram: @twspot
Instagram: @twspot
When the idea first floated that Tiger Woods and Phil Mickelson would play an 18-hole round of golf for $10 million, most people thought it was a publicity stunt that wouldn't ever REALLY happen.
According to Tiger's agent, Mark Steinberg, the two camps "are closer than we have been" to finalizing the contract. Additionally, ESPN's Mike Greenberg reported the match will take place at Shadow Creek Golf Course on Thanksgiving Weekend, either Nov. 23 or Nov. 24 of this year.
Turkey and $10 million worth of golf? Are you sweaty? I'm sweaty. It's happening…
Tiger Woods, 42, and Phil Mickelson, 48, have managed a close-knit friendship after years of the cold-shoulder treatment. The two competitors played against each other dating back during their amateur days in Southern California.
The two played a practice round together on Wednesday, which stoked this fire, prior to this weekend's WGC-Bridgestone Invitational at Firestone Country Club South Course in Akron, Ohio — it's an event Woods has won a record eight times to take home a whopping $10,805,625 in winnings at this event alone.
Woods, who comes in at No. 50 in the world rankings, is playing his best golf in nearly five years after finishing tied for sixth at the Open Championship at Carnoustie Golf Links in July.
This year's WGC-Bridgestone Invitational will be its last as a PGA Tour event in Akron. It's a course Tiger knows well and has dominated in the past. Next year, the event moves to Memphis, Tennessee.
No pressure for to win number nine this weekend or anything, Tiger.
Talk of the legendary match began after the two practiced together prior to this year's Masters in Augusta, Georgia.
Mickelson stirred the pot back in April saying, "The excitement that?s been going on around here, it gets me thinking: Why don?t we just bypass all the ancillary stuff of a tournament and just go head-to-head and just have kind of a high-stakes, winner-take-all match."
Mickelson is the 21st-ranked golfer in the world. The sneaky lefty's (he's actually a righty, but learned to play left-handed by mirroring his dad's right-handed swing) win at the WGC-Mexico Championship, along with six top-ten finishes, currently has him at ninth place in this year's FedEx Cup standings.
A $10 million wager won't shake the five-time Major championship winner, right?
The two U.S. Ryder Cup team hopefuls — Woods is a vice captain and Mickelson is just two places away from qualifying — playing a one-on-one match for such high stakes may be exhibition, but a cool $10 million takes them way outside of their comfort zone.
It's been reported that both players would wear microphones for the made-for-tv match. Fans will be able to hear their back-and-forth dialogue, as well as golf strategy as they measure every shot.
Par at Shadow Creek is 72 — that means every stroke towards an even par score is worth $138,888.89 per shot to take home the $10 million prize.
It's fitting that this crazy Tiger-Phil match will take place in Las Vegas.
This isn't a friendly wager — this is insanity.