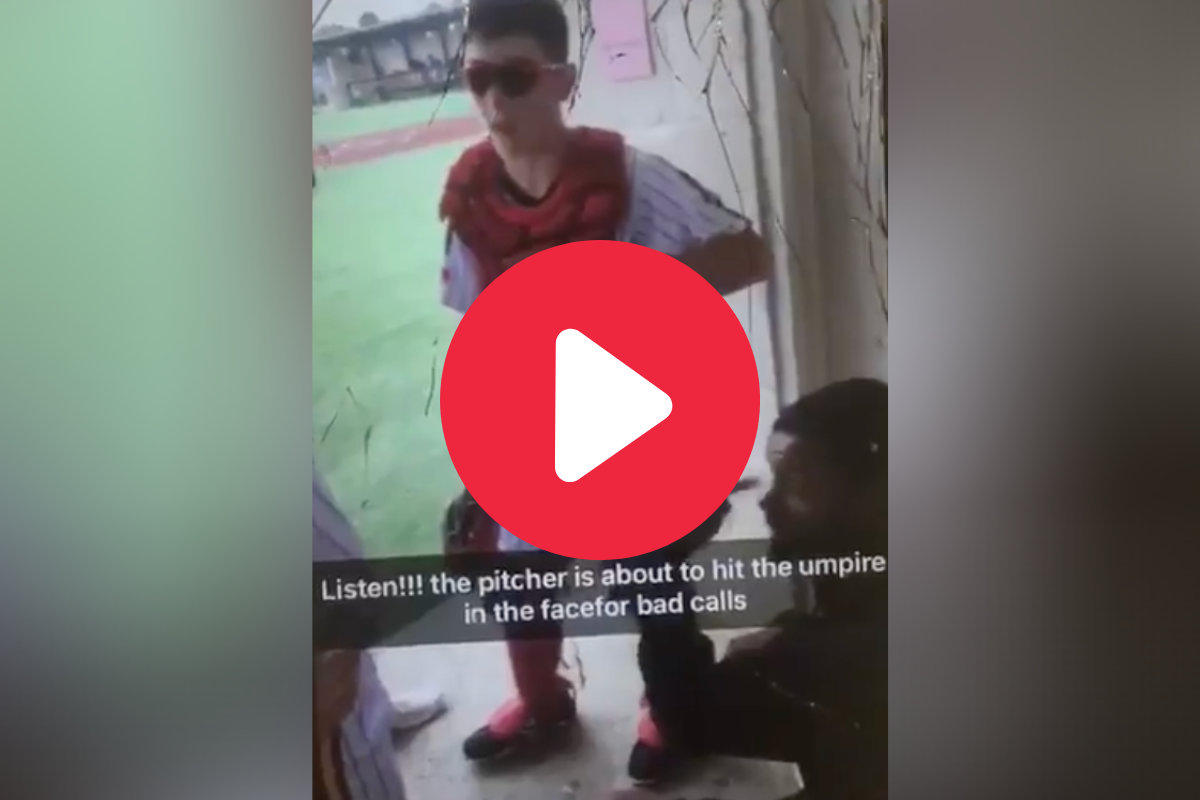 Screenshot from Twitter
A baseball coach for a select team in Texas was fired after he was caught on video ordering a 14-year-old pitcher to throw at an umpire.
The incident was caught on video and shared on Facebook, according to KHOU-TV. The coach, identified as Jeremy Knox, can be heard telling a player, ?You hit the
(expletive) umpire right here (pointing to forehead) in the (expletive) mask. Right here. Hit him right here. Just throw it right here. If he gets outta the way, fine. If he doesn?t, (expletive) him."
The audio on the video says Knox was angry over bad calls. This is just flat-out wrong.
Editor?s Note: The videos below contains some NSFW language.
Coach Orders Pitcher to Throw at Umpire
RELATED: HS Pitcher Intentionally Hits Umpire, Catcher Loses College Offer
The clip was posted on Facebook, and the team fired Knox, who was in his first season as coach.
The team issued a lengthy statement after the incident.
"EvoShield Canes TX terminated Coach Jeremy Knox Tuesday, May 30, 2017, immediately upon notification of the improper behavior this past weekend during a tournament game.
Our organization's core values are to teach our players how to succeed on and off the field, develop their knowledge and understanding of the game, demonstrate respect towards others by practicing good sportsmanship, and most importantly, establish the highest level of integrity at all times. Unfortunately, Coach Knox's actions did not represent or align with how we teach our players to play or act; this is absolutely unacceptable and will not be tolerated at any level of our organization. Accordingly, Coach Knox was terminated immediately.
On behalf of out organization (EvoShield Canes TX), we apologize to the tournament officials (Perfect Game), the tournament host (Premier Baseball of Texas Complex), the umpire involved, all players, parents, and spectators that witnessed this event. It is out responsibly to teach our players to uphold our core values."
What makes this even more odd is that Knox wasn't supposed to be at the field or in the dugout because he'd been banned for an undisclosed reason, the owner of Premier Baseball told KHOU-TV. The owner also said the Canes have been suspended from any future tournaments at the field, and issued this statement on its Facebook page:
"The Premier Baseball of Texas Sports Complex does not condone or tolerate the actions that took place during this past weekend?s tournament (May 29th, 2017). The pitcher, catcher and coach involved in this incident were ejected from the game when the umpire was hit by the baseball. A dugout video surfaced after the tournament exposing one of the coaches directing the pitcher and catcher to purposely hit the umpire with the baseball. Although still under investigation, the Evoshield Canes Texas organization is suspended from participating in any events held at the Premier Baseball Complex until further notice.
Premier Baseball prides itself in being a leader in player development, family values, and good sportsmanship therefore, our organization does not support this type of behavior from participating teams or spectators. Our desire is to create a safe and fun atmosphere for all umpires, teams, and spectators."
There's no place in baseball, or sports for that matter, for stuff like this.
This post was originally published on June 3, 2017 but serves as a reminder that sportsmanship matters.