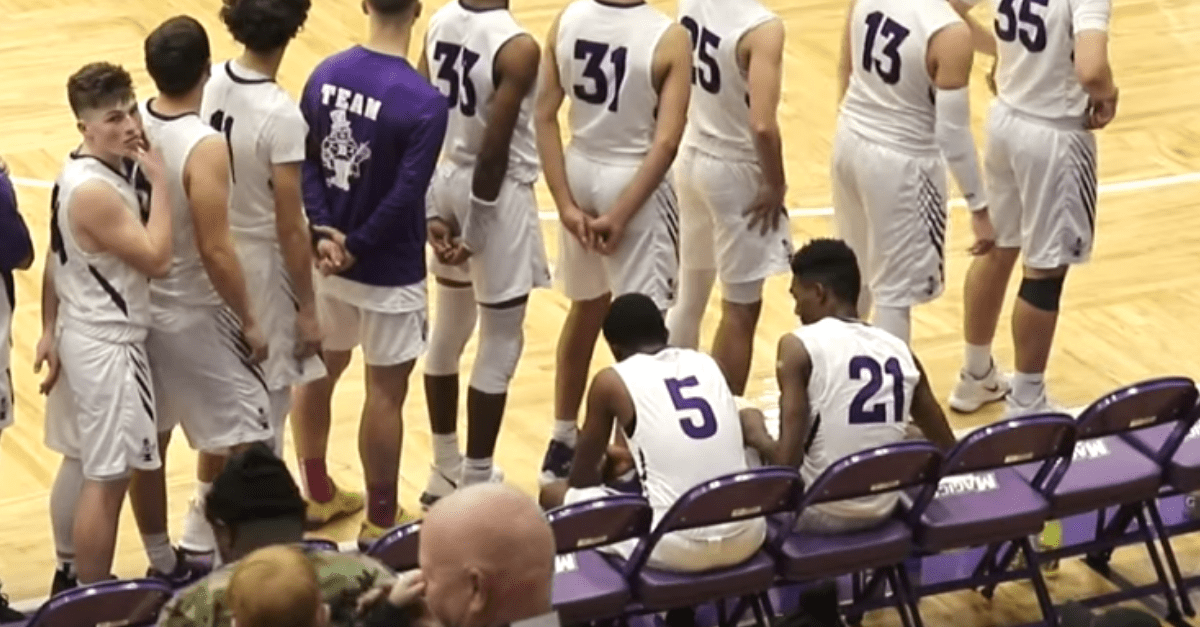 Screenshot from YouTube: Barberton A-Live
Invoke national anthem protests first popularized by former San Francisco 49ers quarterback Colin Kaepernick, and you'll hear no shortage of hateful rhetoric. What started in the NFL spread across the country, as professional athletes used their platform to speak out against police brutality and racial injustice. These anthem protests are not about being anti-American in any way, but that's not stopping the "unpatriotic" comments that follow a refusal to stand.
In Barberton, Ohio, a town southwest of Akron, the Magics are in the midst of a great high school season. Defeating Canal Fulton Northwest on January 14 pushed the team's record to 10-3 on the year, including a 4-2 mark in Suburban League play. However, not even junior Anthony Cook's team-high 24 points could overshadow what took place before that game started that Tuesday night.
Four Barberton basketball players sat on the bench during the playing of the national anthem. D'Lawrence Scott, according to a report by Cleveland 19, was the first Barberton player to sit during a basketball game earlier this season before others, including Anthony Cook, Jamair Blackmon and Chad Burkhard, joined him.
Scott says police brutality is the driving force behind the on-going protests.
"Our culture, just all over the world, just police brutality stuff like I don?t stand for it, that's my way of showing I'm with my culture that's what I stand for," Lawrence said.
Although not confirmed, the Akron Beacon Journal reported that several basketball fans said the protests stem from a police shooting that took place in Akron last year.
Ohio Basketball Players Protest During National Anthem
RELATED: NFL Veteran Claims National Anthem Protests Ended His Career
Even though these are teenage student-athletes, adults all over Barberton and the surrounding Ohio communities are outraged at what's taking place in their town. Words like "sickened" and "ridiculous" flooded social media comments, as many in the community are blaming the school and parents for not stopping the growing demonstration.
"I can tell you this if any of my children think they will get away with this disrespectful action I will make them quit every sport they play I do not agree with this yes I agree with freedom of speech but you are disrespecting the United States and the military that allows you to be free just know if you allow this to continue I will not support any Barberton sports"

? Comment via Facebook
The Barberton City School District released its first statement via Facebook on January 11.
The post cited state laws in the Ohio Revised Code and the United States Constitution, which jointly arrived at the conclusion that the school district "cannot compel an act of patriotism on the part of a student." Furthermore, the district said it would support a student's right to free speech as they learn that "people can hold different beliefs and can still coexist, get along, and even work together toward common goals."
Barberton City School District Response
Almost 1,000 people commented on the Facebook post, but the sentiments for and against the players are split down the middle.
It doesn't seem like these demonstrations will be stopping any time soon, but kudos to these young Barberton high school students. It takes guts to fight for something you're passionate about, whether everyone agrees with the time and place or not.