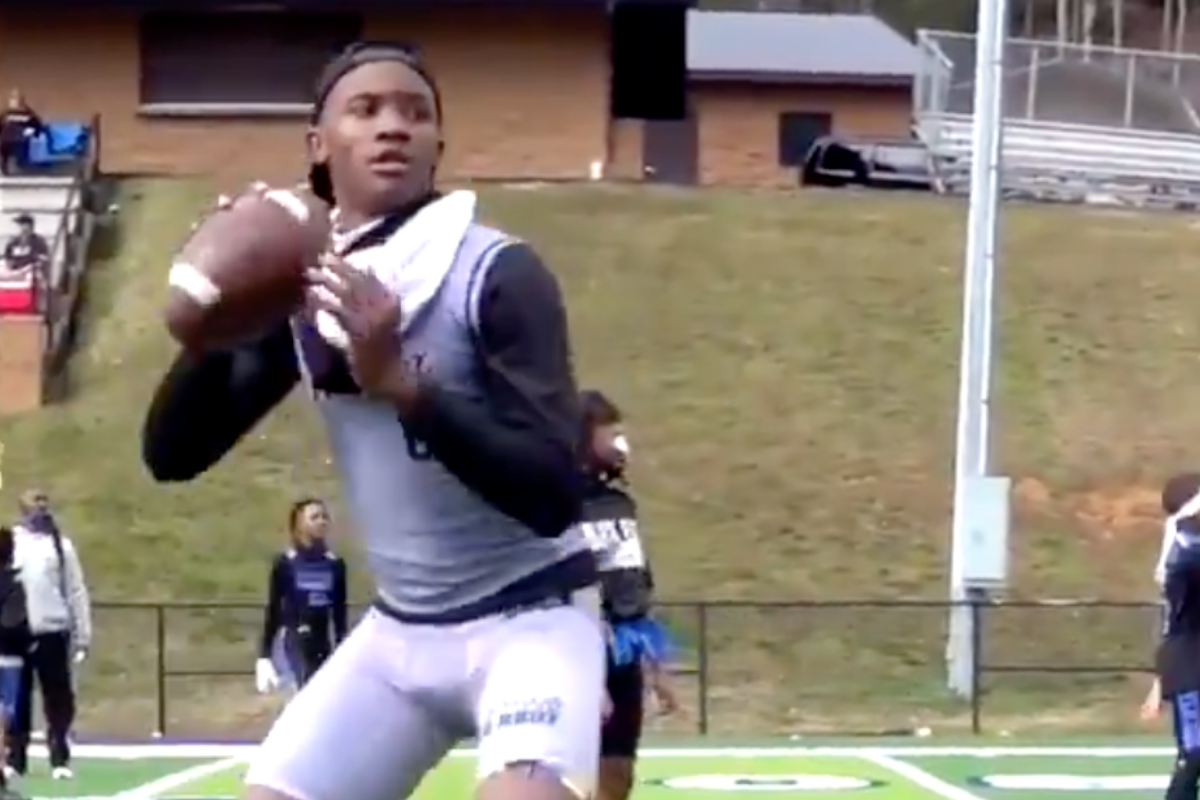 Screenshot from Twitter
If you are a top high school prospect, college football teams will find you.
For many recruits, the process starts during sophomore or junior year. Every so often, however, an even younger player will catch the eye of coaches.
Quarterback Bryce Underwood falls into the latter category. He has looked solid enough for three college football programs to offer him scholarships before his prep career even begins.
Fans will definitely have to wait for him to take the field because Underwood is only in eighth grade. He's a standout member of the 2025 recruiting class and isn't even sure where he'll be playing his high school football.
Bryce Underwood Recruiting
RELATED: Tiny Pee Wee Player Trucks Kid Twice His Size
Bryce Underwood has received offers from three NCAA programs so far: Kentucky, Marshall, and the Michigan State Spartans.
The star QB is a Michigan native, and head coach Mel Tucker reached out to him personally. Perhaps that lends some credence to the idea of Underwood joining the Big Ten program one day.
According to 247Sports, Underwood is likely to play for Belleville High School next season, but that isn't set in stone.
Stating the obvious here, he has quite a bit of time to hone his skills, but there will be eyes on him as soon as he touches the field as a freshman.
Bryce Underwood Highlights
Underwood is already 6-foot-2 and 185 pounds, so it's no wonder he's frequently mistaken for a much older player. His on-field ability puts him in a league of his own compared to other 14-year-old players as well.
The quarterback has been trending in the recruiting world and on social media due to how great he looked during his offseason workouts. In addition to the nearly unprecedented athleticism, he hits his wide receivers with ease and throws a great spiral for an eighth-grader.
Bryce Underwood won't be making an official visit to a college any time soon, nor should he worry about his NFL prospects.
He is a unique prospect with a lot of potential, but fans (and coaches) have to remember: he still has four years left of high school football left to play.