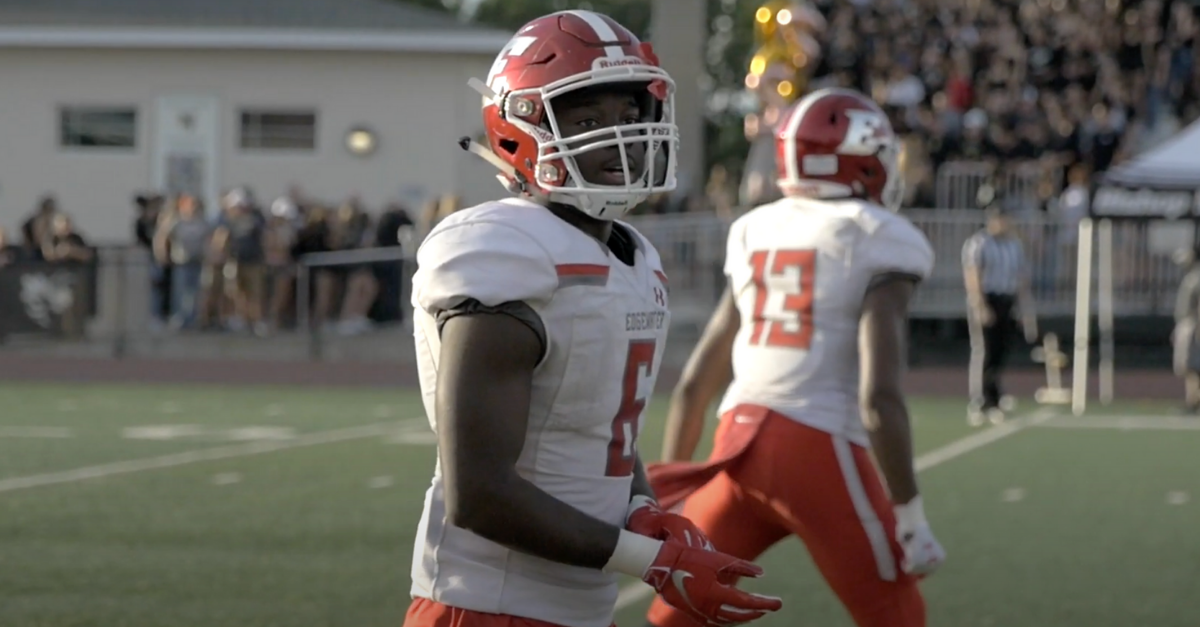 Screenshot from YouTube
Give wide receiver Christian Leary an inch and he will take it a mile. There's no catching him, either. He's arguably the fastest player in high school football, and it's only fitting he will play college football in the SEC.
Leary, a four-star recruit from Edgewater High School in Orlando, Florida, has committed to head coach Nick Saban and the Alabama Crimson Tide. He had a long list of offers from some big-time programs, but wanted his future home to be in Tuscaloosa.
So get ready, Alabama football fans. More speed is on the way with the Tide's 2021 football recruiting class.
WR Christian Leary Commits to Alabama
RELATED: 4-Star Linebacker Stays Home, Commits to Alabama
Ranked as the No. 130 overall recruit and the No. 23 wide receiver in the class, according to the 247Sports Composite, Christian Leary fielded Power 5 offers from Arizona State, Arkansas, Auburn, Florida, Florida State, Georgia, Georgia Tech, Indiana, Kansas, Kansas State, Kentucky, Louisville, Miami, Minnesota, Mississippi State, Nebraska, Ohio State, Oklahoma, Ole Miss, Penn State, Pittsburgh, Rutgers, South Carolina, Syracuse, Tennessee, Texas, Texas A&M, USC, Vanderbilt, and West Virginia.
At the end of the day, however, Alabama won the recruiting battle.
"First and Foremost I wanna thank the man above for the position he has put me in. I wanna thank my Mom, Dad, Uncle and the rest of the family that supported me through it ALL. Give a huge thank you to Coach Duke and the Edgewater Coaching Staff for making me a better player on and off the field. Shoutout to Mrs. Wright and Mrs. Grey for making sure I'm eligible to play at the next level. I wanna thank EVERY COACH that believed in me through this process. LOVE YOU DEX AND CURT! THIS IS MY NEW HOME!

"Proud and Blessed to say… I WILL BE COMMITTING TO THE UNIVERSITY OF ALABAMA #RollTide #LONGLIVED2 #LLC"
Leary became the eighth commitment for Alabama in next year's recruiting class.
WR Christian Leary Highlights
At 5-foot-9 and 180 pounds, Christian Leary won't ever be the biggest guy on the field, but he might be the fastest. He can torch defenders as a wide receiver and run past them if he takes the direct snap. Leary is electric whenever he touches the ball, and he definitely has some major NFL Draft potential.