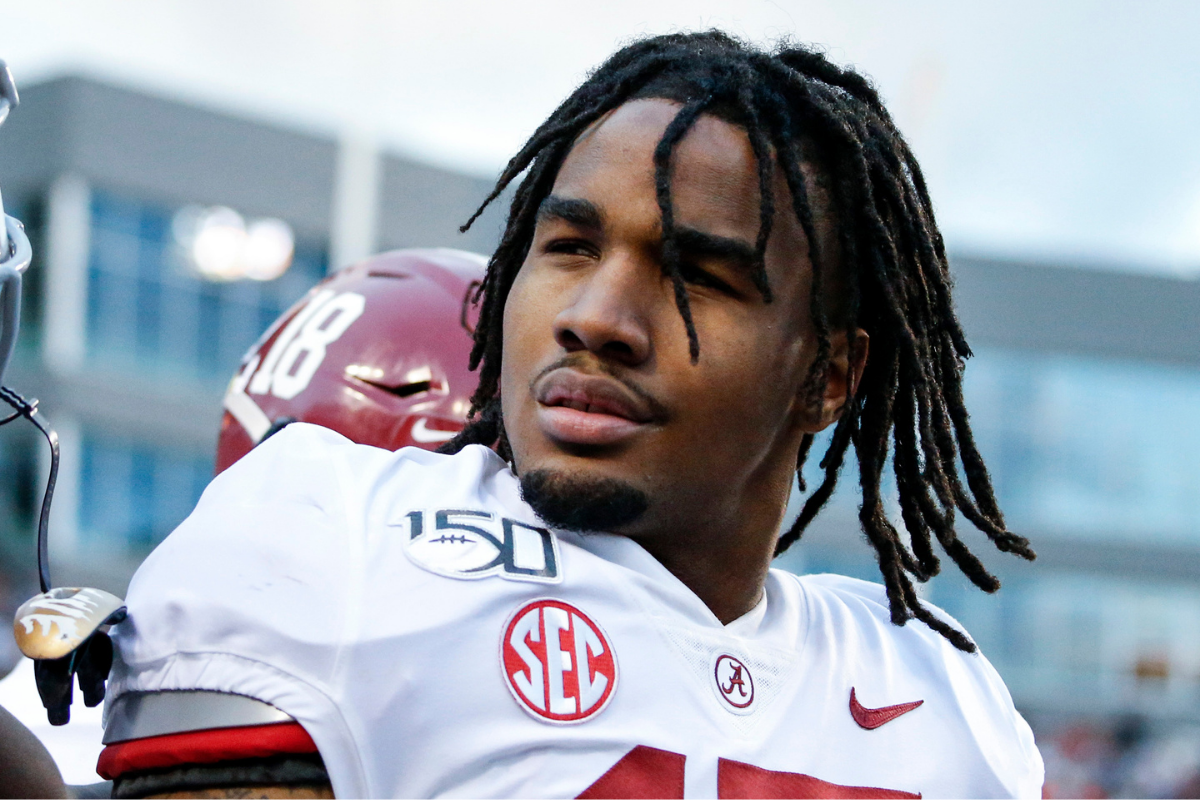 AP Photo/Butch Dill, File
University of Alabama wide receiver Jaylen Waddle was a dominant force for the Crimson Tide on offense and special teams. The college football phenom was equally hard to cover running routes as he was returning punts.
It's not easy to find flaws in Waddle's game. His combination of speed and size makes him a coveted asset at the next level and in the upcoming NFL Draft.
Even with all the talent Waddle possesses, he has one key fan and critic: his own mother.
Who is Jaylen Waddle's Mom?
RELATED: Nick Saban?s Daughter Blasts Critics After His Jaylen Waddle Injury Comments
Jaylen Waddle grew up in Houston, Texas, and attended Episcopal High School, where he was ranked as a four-star recruit by ESPN and earned All-American honors.
Waddle chose to join Nick Saban and the Alabama Crimson Tide, despite offers from various programs such as Oregon, Florida State and TCU, among others.
His mother, Iesha Redmon, has long been his biggest fan, but she isn't afraid to tell her son when he messed up. She made that crystal clear after one particular play during the 2019 season.
During a clash with Texas A&M, Waddle showcased his talent as a punt returner, racking up more than 120 yards on special teams in the game. He almost scored a touchdown on one of his punt returns, but was thwarted by the Aggies' punter who managed to tackle the speedy return man.
His mother saw the play, and had some jokes for her son, though Waddle insisted she was also being serious while scolding him for not scoring.
Despite his mother's criticism, Waddle was renowned as an elite threat as a punt returner, so much so that former Tennessee head coach Jeremy Pruitt joked the Vols might run onside kicks to avoid putting the ball in his hands.
WR Jaylen Waddle's Alabama Career
Jaylen Waddle spent three years in Tuscaloosa and played a prominent role on the 'Bama football team despite lining up alongside some of the nation's most talented receivers such as Jerry Jeudy and DeVonta Smith.
Across his three years with the Crimson Tide, Waddle logged 106 receptions, 1,999 yards and 17 touchdowns while featuring in 34 games.
The breakout receiver won the College Football Playoff National Championship in 2020 as a junior. He caught three passes in the victory over Ohio State but only played in part of the game due to injury.
Despite featuring in just six games as a junior, Waddle announced his NCAA football career was over and he'd be heading to the NFL, along with fellow potential first-round teammates running back Najee Harris and quarterback Mac Jones.
Now set to play at the highest level, we're sure to see more of his mother cheering on her son, while also being sure to critique him when necessary.